INTEGRATING MAGENTO AND DYNAMICS GP
Magento is the IES recommended scalable eCommerce solution with enterprise-class features and flexibility for businesses of all sizes. You can create a custom eCommerce solution tailored to your specific needs. Drive more traffic to your site and increase your online revenue with Magento Enterprise Edition.
With Magento, you have the flexibility to create immersive consumer experiences. Customize back-end workflow for your business with hundreds of extensions and an open architecture as well as integrate with other eCommerce solutions like Microsoft Dynamics GP and Microsoft Dynamics NAV (Navision). With an entire network of partners and certified developers, expert support, training, and consulting services, Magento and IES are the perfect eCommerce solution.
MAGENTO-TO-DYNAMICS GP (GREAT PLAINS) & NAV (NAVISION) INTEGRATION
At IES, we want to guarantee ease and efficiency during integration to Dynamics Software Solutions. For example, a Magento-to-Microsoft Dynamics GP (Great Plains) integration or Magento-to-Dynamics NAV (Navision) integration. Both are excellent tools that help increase the visibility of your business and improve insight at all levels.
Our Magento-to-GP integration works based on a mapping between fields from both systems. It integrates all aspects of your eCommerce business: customers, shipping methods, inventory items and kits, inventory quantities, sales orders with payments and shipment information.
Below are two sample mapping documents illustrating the integration from Magento to GP.
ITEM & QUANTITY INTEGRATION
From there, items setup on GP are created on Magento. Any quantity updates made on GP for items and kit components will also be updated on Magento.
This image illustrates how quantity can be adjusted to a component kit item and updated on Magento with a quantity available of: 120 of BOTT13MMCS (kit has 1K of BOTT13MM) and 480 of BOTT118MMBX (kit has 125 of BOTT18MM).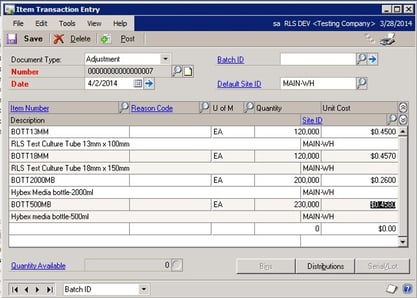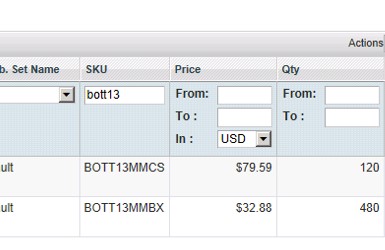 INTEGRATING CUSTOMERS & CREATING ORDERS
The next step in the integration process is creating customers in GP. Once all the customers have been created, orders once created on Magento are transferred to GP. From there, payments on the orders are created on GP.
Once the order is shipped on GP, the tracking number shows GP order for future tracking and Magento receives the tracking information. Then, Magento can let the client know via email that the order has been shipped following Magento functionality.