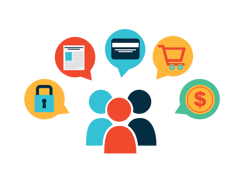 AN OUT-OF-THE-BOX B2B ECOMMERCE MANAGER FOR DYNAMICS GP
The Microsoft Dynamics GP eCommerce Manager by IES provides an out-of-the-box business to business commerce Internet storefront and CRM that seamlessly integrates with existing Microsoft Dynamics GP (Great Plains) software.
Direct Orders from Your Business
Your established customers and salespeople will appreciate the ability to order from you directly over the Internet, saving them time and increasing the accuracy of their orders.
Dynamics GP eCommerce Manager is So Easy to Implement
Internet orders pass directly into your order entry system and product and pricing information is always accurate.
Highlights
Compatible with Microsoft Dynamics GP 2013 and Higher
Empower your salespeople and existing customers by allowing them to place and update orders via an out-of-the-box, business-to-business Internet storefront, saving them time and increasing the accuracy of orders.
Increase Your Revenue
Generate more sales by making it easier for your customers to order the products they need, when they need them—24 hours a day, 365 days a year.
Start Selling Right Away
Quickly deploy your own online store with a few adjustments to the built-in IES Web Order Manager storefront and you are ready to start taking orders.
Reduce Operational Costs
Minimize the time your employees spend on the phone with customers, taking orders, and filling out paperwork by providing online sales information and processes that reduce overhead costs.
Improve Customer Experience
Save customers' time, money, and headaches with a store that's always open and an online system that provides easy-to-use, accurate product information and current order status.
Empower Your Sales Force
Enable your sales force to securely place orders over the Internet and review order status, without tying up the efforts of on-site employees.
Integrate Automatically
Streamline your sales order process with seamless integration of your IES Web Order Manager storefront with Microsoft Business Solutions–Microsoft Dynamics GP so that online orders are automatically updated as they are received.
View Client B2B Portals In Action