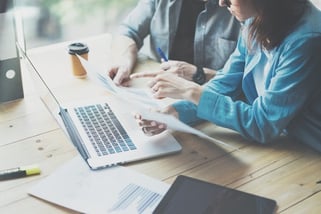 Microsoft SharePoint wants to be the communications center for your business. Microsoft has created a powerful family of products designed to drive the small to mid-size business toward success in a competitive marketplace:
Microsoft Dynamics GP is a full-service enterprise-resource-planning tool (ERP) designed to streamline financials and accounting, inventory, and operations.
Microsoft CRM is a customer relationship management tool second to none. It allows sales, marketing, and customer service teams to track customer contact while automating basic functions.
Microsoft NAV offers supply chain, manufacturing, and inventory management—to name a few of the tools in this particular toolkit.
Each of these Microsoft software packages represents a spoke in a business management wheel. But there is one integrator that serves as the communications hub for all these services. Think of SharePoint as the hub in the wheel.

Microsoft SharePoint is a file sharing, project management, and website development tool. SharePoint is a business collaboration tool with a customizable, robust dashboard. SharePoint serves as the facilitator for digital asset management, and its complexity is matched by its flexibility. It offers document management, data storage, project management, and website tools all in one place. You can access SharePoint online via Office 365 or select on-premise options.

SharePoint can serve as an Intranet for your business, allowing multiple diverse office locations to connect seamlessly to the portal. You can use the Intranet as an internal business communication tool that can engage all employees in one centralized place. This is perfect for human resources or marketing to spread a particular corporate message no matter where you teams are located.

You can also use SharePoint as a product management tool. You can set up multiple internal websites as communication portals within the SharePoint dashboard. Each project team can store documents, create project tasks and timelines, or communicate privately with team members.

Here's the problem. Because SharePoint is so versatile when coordinating multiple business projects, we always recommend training in this platform before integrating all your functions under its umbrella. Otherwise, you will get bogged down in the tools, feature modifications, customization, and branding options that SharePoint offers.

This isn't out-of-the-box software, folks. To use SharePoint effectively, we always recommend Microsoft SharePoint training in order to get your money's worth right out of the gate. Below are twelve reasons to consider training before rolling out SharePoint.
REASONS TO Consider MICROSOFT SharePoint Training
1) Implementing SharePoint is Like Implementing a Project
A SharePoint roll-out requires serious discussion about how you're going to use this software. For example:
You want to use it to store files. Great. What are the naming conventions for the files so that every stored document will follow a particular format that will make it searchable?
You want to use SharePoint for project management. Perfect. How many project-related Intranet websites will you need to start? How should they be designed? What calendars should be set up?
You'd like one overarching Intranet site for all employees. How will it reflect your brand? What will be posted? How will you roll it out to employees to use? Should there be a CEO newsfeed or a media center with press releases?

These are just some of the questions you should address as part of your pre-go-live training and planning process. Are you starting to see you Microsoft SharePoint training could help you with this implementation?
2) Training will make you more productive.
Having an experienced user teach you all of the collaborative features of SharePoint will ensure you are using every part of this software effectively from day one. Simply put, the software is guaranteed to bog you down if you try to cut corners by skipping Microsoft SharePoint training.
3) You won't be able to figure out the more complicated SharePoint features
Such as workflow management, records management, Performance Point, and business intelligence. Don't let your first experience with this amazing software frustrate you! Microsoft SharePoint training will help you hear more from users across your organization that may be concerned about their ability to learn this complex software.
4) This isn't Dropbox!
Traditional digital file storage companies are drag and drop holding tanks. SharePoint tracks document versions so you can see edits in real time. With SharePoint, you never have to worry about version control.
5) Setting up an Intranet site for your employees takes lots of discussion
Setting up an Intranet site for your employees takes lots of discussion about everything from governance to the "rules of engagement" for posting documents. Your team also needs to understand best practices for training the rest of your staff in how to use the portal. These are all issues that can be discussed during Microsoft SharePoint training.
6) Should you customize file storage?
Some industries, such as the financial or medical professions, have specific legal requirements related to how documents are stored and for how long. It's best to consult a professional when setting up these file storage systems so that your business remains compliant with all applicable rules and regulations.
7) You may need a third-party integrator with your SharePoint.
Or you may not. The point of this software is that is incredibly flexible. You have lots of options. A consultation with a trainer or consultant may be exactly what you need to figure things out. Reverse engineering your goals for the software can best be done via an external resource that knows exactly how it works, and how other companies have gone through the go-live and training process.
8) Do you want to host your company's external website on SharePoint?
SharePoint has search engine optimization (SEO) features, XML sitemaps, robots.txt support, business savvy URLs, and more. There's no way you're going to learn all these tricks without Microsoft SharePoint training.
9) SharePoint is now more mobile-friendly
With an HTML5 coded "contemporary" view optimized for Smartphones, SharePoint is now more mobile-friendly. There's location awareness, message push, and more. These are not features the average user will understand—but they are very important.
10) How will you migrate?
There's the rub. Migrating data to SharePoint is tricky; having the sage counsel of a Certified Microsoft expert will help you move more quickly to the on-premise or cloud solution you have selected. Too, will you migrate every file on your servers, or should you do some database cleanup before the migration? This is your opportunity to build a new database; take the time to discuss the future-state of your information architecture. Taking all your old files over to SharePoint in the same cluttered jumble is like buying a new house and furnishing it with outdated worn-out furniture.
11) Training helps with change management.
We always find that bringing teams together to learn helps with adoption of any new software. SharePoint is complicated enough that a new installation always runs the risk of non-compliance or poor adoption – that is if training doesn't pave the way for a successful implementation. Joining together for group training will help you counteract any "negative Nellies" and engage the members of your team in enthusiastic adoption of this excellent tool. You'll be able to learn the latest features and benefits while candidly sharing the reasons for the migration.
12) The interface is not easily understandable and there are many ways to accomplish the same task within SharePoint.
Microsoft SharePoint training can show you shortcuts that will help you complete tasks quickly, but will also show the different options for completing tasks. With training you will quickly understand all your options and then make decisions related to your own standards of successful operation.
Migration to SharePoint
Flipping the switch on SharePoint is easy. But a great deal of discussion needs to go into everything from how you will name and store files, to how project-specific websites will be set up, to how your Intranet will meld with your corporate brand. Take the time to discuss governance, the look and feel of the architecture, and how you will migrate your data. Set goals for the rollout that includes training and individual coaching.
The migration to SharePoint is a seven-part process:
Consult with a Certified Microsoft Partner to discuss the ways you'll be using Microsoft SharePoint.
Remove unnecessary data; create a governance structure, and the rules for engagement as you rollout this product.
Conduct Microsoft SharePoint training for all the members of your team.
Migrate as part of either a gradual implementation complete with milestones and site-specific timelines, or in one "big bang" if your organization is small enough to support that all or nothing approach.
Rebuild your Intranet sites, project management portals, and databases. Set up your administrative desktop to manage the various parts and pieces. Always seek the assistance of your Microsoft Certified Partner if you need help.
Measure adoption metrics by using SharePoint Analytics to see who's using what on SharePoint.
Retrain as needed if some users are lagging behind.
The bottom line on why you need Microsoft SharePoint training is pretty simple, really: This is not easy software to learn. Microsoft SharePoint training will set you on the right path toward correct principles for operating this software. SharePoint users must have the experience and knowledge base in order to make adoption a success.
To learn more about SharePoint and SharePoint training, contact the experts at IES today.