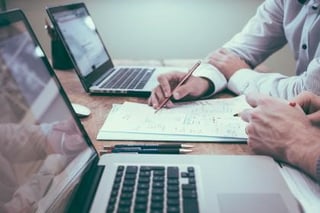 If your business will be working with Microsoft products, it's to your advantage to work with a Microsoft Gold Certified Partner. A Microsoft Gold Partner is a proven expert within the field of Microsoft products, able to provide strong customer testimonials, pass business competency assessments, and offer specialized technical credentials. Below, we share the ways working with a Microsoft certified partner conveys some significant benefits.
3 Advantages of Working with a Microsoft Gold Certified Partner
1. Proven Expertise in Microsoft Products
To achieve Gold partnership status, Microsoft partners need to go through rigorous testing and assessments, certifying that they are knowledgeable about Microsoft products and able to use them to their full impact. Though there are many vendors that may sell Microsoft products, it takes an expert to know how to truly customize and leverage a product for an individual business. Gold partnership marks the best-of-the-best—those who will be better able to help your business grow through its technology. This is especially important for organizations that may require the integration of multiple Microsoft services or the detailed customization of their services to their enterprise.
2. The Best in Customer Service and Care
Microsoft Gold Certified Partners need to prove that they've been able to take care of their customers in the past by providing testimonials and information about their successful client projects and cases. When you work with a Gold Partner, you know that you're working with a business that has proven its competency, efficiency, and customer support. When it comes to developing your business infrastructure and your most important software systems, you need a reliable vendor that you can trust.
3. Better Relationships with Microsoft
Microsoft provides only their best levels of technical assistance and pre-sales assistance to their Microsoft Gold partners. Microsoft Gold Partners get priority in a variety of ways, including volume licensing and payment solutions. Consequently, you'll get better service through Microsoft Gold Partners because they get better service through Microsoft itself. Gold Partners are even able to acquire one-on-one advisory sessions through Microsoft and are provided better support for cloud performance competencies, overall improving upon the experience and expertise that Gold Partners already have.
In addition to the above three point, Gold Partners can do one more thing for you: save you money. This is because a Gold Partner can help your organization to use Microsoft products more efficiently and overcome software issues faster. This ultimately saves your company time and, subsequently, money.
The Microsoft Gold program is able to distinguish vendors who simply provide Microsoft products from vendors who truly specialize in Microsoft products. Through Microsoft Gold, you can find a trustworthy partner well-versed in the intricacies of Microsoft's offerings, able to provide the best value for your business and the best in responsive customer care. Contact IES today to learn more about what a Microsoft Certified Gold Partner can do for you.