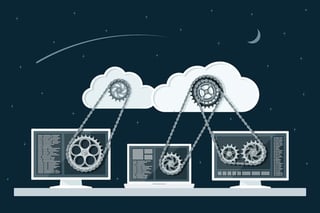 In 2011, the HubSpot-Microsoft Dynamics CRM integration was big news. Prior to the announcement, HubSpot's API allowed integration with third-party systems. But the new integration was an ideal partnership; HubSpot was the leader in inbound marketing techniques, and Microsoft Dynamics CRM was the most efficient way to capture and manage customer data. Together, HubSpot Microsoft Dynamics CRM integration allowed increased marketing automation, improving the organization of customer contacts and data from pre-sale to up-sale.
Today, the process of integrating a database into a company's marketing and client service relationship management is an accepted and welcomed part of customer lifecycle management. The interoperability between marketing, sales, and database management is crucial when viewed in the context of today's increasingly competitive digital market.
The HubSpot and Microsoft Dynamics CRM integration improved sales productivity by creating a tighter, more unified partnership between an automated marketing provider and a database management partner. This integration allowed:
Creation of customized marketing landing pages, with integration directly into the Dynamics CRM of all leads captured.
Design and implementation of sophisticated email campaigns using the data found in Dynamics CRM.
Data analysis of emails opened and information downloads, length of view, conversion to sales – and much more.
Over the years, there have been a number of additions to the HubSpot Microsoft Dynamics CRM integration process that facilitated the interoperability and functionality between these two important marketing and sales platforms. These software providers allow the cross-directional flow of information between HubSpot and Microsoft Dynamics products, from the CRM to NAV and GP. These software integrators ensure this data flow occurs in real-time; you don't need to wait for updates to occur. These providers are considered part of the iPaaS (integration platform as a service) family of service providers, meaning the job of the software is to make applications like HubSpot and Microsoft Dynamics CRM work together smoothly and seamlessly.
These iPaaS software providers were created to connect a number of cloud-based software products together. These integrators work by pulling data from between two disparate platforms, normalizing it, and then dispersing it evenly between the two. The iPaaS software providers can also allow you to take the two platforms and customize the delivery on one dashboard in new ways. This makes for a tremendous level of efficiency that links business intelligence with data management and sales with marketing.
Let's look at some of the integration options that help link the Dynamics/HubSpot tech family of services.
Scribe
HubSpot Microsoft Dynamics CRM integration was initially made possible through the Scribe Software backbone. It is now considered the legacy software provider to link HubSpot and Dynamics CRM.
Scribe was designed to allow data to flow seamlessly between HubSpot and Dynamics. Set up is simple; just add your HubSpot portal ID to the Scribe dashboard and get going. Scribe allows you to:
Export marketing databases from HubSpot to Microsoft Dynamics CRM.
Automatically sync the two platforms.
Dump leads captured from white papers or other marketing materials directly into Dynamics CRM.
Add contact information to Dynamics CRM and categorize the lead by when, where, and how it was captured.
Segment leads, allowing automated inbound marketing in response to how the lead was categorized.
Full functionality such as email notifications when the lead returned to your website for additional information.
This integration even allows for reporting on the lifecycle of the lead so marketing and sales can have more accurate information on which campaigns are working and which ones aren't. Scribe Software allows real-time viewing by multiple departments and eliminates the need to enter data multiple times.
Bedrock
The Bedrock integration tool syncs contact records and activities that occur between Dynamics CRM and HubSpot. This is another excellent option when seeking bi-directional integration between HubSpot and Microsoft Dynamics. Bedrock allows integration between the Microsoft Dynamics ERP platforms as well, which provides a very powerful way to utilize analytics to make business decisions.
Bedrock software provides interoperability between a number of powerful tools, linking your database to some of the best sales, marketing and event software platforms in the industry. Bedrock can help manage and sync actions between Dynamics and HubSpot. Bedrock will:
Integrate contacts and update them.
Read and update opportunities.
Sync account information.
Align and update tasks across platforms.
Bedrock integrates seamlessly between Microsoft Dynamics and HubSpot allowing you to sync new leads as they occur. You can utilize Bedrock whether you are in the cloud, utilizing a hybrid model or self-hosting on premises. The process is fairly simple:
A simple point and click process allows you to select the systems you would like to integrate, in this case, Dynamics CRM, and HubSpot.
Plug in API or login information.
Create custom field maps by selecting what data will sync between platforms.
Log in workflows that tell the platform which records should integrate and how they should be segmented in your CRM.
Click "on" on the dashboard to start your automated sync process.
Zapier
As a true software integrator, Zapier is a connector of web apps. It improves workflows between Dynamics CRM and HubSpot by automating redundant tasks. Simple, user-friendly commands allow you to create the kind of workflow that looks like this:
Use HubSpot to design automated email campaign.
HubSpot pulls segmented list from Dynamics CRM.
HubSpot sends email.
Customer responds by downloading whitepaper.
Zapier is programmed to utilize email to respond in a certain way.
Automated response is logged in Dynamics CRM.
With Zapier, you can build automated workflows with just a few clicks. The platform was designed to help you get more things done with a lot less work. Transferring data between Microsoft Dynamics and HubSpot used to be very time-consuming, but Zapier makes these tasks fully automated.
SmartConnect
If you're not a programmer, but you are seeking a smart way to integrate Dynamics CRM software with HubSpot marketing tools, SmartConnect may be the right choice. SmartConnect makes it very easy to move data between cloud-based software programs any time you need it to. SmartConnect has a built-in query tool that facilitates date incorporation from all kinds of bulk data sources, including HubSpot and Microsoft Dynamics CRM. Just like other integration platforms including Zapier, Bedrock, and Scribe, SmartConnect works in real-time, moving live data between Dynamics CRM and HubSpot. This ensures that no one in your organization is working with outdated data. This is particularly important as you're tracking the success of new email campaigns; sending emails to customers that have already opted out can ruin your reputation and create a false impression of campaign failure.

With SmartConnect software you can:
Move Dynamics CRM data to an Excel spreadsheet – or vice versa.
Schedule data integration between platforms.
Pull data from almost anywhere, including HubSpot.
Automate rejected record notifications; so data will automatically upload to Dynamics CRM – but you'll know if it doesn't.
SmartConnect is often used to integrate Dynamics GP to other software. You'll have one data entry point, instead of many, which is guaranteed to reduce the amount of time and effort you put into data management.
The real beauty of Smart Connect is that it does its job without additional programming; you don't have to be a coder to use this tool. In fact, the software is being marketed as a "no code integration solution."
In addition to HubSpot and Microsoft Dynamics CRM, SmartConnect can also integrate data in NAV or GP, marking this integrator as a one-stop shop to improve your Microsoft Dynamics functionality.
Choosing the Right Integrator
Aligning sales and marketing isn't a recommended practice anymore; it is required in order to stay competitive. The HubSpot Microsoft Dynamics CRM integration allows for smarter customer engagement. Together, these tools enable businesses to do more, faster.
The question now is – which of these integration tools should you use? All can work beautifully to facilitate the HubSpot Microsoft Dynamics CRM Integration. But, like most software, there are strengths and weaknesses to each platform. Each can be utilized to:
Sync new leads from HubSpot to Microsoft Dynamics CRM.
Update contact, lead, or opportunity categorization between Dynamics CRM and HubSpot.
Create customized integrations between the two platforms.
When a marketing email is opened or an e-book is downloaded, HubSpot captures the registration information, then integrates to Microsoft Dynamics CRM via Scribe, Bedrock, Zapier or SmartConnect.
No matter which interoperability partner you choose, the HubSpot Microsoft Dynamics CRM integration software will ensure that your sales team will be supplied with a steady flow of leads stemming from proven marketing techniques. It means that data entered by your sales team will update automatically between these two powerful software providers. You'll only need to log onto one of the platforms to experience the cross directional flow of information.
The only question that should remain for your business is this: when should we get started? The team at IES is ready to help you successfully utilize these tools to streamline workflows and increase profits.