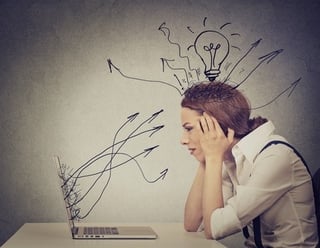 Are you still running your business out of a box? If you're part of a start-up, you actually may be. Hopefully by now you've transitioned to a software platform that can help with file organization. If this is the case, you may have already discovered – all accounting platforms are not created equal.
Here are some of the most common accounting challenges and great software package solutions that can help your business succeed.
Accounting problems and solutions: How software can help
Problem #1: File storage and organization
Accountants frequently struggle to find the right file. Have you ever caught yourself staring at a computer screen as you try to remember the exact naming configuration for a particular document? Has your software ever slowed down or log jammed completely as it tried to import or export a large file?

Solution: Storage in the cloud
A cloud-based accounting platform allows you to store the largest of files in a secure place. The best accounting software allows some personalization around task lists and dashboards. Too, file sorting from a single screen with custom search filters will greatly aid your ability to organize. Your accounting software should handle the largest of files quickly and efficiently.

Problem #2: Error free accounting
If you're still using a calculator to track your company's finances, then the potential for error is high.

Solution: Let the computer do the work
Accounting software will take calculation out of your task list. Your job will be to concentrate on making sure the correct data is imported. Not only will the best accounting software packages run calculations for you, they will flag new accounts that don't meet certain pre-set or customized parameters.

Problem #3: Projecting cash flow is a conundrum

Cash flow is probably an accountant's worst nightmare. How can you accurately project income when sales are tied to market volatility? How can you predict increased competition, supply and demand, and even supply chain disruptions? If you ever see an accountant with bags under their eyes, you can probably guess why they're losing sleep.

Solution: Consider a multi-function ERP
An Enterprise Resource Planning (ERP) tool takes accounting to the next level, combining finance features with business intelligence tools. Customized reporting, business analytics, vendor and customer management, and billing tools, all combine with some of the more "standard" accounting features to give accountants more confidence – backed by analytics – when predicting the future of their business. When it comes to envisioning and then preparing for cash flow issues, ERPs are, in fact, the closest tool resembling crystal ball that you'll find in accounting today.
Accounting problems and Solutions: Microsoft Dynamics
The right accounting software really does help you work smarter – and not harder. Microsoft Dynamics solves all of these common accounting problems, and more. It's a full multi-function ERP that will make all aspects of accounting and finance so much easier. We know you have to have the right tool for every job, and Dynamics is an-industry best platform designed to help you succeed.