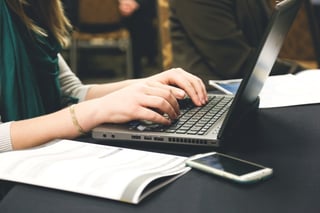 "The cloud" is a term that refers to offsite data storage. When implemented correctly, cloud storage conserves resources for both small and big companies alike, and there are several solution options. Below, we've shared the information you need to know about public and private cloud computing for businesses, from a Microsoft Gold Certified Partner.
Microsoft Gold Certified Partner Advice: What You Need to Know About Public vs. Private Cloud Computing
Public and Private Cloud
When you use the public cloud you are paying a company with a large datacenter to house your information and applications, and are sharing processing and server power with a variety of other companies. A private cloud refers to when you use your own datacenter to control your data as an extension of your current system. Your data will stay separate at all times, and you can either choose to do this onsite or off. With private and onsite cloud computing the burden of the hardware is on you.
Positives and Negatives
When you choose the public cloud solution, you generally save both the money it takes to run an energy-sucking processor and the time it takes to manage it as well. However, many businesses are hesitant to trust another company with their data, especially knowing that there are many others all using the same services. And unfortunately, studies show that up to 30% of datacenters run costly electricity while being comatose, which means they're not actually running any tasks or services.
If your data is onsite, it's a little easier to handle, but will still require a great deal of effort to manage. When you choose a company like Microsoft as your cloud service provider, you can trust they're monitoring everything from airflow to tiny temperature changes, all of which can have large consequences for costly equipment. Unless you're willing to invest in the tracking devices or tags it takes to truly keep up your own cloud hardware, then your money may be better spent using a larger company that specializes in the cloud who will understand how to maximize its use for your business.
Migrating to the Cloud
Microsoft is used all over the world to keep data safe and accessible without compromising businesses. You'll have options regarding how you use the cloud to transfer any or all applications to a server that works for you. If you're looking to migrate your business software, applications, or data to the cloud, consult a Microsoft Gold Certified Partner to help you facilitate the process with as little hassle as possible. Contact the experts at IES today for a free consultation.