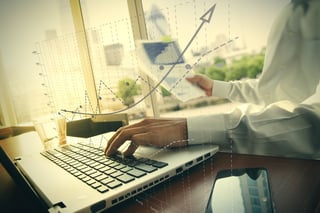 Dynamics 365 for Financials is rapidly becoming the go-to platform for the small to mid-size business considering a switch from QuickBooks. This financial software has everything you need to streamline business processes by automating many basic business functions that take up much of your time. Automating the busy work frees you to focus in on growing your business.
Dynamics 365 for Financials handles selling and ordering, invoicing, and business analytics. If you're currently using multiple legacy platforms for these activities, you already know that multiple disparate platforms lack interoperability. This means data does not sync properly, if at all.
One integrated platform will boost your efficiency when data flows seamlessly between tasks and functions. Your business intelligence will be accurate, and you will lessen the chance of transposed numbers or inaccurate data entry.
Dynamics 365 for Financials is cloud-based software that can scale with your business. This means you can get started immediately without waiting for an IT installation. You can access financial and sales data from any Wi-Fi connection.
It's worth taking a look at Dynamics 365 for Financials if your business is suffering from:
Manual, duplicative processes.
Legacy systems that don't sync data.
Excel accounting instead of accounting completed in a professional software platform.
Poor reporting techniques.
No audit trails and inadequate workflows.
Let's take an insider's look at Dynamics 365 for Financials to see what your competitors are talking about.
Capabilities of Dynamics 365 for Financials
If you're thinking about switching, this section is for you. Understanding the capabilities of Dynamics 365 for Financials is the first step toward becoming familiar with this robust yet accessible tool. Let's break it out by sections. Dynamics 365 for Financials includes the following modules:
Financial Management
Accounts payables
Accounts receivables
Account schedules
Bank reconciliation
Budgets
Cash
Check writing
Deferrals
Electronic payment
Fixed assets
General ledger
Inventory Management
Alternative ship-to addresses
Drop shipments
Inventory
Item substitutions
Non-stock items
Returns and cancellations
Project Management
Basic resources
Budgets/estimation
Capacity management
Job management
Purchasing
Discounting
Item catalog
Invoice discounting
Line Pricing
Purchase order management
Vendor management
Sales
Contact classification
Contact management
Integration with Dynamics 365 for Sales
Interaction management
Invoicing
Mail logging for MS Exchange
Opportunity tracking
Order management
Outlook integration
Pricing and discounts
Sales tax
Other Capabilities
Audit trail
Data migration
Dimensions
Document management
Document reporting
Import online currency rates
Multiple currencies
Outlook sync
PayPal integration
Workflows
You can download a PDF on Microsoft Dynamics 365 for Financials by clicking here.
Forget the Laundry List, What Can Dynamics 365 for Financials Do for My Business?
Here are some examples of the kinds of things you can do with Dynamics 365 for financials:
In the GL, it's easy to map accounts to categories matching your financial statements. You can change the categories or add subcategories for more robust reporting.
The AR module allows you to apply payments to customer or vendor accounts; close the sales invoice, and then reconcile the bank account.
You can run payments to vendors prioritized by their discounts, which could really save some cash.
The budgets module has some excellent reporting and projection tools that can track or estimate income and expenses by the specific job.
Compare GL entries to your projected budget, then use data visualization tools to run charts and graphs so that all stakeholders will understand the metrics.
You can automatically apply credits to open ledger entries or import a bank statement that will record payments.
Perform standard inventory tasks faster. Search by an expansive field range, from part numbers, categories, product attributes, SKUs, and more.
Pre-determined stock levels help you automate inventory.
You can post sales straight from Outlook and then invoice clients with a PDF and a PayPal link to speed up payment.
Use the estimating tool to track income and expense by job and staff.
Integrate sales, GL, inventory, cash disbursement, and more.
Here's the good news – this list isn't even half of what Dynamics 365 for Financials can offer you. All of its many capabilities were created to make the life of a small to medium-sized business owner much easier.
Getting Started
If you like what you're hearing, let's talk about what your first few days on the platform will be like. The basic set up will begin and end with the Home pages on Dynamics 365 for Financials. That's where you can monitor payments and see financial benchmarks.
The first step in setting up Dynamics 365 for Financials is to import company data, including customers and vendors as well as important documents from QuickBooks or Excel. The second step is to Set Up My Company, which creates a trial company so you can play with the platform. When you feel comfortable, swap out the sample company and replace it with your own business.
Once you're up and running, here are some of the key tasks you can accomplish:
Link Dynamics CRM with Dynamics 365 for Financials, which will automatically sync sales order information by contacts.
Set up sales tax, which will automatically add sales tax by area.
Establish a payment approval workflow that will automatically notify the correct person for payment approvals.
Map data sets and scheduling to automatically run reports using Excel, Power BI, or other programs.
Sync Outlook with Dynamics 365 for Financials so you don't have to travel between the two platforms.
Automatically log emails from Outlook into Financials so you can track customer contact.
Create a customer approval workflow that notifies stakeholders when changes are made to their account.
Set up a Cash Flow Forecast chart, which will help you predict money in/money out for your business.
Dynamics 365 for Financials is all you need. The platform works well with Office 365, Cortana, Azure IoT, PowerBI, and more. Having all of these tools in one place is an outstanding approach to streamlining business operations. If you'd like to take it for a test drive, contact us today.