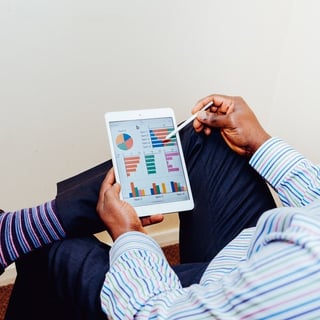 At the risk of sounding like Captain Obvious, we think it's safe to say that the goal of most businesses is to grow and expand. Crucial to this expansion is an increase in sales and the continuing capture of market share.
You know this.
But here is something you may not have considered: Developing the internal business systems that control accounting and finance, inventory management and operations, billing, and sales is just as crucial to the expansion of a business.
When a company is in growth mode, and they have failed to develop these best practices, we say that the business is going through "growing pains."
If your business is in the thick of growing pains, there actually might be software that can help. We're talking about Microsoft Dynamics GP and a full suite of tools that can help push your business past the pain of growth and firmly into increased expansion and stability in the marketplace.
Microsoft Dynamics GP – The Cure for Business Growing Pains
According to The Balance, companies that are experiencing growing pains are struggling in a number of areas:
Employees feel as if there aren't enough hours in the day to accomplish all tasks.
Communication suffers as employees struggle to stay organized.
There is not a clear corporate direction that is shared with everyone.
Meetings are held, but follow-up tasks are not accomplished.
The firm brings in sales, but profitability is floundering.
If an expanding company struggles in areas such as process management, employee morale can suffer. Many businesses in growth mode experience employee transitions and often have difficulty retaining talent.
These companies can benefit strongly from well-designed technology systems that bring organization to the chaos of growth. The technology should give management tighter cash flow controls and predictive analytics that enable the company to proactively plan a strategic and orderly growth trajectory, instead of a disordered and chaotic growth spurt.
These are all reasons that Microsoft Dynamics GP was created for the small to mid-size business. Microsoft took some very powerful tools that big businesses had been using and put them in the cloud. This SaaS will give you everything you need to get control of your company and prepare it for the next level.
Microsoft Dynamics GP can offer your business the following tools and functions:
Accounting and financial management
You can manage assets, including cash on hand, budgets, banking, analytics, billing, and user-level security.
Human resources and payroll
Handle everything employee-related, from hiring to termination, payroll, and benefits.
Operations and inventory tracking
Manage production, inventory, ordering, and vendors all in one place. Internal controls allow you to segregate duties, create audits, and other compliance-centric duties.
Reporting and business intelligence
Track what's happening across your organization in real-time, report, and analyze your findings.
Sales and service
Organize client contracts, field staffing, and customer service.
These features work precisely across any digital device, making this software flexible enough for the field. Cloud functionality means that customer service can take a client call, make notes in Dynamics, and those notes will pop up to field personnel as they walk through the client's door, many miles away.
While it's best-in-class business software, it is surprisingly simple to use straight out of the box. That's probably because the user interface feels very familiar—most of us have been using the Microsoft Office suite for years, so this makes sense. However, for employees that need additional help, there are guided new user tours to get people started.
Some of the cool features we like in GP include:
If your company is planning an overseas expansion, GP offers multicurrency management, which will allow currency conversion for accounting transactions. It allows you to move easily between monetary types while recording profit and losses in your business.
Human resource management is some of the most heavily regulated functions in your business. Dynamics helps ensure you stay compliant with all local, state, and federal regulations. You can use features in this module to help organize your recruiting and candidate screening processes. Then you can send and manage candidate offers and onboarding from an easy to navigate dashboard.
Reporting is one of the most robust features in the platform. That's because there are 700 standardized reports in GP. (For the record, QuickBooks has 200.) You can customize these reports, but really, chances are you're going to find exactly what you need already created as a standardized model. Azure and Power BI help power the analytical horsepower behind the reporting functions so that you can map out a financial or operational course of action based on historical data.
Licensure for this software is easy. You pay for what you use. You can scale back or add more under a monthly subscription, which adds to the flexibility of the software. Choose what you need now, and add more when you need it.
Interoperability between all the business modules in Microsoft Dynamics GP means that you can track inventory, active service calls, sales contracts, billing, and more. The data populates across these functions, which is an incredible time saver—you type information in once and it will self-populate. Microsoft Dynamics GP also integrates with Outlook and Excel and other office products, making this an exceptionally efficient software platform.
Project management allows you to start with the estimate, fees, and breakdown of deliverables. Then you can map the project out by tasks for internal employees. As the deliverable progresses, you can track employee time and labor, and manage the project budget. Communication and collaboration can occur by incorporating SharePoint or Yammer. Client billing happens naturally, with an automated approval cycle and flexible formatting capabilities. Finally, you can use the embedded scheduling and forecasting tools to determine what went well, what resources were used, and what could be improved.
Microsoft Dynamics GP works just as well for companies with 10 employees, or 10,000. But how can it help the small but growing business that is experiencing the pain of that expansion? Let's break it down by issue:
Problem: Employees feel as if there aren't enough hours in the day to accomplish all tasks.
Solution: What if each employee was greeted each day with a personalized dashboard of tasks? How much redundant order entry could they reduce by entering data into one system that populates all other functions? Microsoft Dynamics GP answers all these questions and more.
Problem: Communication suffers as employees struggle to stay organized.
Solution: Dynamics GP is primarily a communications workhorse. That's because there is an inter-company processing engine linking all critical business functions behind Dynamics GP. It is precisely this ability to communicate across desks or between departments that sets this software apart.
Problem: There is not a clear corporate direction that is shared with everyone.
Solution: Dynamics GP can create a new transparency in an organization by melding business, financial, and operational functions. Sales managers and reps will be able to see a dashboard with key performance indicators. Finance will be able to track values and reduce reporting errors. GP was designed to become the tool that links everyone together in a shared goal to improve the business.
Problem: Meetings are held, but follow-up tasks are not accomplished.
Solution: This is one of the best features that Dynamics brings to the table. GP actually helps employers create a culture of accountability within an organization. Process automation will help keep tasks on track. Documents can be generated and automatically sent to the appropriate parties for approval. This keeps workflows running smoothly.
Problem: The firm brings in sales, but profitability is floundering.
Solution: With Microsoft Dynamics GP, you can track and optimize fulfillment and reduce costs. You can also analyze sales by type or price. There are predictive analytics tools baked into the reporting functionality, so businesses that are struggling with cash flow can predict market highs and lows based on historical data. Anticipating customer demand helps businesses stay ahead of the curve. You can even track the depreciation of fixed assets all the way to retirement.
Why Microsoft Dynamics GP for the Growing Business?
This software was created to adapt and grow with your company. GP gives you the ability to take charge of your financial and organizational performance. The software can be used by the smallest start-up and can grow into the most complex multi-state or multinational business. That's a huge selling point that individual platforms like QuickBooks simply cannot offer. Microsoft Dynamics GP was designed to become your business infrastructure across all areas of your company. Visibility across the organization will improve as data is entered in sales, which flows to project management, then to billing, and so on.
Here are just some of the reasons that you should take a test drive of Microsoft Dynamics GP:
Your business has envisioned a growth path, and that vision hasn't occurred
You're struggling with growing pains that are hampering your company's productivity and ability to get the job done
You simply want to streamline your business functions, create better oversight, or have the ability to predict future profit and loss.
To learn more about how you can help your business manage growth with Microsoft Dynamics GP, contact the experts at IES today.