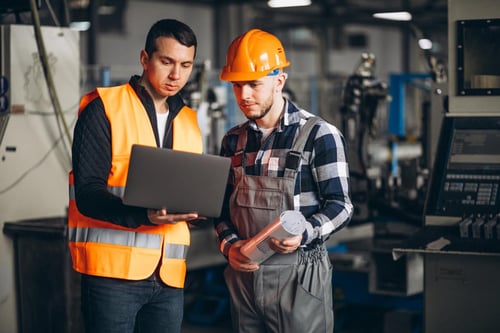 Companies deal with constant pressure from outside forces as they work to ensure the smooth delivery of products and services to customers. As a result, it's more important than ever that organizations have a robust ERP solution capable of handling every-changing demand.
The Microsoft Dynamics Business Central manufacturing module provides small and medium-sized businesses (SMBs) with a way to manage every aspect of the manufacturing process. Let's explore Business Central Manufacturing and the best way to leverage the platform to benefit your organization.
What is Dynamics 365 Business Central Manufacturing?
The Microsoft Dynamics Business Central Manufacturing module provides companies with an all-in-one solution for overseeing manufacturing processes. That includes functions like:
Machine Management
Production Scheduling
Supply Planning
Capacity Planning
Order Management
Capacity Planning
Demand Forecasting
We've previously touched on the benefits offered by Dynamics 365 Manufacturing. Now it's time to explore some best practices to successfully implement and deploy Microsoft Dynamics Manufacturing within your company.
1. Map Out Your Business Processes
It's extremely difficult to revamp your production and manufacturing processes when you're unclear about the details. Regardless of how much money you spend, you should take the time to walk through essential functions then map them out before turning them into workflows within the Dynamics 365 Business Central Manufacturing module. Finally, talk with the people responsible for overseeing each process, like shopfloor operators, to ensure you don't miss out on essential details.
For example, once you understand how to set up production orders, you can use the Planning Worksheet page within the Business Central Manufacturing Module to create multiple orders. You can also generate single orders from the Sales Order Planning or Order Planning pages. In addition, the system automatically reserves and tracks items from their creation source.
2. Set Clear Business Goals
The key to aligning Dynamics 365 Business Central Manufacturing to your company culture is laying out clear goals on what you wish to accomplish. Once you do that, start defining the metrics and key performance indicators (KPIs) you would use to determine whether you're hitting your targets.
Your company must set goals for measuring and reviewing productivity throughout and after the implementation process. Establish financial values for the improvements you hope to see to determine your ROI. Make sure the entire implementation team understands your business goals so that everyone remains on the same page.
Use that same information to set up your production reports to gain insights into your manufacturing activities. For example, you can review how much you're spending on production costs to see if you're hitting your target ROI. If not, use the information to determine where you can make changes within the supply chain to lower costs.
In addition, you can create dashboards that centralize your view of all KPIs and metrics. Then, try to narrow your information down to the essential data. That way, you avoid getting overwhelmed, making it easier to identify how well you're doing in hitting your business targets.
3. Make Sure You're Capturing Important Metrics
You should be collecting information from every part of the manufacturing process. One important measure you should have data for is overall equipment effectiveness (OEE). That tells you the value of having a piece of equipment running on a specific schedule. In addition, it gives you an idea of how well your manufacturing processes are working.
Organizations should also track what's happening at the plant and work levels. With the proper configuration, you can use smart technology to capture real-time production data and feed it into the Dynamics 365 Business Central manufacturing module. That provides your team with even more insight into how to improve your ability to meet customer demand.
4. Educate Yourself on Dynamics 365 Business Central Manufacturing Features
Take some time to learn more about the essential components within Business Central Manufacturing.
Production Orders — Production orders are central to the entire Manufacturing module. It's where organizations record item costs and how raw materials get turned into finished products.
Planning Worksheet — Use the planning worksheet with forecasting to ensure you always have enough inventory available to meet production demands.
Inventory — The Inventory component within Business Central Manufacturing helps you manage essential functions like picking and inventory maintenance. You can keep shared lists of inventory items, including raw ingredients and packaging.
Production Bill of Materials (BOM) — Maintain multiple BOMs required to create finished inventory products.
5. Do Everything in Stages
Many companies want to immediately move everything over to Business Central Manufacturing. While it makes sense that your organization would like to start realizing gains as quickly as possible, it's better to execute your implementation in stages.
Ideally, it's best to have a consultant like Internet eBusiness Solutions (IES) on-hand to guide you through each phase. For example, you might want to start with getting your warehouse processes going, because that's where your production processes start and end. After that, you can move on to manufacturing, then the functions that involve customer interactions.
Your research around what's happening throughout your company pays off during implementation. You gain clarity around how the system should work when you understand planning and scheduling. That's crucial for when your team starts automating processes and integrating external services.
6. Plan Out Your Transition
Aside from trying to do everything at once, another big mistake organizations often make is not properly managing the transition to Dynamics 365 Business Central Manufacturing. You want to avoid having production come to a standstill because your workforce is confused about how the new system works.
Take the time to walk employees through what's going to change. Ideally, they'll get the chance to try out the changes before making a complete switch to your new platform. The need to carefully manage the shift to a new platform is another reason it's a good idea to implement in phases. You get the chance to work out any kinks during your first pass and avoid making the same mistakes in subsequent stages.
Gain an Advantage with Microsoft Dynamics 365 Business Central Manufacturing
Contact IES today to learn more about how much you can gain by implementing Dynamics 365 Business Central Manufacturing. Reach out to us today to schedule a consultation.