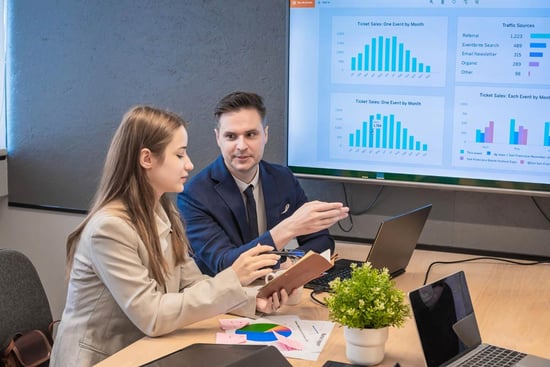 Business intelligence involves gathering, reviewing, and presenting data visually. It helps organizations make more informed decisions by making information easier to understand. There are numerous software tools available to carry out business intelligence, including Microsoft Dynamics. It allows businesses to place data into a single environment to extract insights and make more effective decisions. Let's look at what your business could gain by turning to Dynamics 365 for business intelligence software.

What is Microsoft Dynamics?
Microsoft Dynamics has existed in some form for the past few decades. Many companies still use earlier iterations of the platform. You can find capabilities for business intelligence in Dynamics Nav. Microsoft Dynamics 365 is a cloud-based software-as-a-service (SaaS) platform that combines all the benefits of older versions of Dynamics.
The decision to roll the functionality of Dynamics NAV and AX into a cloud architecture led to the development of modules like Business Central, Finance, Sales, and Operations. You get the core functionality of an enterprise resource planning (ERP) and customer relationship management (CRM) solution in one platform. Businesses have the option of picking and choosing the functionality they need.
Key Features of Microsoft Dynamics
Workflow automation — The platform provides users with a visual workflow designer that lets them create customized workflows without doing extensive coding. You can cover various scenarios like order processing, handling common customer service requests, and performing lead qualification.
Customer service — You can set up Dynamics to handle customer inquiries, track cases, and set up service level agreements (SLAs). The platform comes with a knowledge base that companies can use to store articles, frequently asked questions (FAQs), and other internal user resources.
Omnichannel engagement — Dynamics 365 lets you connect with customers through phone, chat, social media, SMS, and email channels. That helps businesses develop more personalized strategies for improving the customer experience.
Seamless integrations — You can integrate Microsoft Dynamics into other systems and applications, including other Microsoft products. For example, you can connect with Office 365 and pull data from Microsoft Excel sheets into the Dynamics 365 database. Users can also work directly with Power Apps.
Benefits of Microsoft Dynamics 365 as Business Intelligence Software
Now that we understand what Microsoft Dynamics can do, let's look at how it can benefit your organization as business intelligence software.
Integrated Data Management
In addition to setting up a centralized repository, you can make business intelligence with Dynamics 365 easier by integrating with different source systems. If you have sales information stored in one SQL database and accounting information in a separate ERP, you can pipe data in from both. Dynamics 365 can also connect to data stored in different Dynamics modules like Sales and Marketing.
After pulling information into Dynamics 365, you can map and transform it to fit your company's data model. Dynamics also provides tools for cleaning and enhancing information to improve its quality. Users can perform tasks like removing duplicates, applying standardization, and eliminating redundancies to improve data accuracy.
Powerful Reporting and Analytics Capabilities
Users can tap into the full scope of business intelligence in Dynamics 365 by using the prebuilt reports and templates provided by the platform. They come ready to use, eliminating the need to do a lot of customization. If there is a need for ad hoc reports, you can quickly perform analysis and set up your queries.
Dynamics 365 lets users build customizable dashboards to access information like sales pipelines and customer satisfaction ratings. You can also use data visualization tools to create interactive graphics, including graphs, charts, and maps. If needed, Microsoft Dynamics easily connects to Microsoft Power BI to access more advanced data modeling and analytics.
Enhanced Decision-Making Processes
Thanks to the business intelligence in Microsoft Dynamics, you can gain actionable insights from reviewing the data captured in your Microsoft ecosystem. The same thing can be done using information from connected external applications.
All the customer, sales, marketing, and financial data can be used to create a single source of truth to inform business decisions. Users can tap into the data visualization and reporting capabilities to present information in a more accessible format. Dynamics 365 also facilitates collaboration and workflow management. Leaders can connect with others in the organization to help streamline decision-making processes.
What to Consider When Implementing Microsoft Dynamics as Business Intelligence Software
Before moving forward with Microsoft Dynamics for business intelligence, you must cover all your bases. Working with a partner like Integrated eBusiness Solutions (IES) can help ensure you don't miss anything critical when working with a Microsoft Dynamics instance.
System Requirements
Microsoft Dynamics is compatible with various operating systems, including Windows 11 and Windows Server. You also need to choose a database for storage. Popular options include Microsoft SQL Server and Azure SQL Database.
Make sure you have a modern web browser like Edge, Google Chrome, or Mozilla Firefox. Your business should also consider what configurations you need for APIs, integration connections, and middleware to create a seamless data exchange.
Working With Data
Start thinking about the quality of the information entered into Dynamics 365 for business intelligence. It should be accurate, consistent, and complete if it's meant to be a source of truth. It's also an excellent practice to set up and implement a data integration strategy. Work through how your company will ensure synchronization between Dynamics 365 and other systems.
Security and Access Control
Organizations need to develop appropriate security measures to protect sensitive information held in Dynamics 365. That includes evaluating the stability and security of any APIs or other processes tapped into the platform. You should also set up defined user roles and establish permissions around who has access to perform various system functions or work with data.
Build the Perfect Business Intelligence Solution for Your Company
IES specializes in helping businesses find the right solutions to support their organization. Contact us today if you're ready to revamp your approach to business intelligence.