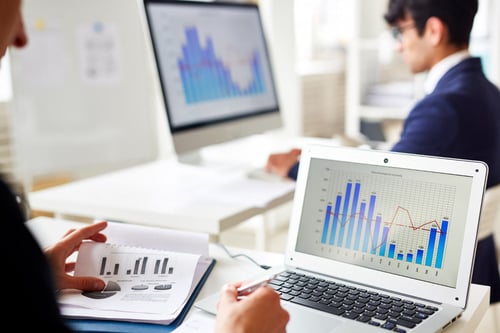 Artificial Intelligence (AI) has become essential to companies looking to transform how they do business. Microsoft Dynamics AI for Sales helps organizations overcome business problems keeping them from achieving a higher success rate in closing deals with customers. The service makes it easier for salespeople to forge more personal connections with potential customers.
Dynamics 365 Sales AI also brings orders to sales teams dealing with information haphazardly. You can bring order to the sales process by organizing data and leveraging it as an asset to help generate more sales revenue.
1. What is Dynamics 365 AI for Sales?
Microsoft Dynamics 365 for Sales has built-in AI capabilities that help organizations customize the sales process. Dynamics 365 Sales Insight helps improve the performance of your sales team and allows managers to execute better oversight over the actions of representatives.
Other ways that companies benefit by using Sales AI Dynamics 365 include better maintenance of customers and the ability to centralize information like sales opportunities and contacts. Let's look at some of how Dynamics 365 AI for Sales alleviates common business problems for organizations.
2. Disorganized Lead Generation
One issue that can sink a sales team is a lack of standardization around lead generation. Sales reps spend a lot of time deciding which leads are worth pursuing. They get bogged down in manual processes trying to study spreadsheets and develop customer lists.
Dynamics 365 AI for Sales uses the data collected about customers to help salespeople set up more tailored experiences. For example, you can set up personas and follow specific templates designed to appeal to different customer types.
The AI capabilities let you set up predictive algorithms that apply a predictive score to the likelihood of a lead turning into a revenue opportunity. Supplementing the service with Azure Machine learning to analyze historical sales and lead information allows you to identify patterns that increase the likelihood of successful closings.
You can automate the repeatable steps throughout the entire sales process. Managers can use the information collected through Dynamics 365 Sales AI to create consistency among the sales team. Having standardized procedures in place reduces confusion and provides a sense of clarity.
3. Manual Tasks
Many sales teams work with documents stored on different desktops and customer information split across disparate databases. It's harder to bring your team together or help new reps get up to speed when you don't have reliable documentation around policies and sales activities. Users must perform a lot of manual labor to make sense of everything.
Sales AI Dynamics 365 removes the confusion by learning the work habits of sales teams and making information accessible to everyone. Automating different tasks relieves the burden on salespeople, freeing them to focus on more essential work.
4. Lack of Customer Insight
Another common struggle for sales reps is pulling together a 360-degree view of customers. A way of speaking that may work with one lead may be entirely off-putting for another. Dynamics 365 AI for sales pulls information from other company systems to help you form a complete view of potential customers.
The insights gathered help you maximize the time given to you by leads and make the biggest impact. Dynamics 365 AI for sales puts all the info you need in front of you to help personalize customer interactions. It also warns you of potential issues with a possible deal that could present a lot of risk to your company.
5. Poor Sales Team Coordination
There can be a lack of synchronization among co-workers because of poor data organization. For example, one seller could have information about a lead that could benefit another team member. However, both could lose out on a sale because they don't combine their knowledge.
Dynamics 365 AI for Sales pulls information gathered about leads into one comprehensive view. As a result, it becomes easier for team members to work together and give stalled deals the push they need. The system can also alert relevant team members when account relationships show signs of trouble.
Sales teams can use Dynamics 365 Sales AI to set up pipelines that help prioritize customers and offers context to various working deals. You can also set up customized recommendations to help all reps get through the sales process faster.
6. Faulty Sales Forecasts
Incomplete data can cause your team to make inaccurate sales forecasts. Dynamics 365 AI for sales consolidates information from various sources to fill in information gaps. You can set up AI-powered forecasts that provide salespeople and managers with insight into how they can achieve revenue goals.
The platform combines data from historical archives and the current sales pipeline and makes it available at every hierarchy level. That kind of information-based premium forecasting improves overall accuracy and your chances of hitting sales targets.
You can also set up snapshots that save forecast information for specific periods. Teams can also create trend charts that visualize how forecasts shift over time. There are also flow charts available as an alternative to highlight forecast changes.
Change Your Sales Outlook with Dynamics 365 AI for Sales
Dynamics 365 Sales Insights complement other modules within the Dynamics 365 ecosystem. It works well with the Dynamics 365 Customer Engagement Plan to further improve the productivity of sales teams. Other benefits provided by Sales Dynamics 365 AI include the ability to:
Track and analyze customers to create new pursuit strategies
Set up talking points for use among sales team members
Collect insights on competitors
Figure out the next steps for sales reps
Keep up with the ebbs and flows of customer relationships
Internet eBusiness Solutions understands how to unlock the power of Dynamics 365. Let us help you optimize the platform for your company by setting up a consultation with one of our Microsoft experts.