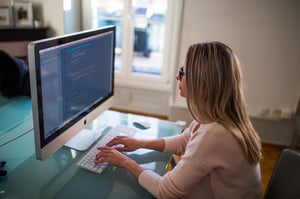 Here is what we know: The right tools can make all the difference.
The digital landscape is dotted with choices for document and team collaboration software. Because our teams are often dispersed or remote, having the right tool for coordinating project documents is essential for making business happen.
Noticed we used the word "tool" instead of "tools"? That's because we believe today's software should be able to help you dump a multitude of legacy platforms and redundant processes and replace them with a single solution.
In this article, we're going to look at two of the best document collaboration software applications on the market, Confluence vs. SharePoint. We'll go into detail on the features, benefits, and pricing that come with these competing platforms to try to help you decide which is better for your business.
What's in a Name: Atlassian vs. Microsoft
Deciding between Atlassian vs. Microsoft should start with a look at the longevity and background of the companies themselves.
When compared to Microsoft, Atlassian is the young upstart. This Australian company was founded in 2002 by two college students who maxed out their credit cards to finance their vision. By 2017, Atlassian became a $148 million venture with no credit cards in sight. In the intervening years, the firm worked to release JIRA, an issue-tracking device for software developers, and Confluence, their document collaboration tool. Interestingly, the firm does not have a traditional sales team, instead relying on word-of-mouth.
Microsoft has been creating business software since 1975. An American company founded during the Silicon Valley boom, the Microsoft suite of office products quickly cornered the market – and has held it for decades. In the 80s, Microsoft joined forces with IBM, bundling the Microsoft operating system within their suite of hardware. Today, Microsoft's revenue is around $23 billion – not bad for an idea conceived in Bill Gates' rec room.
What Makes Good Collaboration Software?
Both of these firms offer document collaboration and team communication tools. Atlassian offers Confluence and Microsoft sells SharePoint. In a feature-by-feature comparison of Confluence and SharePoint, both seem to offer some of the features that one would expect with this kind of business collaboration software. For example, they both offer:
The ability to coordinate tasks, project planning, and deadlines, as well as offering team members the ability to assign to do's. This should include workflow management features that allow the user automate document approval or review while tracking process steps.
Collaboration on documents between team members. However, this software should do more than maintain proper version control. It should serve as the hub for a client project, allowing instant messaging, scheduling, and task lists. These tools should be scalable to the largest teams but not too unwieldy for smaller organizations.
Real-time communication should exist in ways that transcend email; look for social collaboration applications that incorporate IM, video chat, on-demand recording features, file editing, and more.
The problem today is that the IT market has collaborative task management spread over multiple software applications for lead generation, collaboration on documents, project management, communications, etc. According to Computer World, 92% of IT professionals say they have an average of around four different applications that do what both Confluence and SharePoint can do. Integrating multiple legacy platforms is not only a problem for IT teams, but overly time-consuming for internal teams stuck repeating tasks.
Although enterprise organizations have been conservatively slow to adopt many of the digital disruptors that we see today, the market for software collaboration tools is expanding at a compound annual growth rate of 13%, according to Computer World.
However, Computer World also points out that the best office collaboration tools come not from Atlassian, but from Microsoft, IBM, Cisco, and Google – in that order. So, in a head-to-head comparison of Confluence vs. SharePoint, does this mean SharePoint will win every time? Let's find out.
Confluence vs. SharePoint – Benefits, and Drawbacks
The first thing to consider, when looking at these two software platforms, is not the technology itself. Instead, we want you to consider the business-related problem these applications may help you solve. What are the top needs of your company that this software should solve? In other words, in an ideal environment, what is Confluence used for within your organization, and what is SharePoint used for?
Should it help coordinate remote teams with Intranet sites or wikis where documents can be built and stored?
Should the software have interactive brainstorming tools like virtual whiteboards?
Is prototyping important? How about microblogging or mind mapping?
Is the platform geared for internal teams, external clients, or both?
As part of this process, you should make a list of the applications that the platform should replace, and then check to see that the new software can replace all the features and functions you're currently using.
Ultimately, you should allow your business user case to dictate the platform goals. Once this has been established, deciding between Confluence vs. SharePoint will get little easier.
Confluence
Despite being created by a younger company, Confluence has many of the same features as SharePoint. For example, both applications allow the user to create Intranet sites that can be used as the hub for project coordination. Atlassian's Confluence operates under the old wiki concept, which originated in the mid-2000s. As a wiki, it does not allow the internal website to be published externally on the web for public consumption; however, Microsoft SharePoint does.
The Confluence software gives each user or team space within the larger wiki database where they can create pages. Confluence is popular software for web designers and programmers because they can create specific pages for technical documentation while uploading important documents.
Confluence pairs well with other Atlassian products like their HipChat for IM or JIRA for project management and software bug tracking. Confluence is very simple to use; the wikis have templates so setting up a page is pretty easy and uploading documents is intuitive.
Confluence is widely used for project management in developer communities. Using Confluence for project management is also particularly good for small businesses that need a smart, clean, yet simple tool to get the job done. Confluence has all the basic features of an office document management tool and is easy to use.
The pricing for Confluence starts at $10 per month for 10 users but jumps to $50/month for 15. The price goes up to 2000 users at $1,000 per month. One drawback to the platform is the first big, startling jump; for small but growing businesses it might be easy to have sticker shock if you're not paying attention to the next pricing levels.
SharePoint
SharePoint is so much more powerful than Confluence it's almost shocking. In fact, for a small business, SharePoint may be overkill. But for the organization that's ready for the real deal, Business 2 Community says, "If Confluence is one product, then SharePoint is a whole platform."
On the surface, there are a lot of similarities between Confluence and SharePoint. SharePoint lets you set up web pages, just like Confluence does. It has instant messaging, document management, and storage, just like Confluence. Both software platforms are also mobile friendly. There's where the main differences end.
The biggest differentiator is that SharePoint works seamlessly with other Microsoft products. Think about that for a moment. What if one tool could bring everything together under one umbrella? What if you were working on a project and wanted to set a meeting to review a document. SharePoint will store and let others collaborate on the document. It will allow instant discussion about the project, no matter how far apart the team is. But it will also let you set up a video conference, which you can record for any team members that miss it. In setting up the meeting, SharePoint populates meeting details in your Outlook calendar. You can also collaborate on PowerPoint presentations in SharePoint. Finally, SharePoint can serve as a data warehouse for important files related to your project.
Did we mention SharePoint has dozens of add-on services?
SharePoint pricing is divided into three tiers, at $5, $10, and $20.
When looking at Confluence and SharePoint, the user will also note that both platforms have cloud options. However, only SharePoint is offered in an on-premise solution. So, which is better for your business?
Confluence vs. SharePoint – Which is Better?
Defining a use case is the first step toward making the right business decision. But one fact to consider is that SharePoint simply does more than Confluence. When you combine it with the rest of the products in the Microsoft suite, it becomes hard to beat no matter what set of features you're trying to find in your next software platform.
This is all the more true as Microsoft works to expand its cloud offerings and integrate them together. SharePoint is closely integrated with much of the Office 365 ecosystem, meaning that users can turn to solutions like Planner and Microsoft Teams rather than using Confluence for project management.
But – and there is always a but – SharePoint is still clearly a work-in-progress, just like Confluence. Some users suggest that the tool is too complex so that all the features will never be used effectively.
One crucial consideration for SharePoint is that users must establish business rules for how files will be stored before users are set loose into the software. Otherwise, the lack of file naming conventions will almost assuredly leave files in a jumble, making them hard to find.
So, for an easy-to-use intuitive software platform for the small to mid-size business, Confluence may be worth checking out. But enterprise organizations, businesses that are already invested in Microsoft's ecosystem, and fast-growth companies should consider SharePoint.