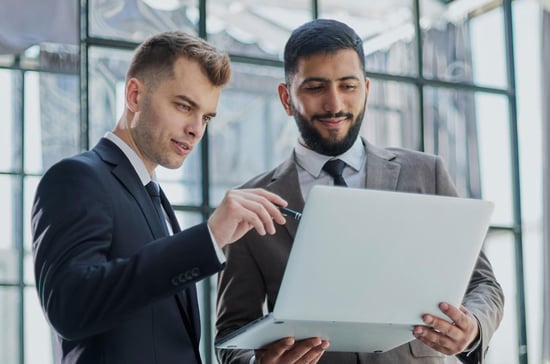 After introducing new AI advances within the Dynamics environment during Wave 1, Microsoft continues to expand its use of AI as the company rolls out Dynamics 2023 release wave 2. This phase introduces new and enhanced features for Dynamics 365, Viva Sales, and the Supply Chain platform. Users should see updates rolling out between October 2023 and March 2024. There are new innovations designed to provide organizations with the capabilities needed to transform how they do business.
Marketing
The marketing module will get a boost from Dynamics Copilot in many ways. Users will have the ability to automate email creation. Copilot can help with styling various elements like text and buttons. AI interprets styles from company websites and applies them to emails, keeping them aligned with current company branding. It cuts down on the time marketers must spend on emails, giving them more time to focus on creating compelling content for campaigns.
Copilot can do the same for forms and event registration pages. You only need to add the company website URL to capture elements like fonts and color palettes. Users control fine-tuning and adjusting elements to match a marketing campaign or brand guidelines.
Organizations use authenticated domains to maximize emails' credibility, deliverability, and performance. Customers know they can trust communications coming from a specific domain. Copilot assists users in setting up an authenticated domain and verifying it with a DNS provider, cutting down on the time it takes to get through the sometimes-complex process.
Dynamics 365 Marketing will allow for the creation of customer journeys in minutes. Users can describe what they want to create, and generative AI will build the journey. That means marketers can avoid getting bogged down in the mechanics of journey creation.
Sales
Sellers spend a lot of time performing research and information-gathering tasks to help them create customer proposals. Now, Copilot provides AI-generated proposals to speed up the sales process. It generates a first draft based on existing information from a CRM, ensuring that it contains relevant and contextual data.
Managing multiple accounts will become much easier with the summary feature. Sellers can obtain a consolidated summary of essential customer data, including:
Buying behavior
Opportunities
Cases
Account news
That means sellers can prioritize work more effectively instead of focusing on going through scattered information or manually pulling account details together. You get information on associated cases and always have the latest knowledge about customer accounts.
Sales teams can track email conversations more effectively, thanks to AI. The system will monitor and locate action items by scanning emails and populating them with an Up-Next widget. Dynamics 365 Sales will also send reminders to complete tasks, reducing the risk of missing out on a sale.
Customer Service
Starting in October 2023, users will receive better search control to help them mark and categorize service cases. They will have the same ability regarding knowledge base articles and product information.
Agents will have functionality allowing them to manage work directly from their inbox. The inbox will centralize the work agents perform related to calls and live chats. They can view the information alongside associated cases, emails, and voicemails from a single view. Other inbox enhancements will include:
Routing live work items to an agent's inbox
Designating a specific section for viewing live work items
Giving agents the ability to look at voice calls and live chat views
Providing card layouts for voice calls and live chats containing critical information
The Dynamics 365 Customer Service Conversation control will contain intuitive icons and descriptions to help agents understand their purpose. There will also be a communication panel where agents can communicate with customers. It will appear whenever there is an incoming conversation. Users can also access the control from the Customer Service workspace Inbox.
Copilot enhancements will improve customer experiences and help agents optimize their workflows by:
Summarizing conversations and support cases
Providing a view showing historical customer service analytics
Diagnosing customer issues and pulling internal organization knowledge to help agents find a solution
Finance
Starting in October 2023, Dynamics 365 Finance users can automatically archive information while leaving the data available for reporting purposes. The Dynamics 2023 release wave 2 also addresses the gap around realized gain/loss not posting if a reporting currency doesn't balance to zero.
Users can also add financial tags to accounting distributions for documents sourcing from the accounting framework. This enhancement will be available on the Accounting distribution page. Users can also find financial tags created in earlier journal releases.
Dynamics 365 Finance will introduce a workspace providing a centralized view for account payable clerks. It will display all pending vendor invoices and associated statuses during invoice automation. That will help account payable clerks locate exceptions and make corrections. Future releases will add invoice journals and insights around the invoice processing automation rate.
Other enhancements rolling out throughout 2023 and 2024 include:
Ability to use bank foreign currency revaluation enhancements
More support for complex bank reconciliation matching rules
More control around reports made available based on role
Establishment of reporting hub for business processes
Supply Chain Management
The Dynamics 2023 release wave 2 will introduce a workspace within Dynamics 365 Supply Chain Management dedicated to helping sales managers see the impacts of price changes. They can use the dashboard to make pricing record adjustments. Other features made available within the new workspace include:
Tile collections summarizing price records that need attention
Tabbed list section with information regarding impacted price records for every price component type
Ability to enable price records or open records to make pricing rule changes
Inventory management using a mobile application
Ability to search products and on-hand information using attributes
Experience the Impacts of New Dynamics 365 Features
Microsoft continues to find ways to optimize Dynamics 365 functionality for businesses. AI helps companies manage the tedium of everyday tasks, freeing employees up to handle essential work. That can lead to more significant cost savings and better workforce utilization.
Internet eBusiness Solutions can guide you through the upcoming Dynamics 2023 release wave 2 changes. Contact us today for help understanding how the updates could help you streamline workflows and make them more efficient.