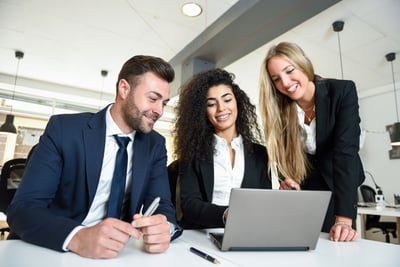 As a business development tool, you can't get much better than Dynamics 365 Business Central. Released in October, Dynamics 365 Business Central is NAV reimagined as a software-as-a-service tool. At its core, Business Central is primarily an enterprise resource planning (ERP) tool, which took the old NAV product for the small to mid-sized company, improved it, and renamed it for all companies.
This article will look at some of the latest upgrades within the ERP and how they can help your business improve.
Dynamics 365 Business Central Development Tools
Business Central is a cloud-driven ERP that's perfect for companies seeking an upgrade from their legacy accounting platform. Because the ERP houses so many functions under one umbrella, Business Central actually would allow companies to dump many of their legacy sales, operations, finance, and customer service platforms. In doing this you would not only have a single login in for all of these functions, but also data would transfer seamlessly between these functions. If your organization spends time moving data between platforms or if you've been feeling like you have a patchwork quilt of software tools, Business Central provides the kind of simplicity that may be appealing.
Generally, that's the sweet spot of an ERP; it eliminates any of the inefficiencies that evolve from cobbling software together, instead, creating an integrated, intelligent tool that everyone can use.
Dynamics Business Central Development Over NAV
For NAV users, the core functionality remains. But there have been some improvements in this latest iteration of the ERP that are very beneficial. For example:
There's a refreshed desktop and UI with an improved layout to maximize screen space. You'll find that the new product is easier to navigate and more intuitive.
Business Central has more availability to follow you wherever you need the tool, whether it's on-premise, cloud, or a hybrid deployment. It's a smooth phone app that can transition neatly to your office desktop.
Tell Me is a cool feature that uses machine learning to elevate the search for reports or pages, reducing the number of clicks it takes to find what they need faster.
The filtering pane to the side of the page lists primary content that you define. It gives you a quick lookup option that helps simplify the user experience.
Copy and paste rows is a cool new feature over NAV that takes entire lines of data and lets you past them into a list in Business Central. The function crosses over to Excel, too.
Power BI got a little smarter, too, with an enhanced crossover between the reporting function and Business Central. You can now run reports within the Business Central window, slicing and dicing data, formulating a report function, and then sending it out.
If you have the old NAV and are wondering if now is the time to upgrade, the answer is a resounding, "Yes." For companies wondering if now is the right time for an upgrade from their old systems, we can say that the latest iteration of the Microsoft ERP is worth a test drive. Contact us to find out more.