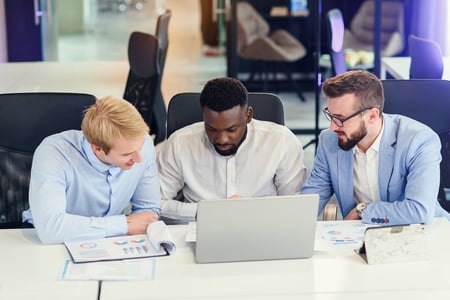 QuickBooks accounting software is prevalent among start-ups and small businesses in need of a tool that helps them manage customers, clients, inventory, vendors, and finances. Dynamics 365 Business Central is an enterprise resource planning (ERP) solution with accounting features that compare favorably to QuickBooks offerings.
Many people confuse Dynamics 365 Business Central with Dynamics 365. That makes it harder for them to understand how Business Central compares to QuickBooks and other ERP solutions. This article will clarify the difference between Dynamics Business Central and Dynamics 365 before showing how Business Central holds up compared to QuickBooks and other alternatives.
Dynamics 365 Business Central vs. Dynamics 365
Dynamics 365 Business Central is an ERP that supports small and mid-sized business (SMBs) efforts to perform end-to-end management of business processes. The flexibility of Dynamics 365 Business Central means organizations can customize the solution to fit their current business needs.
Companies can use Business Central to streamline financial functions, including accounting, billing, and invoicing. The constant flow of information going through the supporting Dynamics 365 data engine gives companies real-time insights into the performance of the business.
Dynamics 365 Business Central is one of over a dozen products offered as part of Microsoft Dynamics 365's suite of business applications. Larger organizations with more complex business needs might opt for Dynamics 365. Business Central is targeted at smaller companies that don't need as much software infrastructure. You can purchase Business Central as a separate product or as part of a package that includes other Dynamic 365 applications like Dynamics 365 Supply Chain Management.
Dynamics 365 Business Central vs. Finance and Operations
Microsoft Dynamics 365 Finance is another offering from the Dynamics 365 software suite. Marketed initially as Finance and Operations, the products now come as two separate products. Dynamics 365 Finance is a more robust finance solution more suited to medium-sized businesses, large enterprises, and global corporations. It's built to handle companies dealing with complex operations like distribution and supply chain management. Other functionality included with Dynamics 365 Finance include:
Global Entry Forms
Cash Flow Projections
Vendor Invoice Processing
Workspaces with Role-Tailored Analytics
Regulatory Features
Robust Reporting
Like Business Central, Dynamics 365 Finance provides core functionality for business functions in one integrated system. Business Central is better suited for smaller companies that don't need the advanced capabilities of Dynamics 365 Finance.
Dynamics 365 Business Central vs. QuickBooks
While Dynamics 365 Business Central and QuickBooks can both cover basic accounting needs for organizations, that's where the similarities end. QuickBooks is suitable for solopreneurs, start-ups, and microbusinesses needing software capable of handling business concerns like managing payroll and processing payments.
Growing companies will likely start having issues with the limitations of QuickBooks since its database isn't capable of scaling to match a business's growth beyond a certain point. Online security has become a major concern for organizations. While there have been recent improvements, the robustness of QuickBooks security doesn't compare to that of Dynamics 365 Business Central.
The functionality of QuickBooks is limited to accounting, so companies get no help with other pressing business needs. Dynamics 365 Business Central is a complete ERP that that provides robust functionality for:
Financial Management
Supply Chain Management
Electronic Services
Human Resource Management
Customer Relationship Management
Project Management
Business Central provides organizations with over 800 more features than QuickBooks, including:
Expanded billing format options
Stronger reporting capabilities
Clear system audit trails
Multi-lingual functionality
Dynamics 365 Business Central vs. NetSuite ERP
NetSuite ERP is another top ERP product on the market. Like Business Central, NetSuite can handle the business needs of SMBs. Price is Dynamic 365 Business Central's most significant advantage over NetSuite. Capabilities that come standard with Business Central, like Warehouse Management and Customer Relationship Management, must be purchased at an extra cost with NetSuite.
Manufacturing and distribution companies may find Business Central more adaptable to their business models. The base package comes with supply chain management and the option to upgrade to premium services that expand the functionality offered through inventory management, field service management, and manufacturing.
Business Central integrates smoothly with all Microsoft solutions along with popular third-party applications like Salesforce and HubSpot. That makes Business Central a natural fit for companies already using Microsoft products. While NetSuite provides some integrations, you usually have to purchase additional modules to expand its functionality.
Dynamics 365 Business Central vs. SAP Business One
SAP Business One is another popular ERP option for SMBs. SAP Business One doesn't provide the same level of scalability as Business Central. Once a company hits a certain level of growth, it would likely have to start searching for a different ERP solution. Business Central adapts to a broader range of business models compared to SAP Business One.
Implementing Business One requires companies to enable ten core modules that can't be discarded because they don't fit the needs of a company. Business Central lets organizations create an individualized solution by letting them pick and choose from modules that fit their core business requirements.
Choosing the Right Solution for Your Business
With so many day-to-day company functions now being performed online, organizations should have a software platform capable of bringing different business areas together. Internet eBusiness Solutions can guide your organization by setting up optimal solutions for your business environment. Reach out today and set up a consultation with one of our specialists.