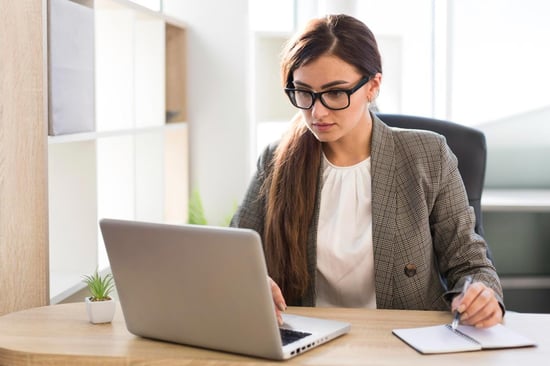 The biggest question most companies have when they start considering investing in Dynamics 365 is which version works best for them. Microsoft offers Professional and Enterprise licensing options for the platform. How do you know whether you need Dynamics 365 Enterprise vs. Professional? Let's look at the capabilities of each to help you with your decision.
Benefits of Dynamics 365
It helps to understand what you gain by investing in a cloud-based enterprise resource planning (ERP) and customer relationship management (CRM) platform. Dynamics 365 provides everything you need to cover your CRM and ERP needs. It provides the capabilities required to handle functions within the various business areas, including:
Customer Service
Sales
Finance
Marketing
Operations
Supply Planning
Field Service
The beauty of Dynamics 365 is that you can pick and choose modules needed for your company. The individual applications work individually and together. With the help of a Dynamics 365 partner, you can build a customized solution to support your growing business needs.
All customer data gets pulled into a centralized location, helping you gather valuable insights into their behavior. From there, you can understand the customer journey better thanks to real-time updates from the platform. Use the information collected to set up more personalized customer experiences and keep up with the health of those relationships.
Dynamics 365 has become a mainstay across various industries because of its flexibility. You save on operational costs by only paying a Dynamics 365 monthly subscription fee. Because it uses cloud technology, your organization does not have to invest in server hardware and associated support and maintenance costs.
What Are the Different Versions of Dynamics 365?
All Microsoft Dynamics products are available on a monthly subscription basis. The Enterprise version of each platform provides companies with more business capabilities. The Professional version typically gets purchased by small and mid-sized companies who may not need the full-blown Enterprise version.
If you're having trouble deciding whether you should purchase a Professional or Enterprise Dynamics 365 product, try out the Professional version first to see if it fits your organizational needs. If there's something more required, then upgrade to the Enterprise version.
Examples of Dynamics 355 Professional vs. Enterprise Platform
If you purchase a Dynamics 365 Professional license for users, they will only have access to capabilities at that level. Users granted access through a Dynamics 365 Enterprise license would have access to both the Professional and Enterprise capabilities.
Let's look at a few different Dynamics 365 products to see what's available via a Dynamics 365 Professional vs. Enterprise license.
Dynamics 365 Sales
Both Dynamics 365 Sales Professional and Enterprise come with the ability to manage leads and opportunities. You can also quickly set up marketing lists and campaigns to generate more interest in products and services. Other functions available for both product levels include the ability to:
Generate price lists and product bundles
Discover CPQ and data enrichment
Create live org charts
Integrate with Microsoft Office 365 products
Export data to Excel
Use Advanced Analytics with a Power BI license
Create real-time dashboards and reports
Customize applications
Generate predictive forecasting
Set up pipeline intelligence
Analyze relationships
The enterprise version also provides functionality that lets users:
Create products, relationships, and hierarchies
Scan business cards
Create sales cases
Take advantage of email intelligence
Set up sales playbooks
Keep up with competitors
Track sales goals
Manage territories
Manage partner relationships
Create Microsoft Power Apps
Set up workflow automation with Microsoft Power Automate
The current Dynamics 365 Sales Professional pricing is $65 per month for each app, then $20 per month per user. Sales Enterprise costs $95 per user per month for the first app, then $20 per month per user. You can also purchase a Premium license for $135 per month. A Microsoft Relationship Sales license is also available at $162 per month.
Dynamics 365 Customer Service
Dynamics 365 Customer service helps organizations deliver better customer service experiences. The flexibility of the Microsoft Dynamics Enterprise vs. Professional licenses allows companies to meet their specific requirements and budget demands. Companies only pay for the capabilities they need.
Both Dynamics 365 Customer Service Professional and Enterprise allow you to:
Customize your dashboards
Manage customer entities
Set up forms and views for entities
Create business process flows
Set up portals
Dynamics 365 Customer Service Enterprise expands on the capabilities of Dynamics 365 Professional by allowing you to:
Set up gamification
Use embedded intelligence to learn about customer behavior
Run a unified service desk
Access all customization features
Access custom applications with Power Apps
Other Dynamics 365 Customer Service licenses include Field Service ($95/$20) and Remote Assist ($65/$20).
Additional Dynamics 365 License Structure
Some Microsoft Dynamics licenses have only a single license available. Dynamics 365 Finance charges $180.00 per month for the first user, then asks for $30 for every other user. The Finance module helps mid-sized organizations conduct real-time financial monitoring and set up predictions for future outcomes. Dynamics 365 Finance integrates seamlessly with other Dynamics 365 and Office 365 products.
The same dynamic applies to Project Management. The tools in that module help project managers track projects and keep teams productive. You pay $120 per month for the first user, then an additional $30 for additional users. Other modules that use this pricing model include Supply Chain Management ($180/$30), Commerce ($180/30), Human Resources ($120/$30)
How Do I Choose a Dynamics 365 License?
If you're having difficulty deciding what capabilities your company requires, the best thing to do is consult with a Dynamics 365 Partner. Internet eBusiness Solutions have years of experience working with various iterations of Dynamics 365 products. With the help of an iES expert, you can set up an ideal Dynamics 365 work environment that enables your organization to achieve its goals.
Learn more about the services offered by iES by setting up a consultation with us today.