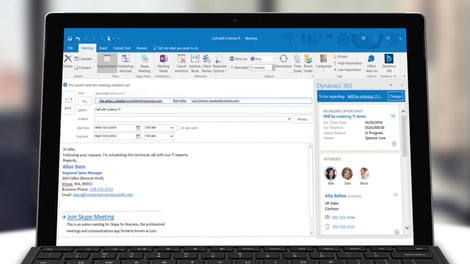 Few software solutions have been around as long or evolved as much as Microsoft Outlook. Originally released for MS-DOS back in 1992, Outlook has since gone through countless iterations and been integrated with a dizzying number of apps. In recent years, Microsoft has developed an Outlook integration with its ERP solution, Dynamics 365.
Dynamics 365 for Outlook is the legacy platform that was designed primarily for the desktop. In December 2016, Microsoft released their Version 9 Dynamics 365 App for Outlook, which they call the "preferred way to use Dynamics 365 and Outlook together."
This article will help you understand the differences between the two versions. Is Dynamics 365 for Outlook better than Dynamics 365 App for Outlook? Why should you upgrade?
Dynamics 365 for Outlook vs. Dynamics 365 App
The user community requested some feature upgrades and they got it in Dynamics 365 App.
Here's a chart to show their similarities and differences:
| | |
| --- | --- |
| Dynamics 365 for Outlook | Dynamics 365 App for Outlook |
| Legacy CRM add-on | Microsoft's recommended upgrade |
| Full-featured for the desktop | Can work wherever you are |
| Integrates with CRM | Integrates with CRM |
| Can work offline | Can't work offline |
| Cannot use on mobile devices | Available on all mobile devices |
Dynamics 365 App corrected some of the interface issues that prevented full integration with Dynamics 365 CRM. The App version lets users create records, use email templates, attach documents – there is no cutting and pasting into a secondary CRM if you're using Dynamics 365 for Outlook. Some of the benefits of the updated version of Dynamics 365 for Outlook include:
If you create a new message in Outlook, a sidebar shows matching accounts, contacts, and leads that use the same email address.
Any email can be tied to a record with one click.
Users can create a new account, contact, or lead from an email they've composed.
You can store files such as PDFs of sales collateral in Dynamics 365, which makes it easier to attach them to emails.
Scheduling follow-ups is easier because they flow straight from the emails you're sending. If you match the account, contact, or lead from the email, new activities will self-populate into the CRM.
You can also add a CRM template into an email, make revisions, and send.
What we've found most beneficial about Dynamics 365 for Outlook no matter what version you're using, is that the tie-in to the CRM functionality truly makes this a great tool for sales reps trying to reach leads and complete tasks more efficiently.
Selling is a numbers game, and Dynamics 365 for Outlook will improve your team workflows. Instead of fooling around with a complicated maneuver between another CRM and Outlook, which has always been the market leader in office emails, now everything is integrated together.
Should You Upgrade?
Short answer: Yes. The interface is neater and the improved functionality flows nicely across your mobile devices. We've found V9 to speed up processes and be more sales-friendly. However, your timing for the upgrade could be tricky. For example, the upgrade doesn't allow CRM data to flow offline. While that shouldn't make a difference, it's worth discussion. Also, Dynamics 365 for Outlook App doesn't integrate with Outlook tasks, so if your team is used to tracking activities in this way, the upgrade could really mess things up.
Contact IES to discuss your options and the pros and cons of Dynamics 365 for Outlook.