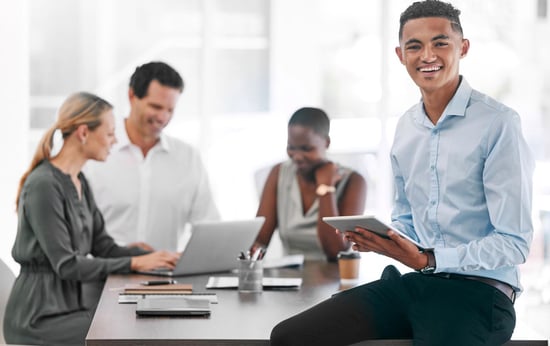 Today's sales teams are swamped with managing different processes, data, and repetitive tasks. Overseeing it all is nearly possible without the right tools. Microsoft Dynamics 365 for Sales gives salespeople everything they need to improve customer relationships, track accounts, manage contacts, and close deals. Below are some ways businesses are leveraging the powerful capabilities of Dynamics 365 for Sales.
1. Generate and Manage Leads
Successful lead generation depends on identifying potential customers who need your products or services most. You're checking out their qualifications and encouraging those individuals to move further down your sales pipeline. Dynamics 365 for Sales helps you with lead generation across multiple channels, whether making phone calls or pouring over leads who leave contact information through your company website.
The platform also boosts your sales efforts by generating questions that help determine how high a potential customer should rank. That makes it easier for salespeople to focus on higher-quality leads that are more likely to lead to a closed deal.
Microsoft Dynamics 365 for Sales tracks the progress of potential customers through the entire sales funnel. You can establish rules at different stages that only move leads forward if they meet specific requirements. The solution automatically scores leads as they come in and routes them based on the criteria you set.
2. Gain Customer Insights
The best way to build strong customer relationships is by offering them personalized experiences. Dynamics 365 Sales gives you direct access to all lead and customer data, along with all past interactions, in a centralized location. You can link LinkedIn Sales Navigator accounts to improve the insights generated within Dynamics 365 for Sales.
Salespeople can track relationships with customers and assign scores that show the strength of their efforts. Use the information collected to generate automated messages to leads, including emails that update potential customers about new product offerings or upcoming sales.
Tracking relationships with Dynamics 365 sales helps you locate customers and prospects who need more attention. That keeps them from slipping through the cracks and moving on to another competitor.
3. Optimize the Sales Processes
Microsoft Dynamics 365 for Sales cuts down on manual labor processes, freeing the sales team to focus on lead generation and other efforts designed to boost company revenue. The platform comes with automation that lets you establish automated workflows and recurring processes.
Another benefit of Dynamics 365 for Sales is collaborating with other sales team members. You can share messages, files, and additional information. Embedding Microsoft Teams within Dynamics 365 enables real-time collaboration around sales efforts. The platform scales to meet the growing needs of your sales organization and the company.
4. Integrate with Other Microsoft Products
One of the most significant benefits of adopting Dynamics 365 for Sales as your one-stop CRM is the ability to integrate with other Microsoft products. You can track Outlook emails, import data from Excel spreadsheets, or send messages through LinkedIn Sales Navigator.
You can connect to other Office 365 software or SharePoint libraries to accomplish tasks like storing templates and sending quotes. Your customer communication history is always accessible to keep up with future sales lead opportunities.
5. Generate Robust Reporting, Analytics, and Forecasts
Dynamics 365 Sales Insights uses artificial intelligence (AI) technology to review customer data and interactions. From there, it analyzes how the information compares your sales process functions to your past successes to help you figure out the right course of action with leads.
You can also generate more accurate forecasts based on all data collected through your sales effort. Create interactive dashboards that constantly get fed information housed within the Microsoft Dynamics 365 Sales database. The AI sets up action cards that you can view through the dashboards to help you understand what's happening at every stage of your sales processes.
Connecting Dynamics 365 Sales to Power BI lets you collect KPI information around sales performance. Use the information to generate reports outlining potential sales opportunities. You can also analyze the relative strengths and opportunities to improve your sales endeavors.
6. Analyze Competitors
Success in sales depends in a big way on figuring out and staying ahead of the strategies employed by competitors. Dynamics 365 Sales helps reduce the tediousness of doing research by letting set up detailed competitor profiles, including their strengths and weaknesses and what targets they're currently after.
When prospects let you know about proposals being received from other competitors, you can store that information in Microsoft Dynamics 365 Sales and use it to generate a more appealing offer. Dynamics helps you come out on top when going after high-quality leads.
7. Integrate with Social Media
Social media has become a critical component in most marketing efforts. Many salespeople rely heavily on social media for promotion and customer interaction. Dynamics 365 Sales makes tracking conversations with clients and prospects much more manageable. You can also keep up with people's general impressions about your brand on the internet.
Expanding your ability to tap into your social media feeds gives you access to all this feedback and lets you quickly respond to criticism. It's an opportunity to turn what might seem like an ice-cold lead into a red-hot prospect ready to move to the end of the sales funnel. The information collected can shape your sales strategies and ensure that you always keep customer needs in mind when making your pitch.
Improve Your Sales Processes with Dynamics 365
Give your organization what it needs to grow and thrive in a competitive marketplace. Internet eBusiness Solutions (IES) specializes in helping companies locate the right software that fits their business environment. Learn how IES can transform the way you operate with the right technology by setting up a one-on-one consultation with one of our experts.