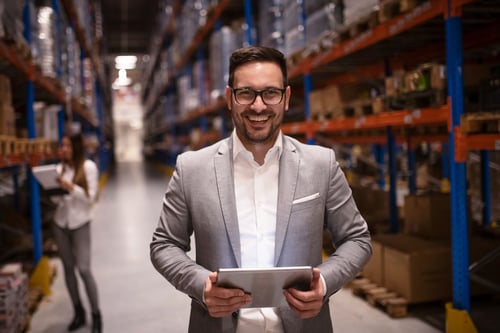 Supply chain management comes with challenges even under the best of circumstances. When you're dealing with inventory shortages because of factors beyond your company's control, things can escalate quickly. If you want to stay in control and meet the demands of your customers, it pays to have a solution like the Dynamics 365 Supply Chain Management platform in place to help you overcome various roadblocks.
What is Dynamics 365 Supply Chain Management?
The Dynamics 365 Supply Chain Management component lets organizations create a single source for intelligence to run connected operations at every point in the supply chain. Some of the functions you can accomplish with Supply Chain Management 365 include:
Setting up an ideal manufacturing mix to support processes up and down the supply chain
Streamlining scheduling by setting up real-time visibility into your resources through the financial management capabilities within Supply Chain Management
Using advanced warehouse and logistics management to optimize the flow of finished goods and manufacturing material
Relying on real-time insights and intelligence to identify and resolve product issues
As you can see, Dynamics 365 Supply Chain Management gives you something more than basic warehouse management software. You can think of it as a combination of several applications like Dynamics 365 Inventory Management and Dynamics 365 Warehouse management. On top of that, you gain access to various financial capabilities to help you manage costs.
How Can Supply Chain Management 365 Help with Operations?
The platform helps operational leaders take charge by:
Improving operational efficiency — The Finance module integrates with the Inventory Management functions in Supply Chain Management 365 to help control assets within the supply chain. A Human Resources module also tracks people, vendors, and machines.
Expand strategic planning — Dynamics 365 Supply Chain Management contains a Master management module that works seamlessly with the Inventory management module. Together, they help companies understand what's going on in areas like manufacturing, warehousing, service, and logistics. In addition, leaders can use predictive analytics to transform data into actionable insights to make better strategic decisions.
Achieve optimized workforce productivity — A single source of business intelligence allows organizations to improve productivity using available assets and resources. In addition, leaders can align employees with the company's strategic goals. Finally, they can provide workers with the ability to offer real-time responses to accommodate operational and customer demands.
What are the Top Features of Dynamics 365 Supply Chain Management?
Microsoft Dynamics 365 Supply Chain Management comes with built-in tools and features to accommodate the need to improve workforce productivity. They have integrated controls like key performance indicators (KPIs), charts, and workspaces.
Businesses can record any funds going in and out of the organization within a General Ledger housed in the Finance module. By associating different banks with specific accounts, it's easier to reconcile bank statements and financial management transactions. Use the Procurement and Sourcing module to handle purchases, negotiations, and purchases agreements associated with different vendors through change management or approval workflows.
It's possible to control the location of where you house items within your company's warehouse and keep up with how they move through the supply chain. In addition, you can use Dynamics 365 Inventory management to track operations related to quality controls, counting, transfers, and quarantine.
A Sales and Marketing module makes it easier to track any sales orders, negotiations, and sales agreements tied to specific customers. Employees can also manage returns and other associated operations.
What Are the Main Benefits of Using Dynamics 365 Supply Chain Management?
Here's what your organization can gain by taking advantage of the tools made available through Dynamics 365 Supply Chain Management.
Improved Asset Management
By enabling the Asset Management plugin for Supply Chain Management 365, you can keep up with what's happening with assets and required maintenance jobs. You can integrate the add-in with other Dynamics 365 applications like Field Service to stay on top of all asset lifecycles. In addition, you can track maintenance plans and use intelligence collected from IoT devices to:
Stay proactive about maintenance
Manage any available spare parts
Automate work orders
Cut down on machine down-time
Improve equipment effectiveness
Smart Factory Capabilities
Sensor Data Intelligence lets you take advantage of your company's raw data. You can digitally transform your supply chain processes by employing Internet of Things (IoT) devices. Your business can use IoT sensors and data signals to monitor critical points along the supply chain. The analytic capabilities help you become predictive versus reactive when managing your business processes.
Build a smart factory that cuts down on the amount of manual data that employees must input. That cuts down on time and improves information accuracy. Other ways you can take advantage of Sensor Data Intelligence include:
Switching to paperless operations using IoT sensors to capture data
Track what's happening at different locations within the supply chain
Increase productivity uptime
Stay on top of shop floor and equipment operations
Centralized Inventory Management
Use the Dynamics 365 Inventory Management solution within Supply Chain Management 365 to better understand what's happening with your company's inventory. Use actionable intelligence to leverage data collected from past sales, purchases, and supply chain functions. As a result, you can optimize your inventory replenishment processes, cut down on carrying costs, and meet and exceed customer expectations. In addition, your organization gains the ability to:
Avoid stock-outs by staying on top of inventory availability
Automate inventory processes to avoid overstocking
Get a better sense of the actual value of your inventory
Better Demand Forecasting
Staying ahead of competitors means companies need a way to predict future demand more accurately. Supply Chain Management 365 uses machine learning and artificial intelligence (AI) to help organizations create more accurate forecasts. As a result, your company can increase inventory turns, improve cash-to-cash cycle times, and avoid carrying too much inventory.
Use Dynamics 365 Supply Chain Management Benefits for Your Organization
Internet eBusiness Solutions understand the power of the Dynamics 365 ecosystem. We can help you transform your supply chain operations into one that's ready to meet customers' current and future needs. Find out how we can help you leverage Dynamics 365 Supply Chain Management by scheduling a consultation with one of our experts.