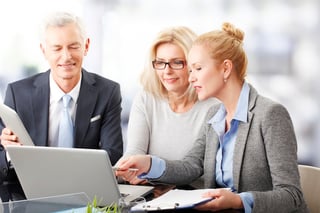 There has been a head-to-head competition between Microsoft Dynamics vs. Salesforce CRM for years. That's because the makers of both platforms continue to try to rule the market with their customer relationship management platform.
If your organization is considering a CRM, which should you choose? When it comes down to Dynamics vs. Salesforce what factors will tip the scales one way or another? This article compares the two powerhouse CRM platforms to help you determine which one is better for your organization.
Dynamics vs. Salesforce – How to Measure?
Any decisions related to buying a new CRM are often subjective based on how the platform looks and feels, and what you're going to be using it for. But it turns out there is a publication that weighs the pros and cons of CRMs and the market share they capture each year. We're talking about CRM Magazine and their publication called "The Destination CRM Market Leaders Report." The publication comes out each year, and it surveys industry analysts and software experts who weigh all of the CRM platforms on the market by functionality, cost-for maintenance, company direction, and customer satisfaction. Interestingly, in a comparison of Dynamics vs. Salesforce, the platforms have switched places a few times for the coveted title of #1 CRM on the planet.
The report segments CRMs into categories for the enterprise, midmarket, and small business. They also look at BI, data quality, and automation, along with a few other categories.
In 2015, CRM Magazine said Microsoft Dynamics won, in all categories. They cited Microsoft's investment in the technology and the forward-thinking approach that the company had been taken toward a renewed strategy toward their target audience. Some of the comments from the judges included:
"Sophistication across sales, marketing, and service."
"Increased adoption by large enterprises."
"Integration with Office 365 and Power BI."
"Enterprise-wide intelligence, supported by Microsoft's Business Analytics platform."
In both 2016 and 2017, Salesforce took the enterprise category. Reviewers liked the App Exchange as a newer feature on the platform.
However, when it comes to small business, Microsoft has consistently dominated for years. Microsoft took the small business category in 2017 for the fourth consecutive year, along with the business intelligence category for the first time, beating out IBM. Reviewers shared that, "Power BI has played a large role in democratizing business users' use of great visualization and the cloud."
In looking at a comparison between Dynamics vs. Salesforce, what were the best features that enabled Microsoft to be such a strong alternative to Salesforce?
Best Microsoft Dynamics CRM Features
Business users suggest some of the best features of any CRM are its flexibility and customization capabilities. Microsoft does well in this regard; the platform uses a common programming language (HTML, Java, and .Net), which makes it easier for companies to design their own solutions from the Dynamics hub. For example, you can create new views, fields, or forms, without even knowing how to code. For those companies that can't-do it themselves, there are multiple Microsoft partners, such as IES, that can easily tweak the platform to fit a unique situation or business requirement.
Salesforce, which has long been a market leader, is frequently called out as being unwieldy in its approach to customization. In fact, Salesforce uses a proprietary computer language called Apex. What this means is that any customizations or integration with apps must be completed with Apex, not HTML, Java, .NET – or any other common programming language.
Another comparison between Dynamics vs. Salesforce often centers on platform costs. Weighing the value of any product against the investment is a crucial part of any due diligence process. For years, Salesforce has been called the "Cadillac" of CRM technology – and that is certainly true when comparing their price against Microsoft Dynamics. Although there are variations between packages, generally we see the "Cadillac" running about twice the cost of the Microsoft product. When you consider that these two powerhouse CRMs often run neck and neck for functionality, you can guess which CRM might give you more bang for your buck.
Another common complaint is the added costs tacked on to Salesforce subscriptions. You end up adding on costs when you add functionality, including mobile, Knowledge Base, and offline access. You also pay a lot for additional storage once you've hit a certain threshold. Then there is the packaging itself – most functions are available at the Enterprise level, while the lower cost Professional Edition remains a little light on its feet in terms of functionality. The Enterprise level is about double what you'd pay for the same features in Microsoft Dynamics.
Then there are the integration capabilities between your existing software. Salesforce is making extensive use of API extensions, which is an all-around good thing. You can integrate with marketing platforms such as MailChimp, but we've found that these integrations are not necessarily very intuitive; you might need a Salesforce certified programmer to make it all work together.
The added bonus for Dynamics is that is a Microsoft product. Microsoft has a long history of cornering the office market, so that makes the integration between Dynamics and Outlook, Office, or Exchange seamless and simple. Integrating Salesforce with Outlook simply doesn't work as well and combining two software products made by the same company.
Here is the last area we want to mention where Dynamics 365 CRM beats out Salesforce – How it's deployed. Salesforce gives you once choice -- an on-demand multi-tenant cloud hosting solution. In comparison, Microsoft Dynamics CRM can be deployed in four key ways:
On a cloud platform that could include Azure, the vendor's cloud, private, or public hosting.
On-premise hosting that you or a managed service provider implements.
Private hosting.
SaaS, or multi-tenant cloud hosting.
With a software product, we believe that one size should never fit all. That's why the option to customize should be so important at all points in the continuum of your product or service. Having only one deployment option with Salesforce unnecessarily limits your choices when it comes to their product. Depending on the type of business and the type of contracts you receive, a cloud deployment may break compliance rules – which would rule out Salesforce completely.
Dynamics vs. Salesforce – a Worthy Rivalry
The rivalry between Dynamics and Salesforce reminds us a little of the old Coke vs. Pepsi battle. The truth is that both platforms are solid and have a lot of similarities in the functions they offer. Both handle contact and account management functions as well as sales forecasting. They also both offer access to apps that extend their functionality. Both also offer a lot of scalabilities as your business grows.
But these generalities are where the similarities end. Salesforce was originally built as a cloud application and doesn't have the option to host the software in-house on your servers. Dynamics offers more flexible implementation options that you may want to consider.
If you're trying to optimize for a specific industry, it's true that Salesforce has more than 2,500 apps in the AppExchange. On the other hand, if your office has already invested in Microsoft products such as SQL Server, Outlook, Office 365, or SharePoint, Dynamics offers more interoperability, which will probably speed up your time to implementation. As you're looking at a comparison of Dynamics vs. Salesforce, we recommend the following areas of comparison as a baseline:
User experience/design
Which customer interface feels more intuitive for your team? What level of customization is available to help users feel more comfortable?
Collaboration
Does the CRM seamlessly integrate between social tools like Yammer, Skype, or SharePoint? Will the integration work with minimal effort and maximum efficiency?
Productivity
Simply put, which platform is easier to use? How quickly can you get up and running? Does it reduce the volume of your workload by adding smart automation features that are easy to implement – or do these features require the ability to code or learn an overly complicated series of new tasks?
Customization
How difficult is it to take the baseline CRM and adapt it to your unique industry? Will you be able to do-it-yourself or will you need a programmer to help you create new options for your business?
Cost
While cheaper is not necessarily better, it is important to stretch your budget as far as possible, while making sure the CRM meets all the goals associated with your investment in the platform.
The simple truth is this: There are benefits and drawbacks to every piece of software on the market today. When comparing Dynamics vs. Salesforce the real question to ask yourself is how are you going to use it? We highly recommend test-driving these excellent CRMs to find out which one might work best for your company. Contact IES to take a tour of Microsoft Dynamics 365 CRM – we're here to help.