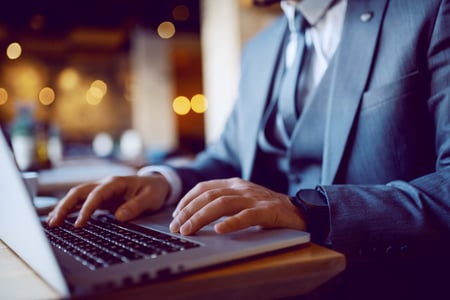 While Microsoft may be king when it comes to operating systems, it faces an uphill battle to win over market share from Salesforce in the CRM market. Salesforce has continued to dominate in that arena, claiming the #1 CRM provider crown in 2020 for the 7th year in a row. Things tend to come out more evenly when you do a Microsoft Dynamics 365 vs Salesforce feature-by-feature comparison. There's a lot to like about both Salesforce and Microsoft Dynamics 365. Both give organizations the kind of flexibility needed to grow and expand in a competitive marketplace.
What is Microsoft Dynamics 365?
Microsoft Dynamics 365 is a suite of cloud-based business applications. Customers can pick and choose the licenses that provide the best value to their organization. Dynamics provides five different applications that cover CRM functionality like making sales, conducting marketing campaigns, retaining customers, and tracking support needs.
One advantage that the Microsoft Dynamics 365 platform has over Salesforce is that companies can also opt to purchase licenses that cover ERP functionality. Dynamics offers two ERP solutions, one geared toward SMBs and another for larger enterprises. Since Salesforce can't handle transactional data, a company would have to build ERP support around the platform's components. Microsoft's CRM and ERP applications seamlessly integrate with each other and Office 365.
What is Salesforce?
Salesforce got its start as a SaaS company back in 1999. The company transformed the way people used CRMs by pioneering the concept of hosting them in the cloud. Businesses quickly took to the idea of not having to invest a lot of time and expense into building servers to host their CRM. Moving that functionality to the internet meant much less setup for business users and the transition from purchasing expensive licenses to a monthly subscription model.
The Salesforce ecosystem includes different CRM options to support sales, marketing, and customer service. It also provides platforms for analytics, developing custom applications, and storing and processing Internet of Things (IoT) data. Many health organizations rely on the Salesforce Health Cloud to support interactions between doctors and patients.
Now that we have a better understanding of what both platforms offer, let's take a closer look at Microsoft Dynamics 365 vs Salesforce.
Microsoft Dynamics vs. Salesforce: Interface
Both companies continue making significant strides in UX improvements for their interfaces. Dynamics 365 did away with its legacy web interface and rolled out the Unified Client Interface in 2020. It incorporates responsive web design that gives it the ability to adapt to large and small screens. The goal is to deliver a consistent viewing experience to users working with Dynamics 365 applications on anything from a smartphone to a large desktop monitor. The refresh includes a new navigation menu and a refreshed UI.
Salesforce offers two UI experiences for users, the Classic UI and the Lightning Experience introduced in 2014. The simplified Lightning Experience UI provides a unique viewing experience to every service and salesperson working within a Salesforce CRM. The goal is to make it easier for people to deliver, whether as a sales agent or a customer service rep, with an interactive assistant and personal alerts. Other improvements made through the Lightning Experience include:
More efficient navigation

Record layouts focused on functionality

Easy access to productivity tools

More attractive dashboards

Sleek report views you can sort and filter to show the most important data
Microsoft Dynamics vs. Salesforce: Security
Data security continues to be an ongoing concern for organizations large and small. You get multiple levels of security with Dynamics 365 within different applications. Microsoft Azure hosts all Dynamics 365 applications and provides protection that includes:
Encryption of cloud data hosted in its data centers

Azure Active Directory (Azure AD) user authentication

Ability to set up data loss prevention (DLP) measures at the tenant and environment level

Security for model-driven apps

Protection for finance and operations applications
Salesforce defaults to two-factor authentication for its users. The Lightning Experience allows administrators to restrict access from specific IP addresses. Admins can create customized password policies around complexity and required length. Salesforce provides support for using third-party authentication from Active Directory. Companies can view metrics to gain insights into further improvements that may be needed around security.
Microsoft Dynamics vs. Salesforce: Workflows Automation
Both Dynamics 365 and Salesforce provide options for automating workflows to improve the flow of business processes. That removes a lot of the manual tasks that can slow down sales and customer services reps. Salesforce relies on Workflow Rules, Process Builders, and Flows to accomplish that purpose. Dynamics 365 provides users with four different ways to control workflow process automation:
Actions

Business Process Flows

Dialogs

Workflows
Users receive visual cues that help them automate tasks like:
Sending communications to leads

Getting quote approvals

Marketing functions
Microsoft Dynamics vs. Salesforce: Pricing
Your choice of whether to go with Salesforce or Dynamics 365 may come down to cost. Both Dynamics 365 and Salesforce offer monthly pricing for different aspects of their platform. You should keep the following in mind when comparing Salesforce vs. Dynamics 365 pricing:
Which platform gives the users in your organization the best UI experience?

What options does each platform provide when it comes to hosting?

How easily does the platform integrate with social and communication tools like Skype, SharePoint?

How much effort would your company have to put in to customize each platform to suit your business needs?

Which company's prices fit better into your budget?
Get Help Deciding Between Microsoft Dynamics 365 vs. Salesforce
Both platforms have a lot to offer any business. It all boils down to how you want to use the application for your company. Internet eBusiness Solutions (IES) can help you break down the benefits and drawbacks of each platform and help you make the right decision for your organization. Let us partner with you in this effort to ensure you bring the right product into your company's technological ecosystem. Feel free to reach out and set up a consultation with one of our agents.