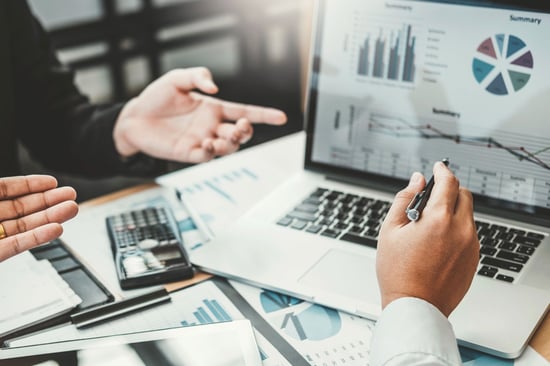 A customer relationship management platform (CRM) for financial services provides a way for organizations working in the finance industry to manage financial services more effectively. Remember that most financial services are not limited to face-to-face interactions between customers and financial advisors. Today, people access financial services digitally, whether their insurance company, bank or investment advisor.
Investing in Microsoft Dynamics as your company's CRM for financial advisors gives employees everything needed to provide high-quality customer service. They also have more tools and resources available to support organizational needs.
What is a Financial CRM?
CRM software allows organizations to view and capture a 360-degree view of the interactions between your company and its customers. You can track all activities and reduce the number of manual transactions required to manage data.
With more people turning to search engines when looking up information, CRMs help companies use the information collected from customers to target specific audiences and attract new business. A CRM for financial services has become a core tool for many financial advisors. They help you set up more personalized financial planning services for individual customers.
Financial advisors center the needs of clients at the core of the business. A CRM for financial services makes it easier to anticipate a customer's need at the right points in their journey. You can collect data from every transaction and become more proactive at solving potential issues before they impact customers.
What Roles Does a Financial CRM Support?
Financial CRM tools give finance firms what they need to facilitate business growth. They also support employees within various roles in completing daily job functions.
Financial advisors — Staying in contact with clients and prospects is key to helping financial advisors establish lasting connections. Financial CRM software, like that provided by Microsoft Dynamics, makes it easier to scale business efforts as needed through automation. Financial advisors can access customer information, create automated workflows, schedule calls, and send emails from one location.
Sales reps — Sales reps become more productive by getting all team members on the same page. Everyone works more efficiently and can use Microsoft Dynamics CRM to communicate about potential leads and opportunities.
Sales managers — A financial services CRM lets sales managers keep up with team activities in a centralized location. They can create reports, review analytics data, and plan how they want to handle future campaigns.
How Can Finance Companies Benefit from a Financial CRM?
All finance companies face challenges in trying to meet and exceed customer expectations. Today's consumers expect businesses to offer ways to digitally access services in real time. With so much competition from other financial firms, organizations must commit to investing in a top-tier CRM solution like that provided by Microsoft Dynamics. Below are examples of how CRM for financial services helps transform how employees handle tasks.
1. Boost Lead Conversion
Too often, salespeople contact a prospect only to find they do not need a new product or service. Or someone else from the organization reached them first. A financial CRM helps sales reps track the progress made with various leads. That way, you don't have two people from the same company going after the same prospect.
A salesperson can review customer profiles created from different company data sources, identify promising opportunities, and set up a personalized conversion process. That way, they're more likely to connect with someone with a genuine interest in their pitch.
2. Develop Personalized Customer Journeys
While companies should always focus on policies for retaining customers, ongoing growth depends on bringing in new business. A financial services CRM helps you come up with solutions to common questions in the finance industry, like how to find new prospects and ways you can improve your marketing efforts.
Trying to keep up with new leads manually can make it difficult for reps to keep up with their workload. Financial advisors can use their CRM to set up financial reports and graphics showcasing important trends and data points. Share that information with your team to shape your marketing strategy, find new leads, and keep current customers happy.
3. Enable More Efficient Communication
Today's customers can offer immediate feedback about their experience with a company with a few keystrokes. Because of that, organizations must keep up with traffic happening on social media channels, their company website, and through chat and email.
Use your CRM to track conversations around your brand on the internet. That way, you can respond quickly to customer feedback. You can also use the information to improve how you deliver customer service.
4. Track Internal Company Data
Financial firms can use Microsoft Dynamics CRM to keep up with data from various departments. You can track interactions like calls to the customer service department or when someone wishes to close their account. They all represent opportunities to make the customer experience better without the need to speak with anyone at your company.
What Key Features Should You Look for in a Financial CRM?
Microsoft Dynamics CRM for financial advisors offers the following features to optimize how employees handle various transactions at a firm.
Scheduling — Give staff the ability to schedule calls and emails. You can also set reminders to ensure you don't miss appointments.
Automation — Create automated workflows to track sales conversions, communicate with prospects, and create sales documentation.
Managing contacts — Microsoft Dynamics CRM comes with a centralized database to house information on customers. Use the data to personalize everything from marketing campaigns to what customers see when visiting your company site.
Reporting — Establish automated reports that offer comprehensive snapshots of everything happening in different business areas.
Integrations — Microsoft Dynamics CRM integrates easily with other modules within the Microsoft Dynamics family and third-party software.
What are the Benefits of Microsoft Dynamics for Financial Services?
Microsoft Dynamics gives you everything needed to support the needs of your financial firm. The best way to take advantage of its various features is by bringing in a partner who understands the intricacies of the application.
Internet eBusiness Solutions (IES) understand what's needed to optimize Microsoft Dynamics CRM for financial services. Contact us here to learn more about how we can make your company run more efficiently.