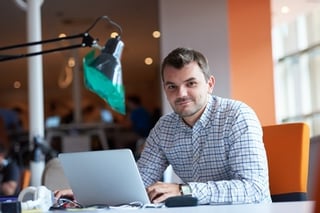 ERP software has been in use by big businesses for years, serving as the foundation behind a plethora of very effective growth strategies. These companies use ERP to analyze and process data, turning it into business intelligence that improves workflows and overall efficiency. ERP even helps enterprises to increase sales and gain more control over their finances.


Now, thanks to Microsoft Dynamics ERP, those same powerful ERP models are available for the small to mid-sized business. This cloud-driven SaaS model can arrive on your doorstep via an inexpensive monthly subscription.


Finally, you get to play with the same tools the big players use! Why is ERP important to your business? We've pulled together our top three selling points.
WHY MICROSOFT DYNAMICS ERP FOR BUSINESS?
Better organizational efficiencies
How much redundant data entry occurs in your organization? Would it be helpful to have your customer or sales database, finances, billing, and inventory all in one place? Dynamics ERP is interoperable with the entire Microsoft suite of products. This allows you to sync data between functions in real time. Because it's in the cloud, Microsoft Dynamics ERP can be accessed from any digital device. For instance, the customer service call that happened five minutes ago will show up in the historical notes that your sales rep sees halfway across the country as they're walking into the client's office.
Helps you plan ahead
Today, staying one step ahead of the competition means looking backward at company performance to determine historical trends (like supply and demand patterns or sales slumps). An ERP helps you take that data and project it forward so you can make more strategic decisions for your business. Microsoft Dynamics ERP uses predictive analysis to help you plan far ahead. These are some of the most proactive tools on the marketplace today, allowing you not only to solve today's problems but to prevent tomorrow's as well.
Accessible tools right out-of-the-box
Technology is great—when it works. We don't have time for the lengthy training and customization that used to occur with on-premise software. Cloud computing is about convenience and ease of use, so Microsoft made Dynamics ERP suitable for those of us too impatient to take the time to customize. This means this tool is ready right out of the box, offering a pleasing user interface that will seem very familiar if you've used Microsoft products in the past. Microsoft Dynamics ERP will allow you to configure the software how you like.
Dynamics boasts more than 350,000 customers with five million users around the world. Microsoft has a 25-year history of providing these businesses with the tools they need to get the job done right. Contact IES today and take a test drive of Microsoft Dynamics ERP and see how it can help your business.