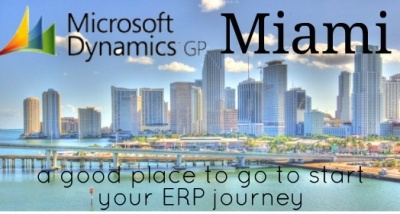 Business owners are plagued with indecision about whether or not they should invest in the latest ERP software. But a lot of the push back may have to do with the notion of buying a powerful productivity tool, while only using a small portion of its capabilities.
Instead, they should approach the investment from the standpoint of scalability. In the case ofDynamics GP in Miami, which is ideal for small to medium-sized companies, the platform's usability can match the growth of the company.
It's common for ERP software to be associated with the manufacturing industry: Gartner Researchfirst used the abbreviation in reference to material-handling and other activities related to "computer-integrated manufacturing."
As such, and if you're in a sector outside of manufacturing (financial, or service, for example) considering purchasing ERP software, it might just be a good idea to network with a company in that sector to see how their business processes have improved.
Better still, of course, is to contact Internet eBusiness Solutions, a Microsoft Gold partner for guidance. For companies just beginning to search for ERP software, it's imperative that they really understand how their company handles documentation and, just as importantly, what approach is used in processing data.
Many companies may be settled in to using legacy programs like Excel, or Outlook, to gather and analyze customer profiles and prior purchasing information.
Today's Dynamics GP 2015 keys on making workflows more efficient and functional: documents are 'handed off' only once approvals are given.
The default workflows in GP 2015 key on functions like:
--- Vendor approvals
--- Receivables batch approval
--- General Ledger/Payables batch approval
Dynamics GP is also designed to accommodate HR's need to track employee progress. In fact, a new feature is a module that allows users to monitor an employee's "skills" approvals.
For more information on how Dynamics GP can be customized for your business, please contact us.