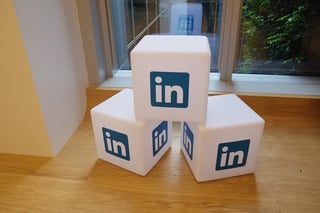 If you're a sales rep using Dynamics 365 you know what a great tool it is for daily tasks; from capturing a client conversation in the CRM tool to pulling inventory and pricing data into a professional quote sent via Outlook.
But Dynamics 365 keeps getting better. The latest innovation is a new integrated pathway to LinkedIn, the social media platform for more than 500 million business professionals. LinkedIn Sales Navigator helps salespeople search for very targeted prospects by business sector, geography, company size, title, and much more. This new integration allows sales teams to accelerate prospecting activities, target hotter potential clients, and close more deals in less time.
Dynamics 365 + LinkedIn = A Match Made in Sales Heaven
Identifying potential buyers and then engaging them in meaningful dialogue is exactly what sells products and services. 365 and Sales Navigator can help you sort leads into the top tier targets, and then begin to reach them with activities designed to get their attention.
Here's what this looks like:
View LinkedIn data within your Dynamics 365 CRM, turning your basic recordkeeping into very robust profiles with pictures and work history.
Develop your list of sales prospects by using the LinkedIn Sales Navigator search tool to define your target audience using very specific metrics.
Use shared connections to ask for personal introductions to these targets.
LinkedIn Sales Navigator will monitor your engagement with these prospects and then make recommendations for your next contact.
Engage prospects with tailored content, company news alerts, or other market trends affecting their business.
Stay connected via the Sales Navigator mobile app.
Record all contact and keep data in sync with daily backups between your Dynamics 365 CRM and LinkedIn Sales Navigator.
Use the recommended leads feature to continue to build your list of sales prospects.
Sales prospecting is a laborious process. With Dynamics 365 and LinkedIn Sales Navigator, your prospects will be more accurately targeted, which will increase your chances of connecting, offering value, and then closing the deal.
Benefits of the 365/LinkedIn Navigator Integration
Here are the top three benefits of the 365/LinkedIn integration:
This integration speeds up the time you spend moving back and forth between your research tool (LinkedIn) and your CRM (365). This will give you more time to do your real job – closing deals.
You'll never make another cold call; LinkedIn provides you with a rich amount of data on every potential prospect. You can set alerts to stay on top of industry or company news, as well as changes in the job status of your targets.
Strengthen relationships with your target audience by commenting on company or individual posts or by sending email. As you link with targets, you can build credibility by publishing or sharing articles or your own company news.
Selling is a tough business. To stay competitive, you must have tools that help you work more efficiently. The Dynamics & LinkedIn Sales Navigator integration can help sales teams achieve and exceed their goals. Contact us today to learn more about how your business can benefit from Microsoft Dynamics solutions.