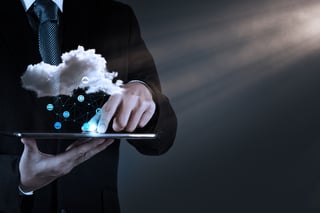 We know you've been thinking about it. You're a small to medium-sized business, and you've had an out-of-the-box QuickBooks solution for years. You also have one legacy system for inventory management, another one for payroll, something else for sales, and so on. You know there's a lot of duplication in these systems, and it takes some effort to integrate everything together.
But your company is growing, and you feel like you're ready for some of the more integrated tools the big companies have been leveraging. You know you don't have the budget for new hardware or an IT team to manage a server farm, and you're wondering what other options may be available.
What if we could show you a solution that would allow you to compete with your biggest competitors, without having to purchase expensive on-site equipment? What if there was one integrated platform that could handle all of your business functions, including sales and marketing, in a streamlined, mobile-friendly platform that didn't break the bank with upfront hardware costs
We're talking about Microsoft Dynamics NAV in the cloud, enterprise-resource-planning (ERP) software that is one of the best selling integrated business tools for mid-market companies all over the world. Every day more than one million users rely on NAV for their critical business functions. Read on to find out why.
Favorite Features of Microsoft Dynamics NAV

Make no mistake—NAV was designed with your business in mind. When we ask our customers why they adopted this powerful technology, they cite four mission-critical functions that NAV made simpler:
Business Forecasting
Managing business inventory is one of the most complicated pieces of your daily business puzzle. Inventory is a costly asset, which is why accurately balancing supply with demand can severely impact your business (especially if you get the numbers wrong). NAV is excellent at helping reduce the cost of doing business while monitoring sales. Both are key to increased profits.


Business Analytics
When was the last time you ran a report that wasn't out-of-date as soon as the print key was pushed? Leveraging NAV in the cloud means you can view and run reports in real-time. Plus, this software has more customizable reporting options with data visualization graphics that make even the most complicated metrics easy to understand. These tools will change your business decision-making for the better.


Mobile Sales Force
NAV puts real-time data into the hands of your mobile sales teams. They can access up-to-the-minute customer data before making an on-site visit. They can create orders on the spot, then print order confirmations or invoices from their phone. NAV eliminates the need for contracts, forms, or other old school paper documents that can be lost before the sales rep ever makes it home.


Web Self-Service
One of the biggest trends in business has been the rise of ecommerce and do-it-yourself websites. NAV can set you up with an ecommerce solution that will work for you 24/7, even when your employees go home. This is done on a secure portal by one of the most trusted names in the business—Microsoft.
Benefits of Adopting NAV in the Cloud
You always have several options when licensing NAV. You can install the software on your existing hardware in an on-premise solution. That's more expensive, which is why most small to medium sized businesses have subscribed to this service in the cloud. There are also hybrid options that encompass on-site and cloud-technology.
Here are the key reasons most of our mid-market customers choose NAV in a cloud solution.
Lowered Costs
We all want the best in business tools. This used to mean significant investment for businesses installing on-premise solutions. The digital era changed all that. Now you can access the best technology without unwieldy upfront costs. NAV in the cloud is a subscription service with a fixed cost each month.
Scalability
Another benefit of NAV in the cloud is that you pay for what you use. You can add or take away services as your business changes. You won't have equipment sitting on site that you have to maintain, even if you're not using it.


Real-Time Collaboration
Users can dial in from anywhere they have the Internet. Data is updated in real-time, which is a huge benefit for today's mobile workforce.


Compatibility
NAV was built around compatibility with your most trusted systems. You can sync with your accountant or bank with a click or two. Data is transferred between your internal systems, populating automatically, which will reduce the volume of keystrokes and errors that come with manual duplication.


Security
Microsoft is the most trusted name in computing today. From state-of-the-art data encryption, multiple redundancies in platforms, to automatic backups, you can rest easy knowing your critical data is secure.


Compliant
Instead of waiting for an update, cloud-software keeps you compliant by regularly updating in real-time. Changes in legislation or business regulations are reflected quickly, helping ensure business compliance.


Robust Reporting
NAV ERP reporting tools are best-in-class right out of the box. There are almost limitless customization options available, but for most mid-market companies, the standard reporting features are exceptional.


Mobile-friendly
These days, if you're not Smartphone friendly, you run the risk of falling behind. From ecommerce to sales, your business will benefit from going mobile.


Flexible
This is a select-and-go subscription; just pick the package that works best for your company. That same flexibility holds true across every element of the software; for example, you can select out-of-the-box reporting features or customize as you see fit.


Easy Go-Live
You've been relying on the Microsoft Suite of Office products for years. The beauty of NAV is that it has that Microsoft "feel," which eases the adoption process considerably. NAV is about navigation. NAV also integrates easily with Microsoft Outlook, Excel, Word, PowerPoint, and other commonly used tools. That familiarity will help your staff instinctively understand how to use NAV.
To explore all the options waiting for you with a Microsoft NAV cloud solution, contact IES today. Our expert team is standing by, waiting to help you design and implement the best option for your specific business needs.