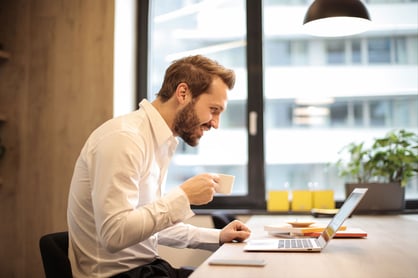 The 2017 Report on ERP Systems and Enterprise Software surveyed organizations on their ERP experience to determine best practices that could be utilized by others in their implementation journey. Here are some statistics that will give you a sense of how often the transition to ERP can go poorly:
74% of enterprise organizations experienced cost overruns on the ERP rollout.
The average time it took to install and implement the software was more than 16 months.
56% said they experienced "operational disruption."
These statistics crossed a broad spectrum of industry sectors, including construction, distribution, education, healthcare, manufacturing, and telecommunications. CIO even put out an article last year chronicling "15 Famous ERP Disasters, Dustups, and Disappointments."
But it doesn't have to be this way.
Enterprise Resource Planning software, such as Microsoft Dynamics 365, requires both an investment of time and money. That's why it's so important for the ERP experience to be a good one for every employee involved in using the system. To eliminate the risk involved in choosing an ERP, there are some steps to take to ensure a positive ERP experience. This article will give you the steps necessary to select, plan for, and rollout an ERP.
Pre-Planning Your ERP Experience
In planning the ERP experience, it's first necessary to understand what the software can do for a business. ERP is business process software that takes many of the internal and back-office functions and integrates them with a single database. Whether it's finance, HR, manufacturing, and supply chain, or sales and marketing, an ERP can become the "single source of truth" for a business. Slick automation and shared information are the highlights of these platforms that help businesses simply do more every day.
You can probably understand now why there is a big risk that these implementations can fail. The ERP experience requires the entire restructure of most business processes, so buy-in across the enterprise is essential. In fact, we would suggest to you that an ERP implementation is not an IT project; it is a step toward organization-wide process improvement. How you handle installation of this work hub will make all the difference.
Extensive planning for your ERP rollout requires the assistance of a professional software consulting firm expert in the platform. A managed services firm can help map out all of the changes in workflows necessary to integrate the ERP, as well as discuss the sometimes tricky process of engaging siloed departments in the success of one integrated operational hub. Knowing your goals up front will help you work with this partner to roadmap the ERP deployment.
ERP Experience – Go Live
Typically the go live for any software is the culmination of months of work preparing for implementation. It's certainly no different for ERP software, where the complexities of the tool necessitate a staged and careful migration and rollout. However, with an ERP the go-live is but one milestone toward optimizing the tool (it really is that sophisticated). Some tips for the go-live include:
Don't go "big bang," instead, out for a slow migration, department by department. It's often important to run virtual machines side-by-side with the ERP to mirror processes and ensure a smoother transition.
Set key performance indicators (KPIs) to track the ERP's performance and user adoption. These KPIs should be short and attainable and tied to a budget, so the cost overruns that seem to be typical of these implementations do not ruin the user experience.
Add people into the go-live process. Meaning, the ERP will only work as well as the people buying into implementation. Having a planning committee that includes department representation from sales to finance is crucial to user adoption. Our guess is of the companies polled in the 2017 Report on ERP Systems and Enterprise Software experienced business disruption in large part because of user adoption – or lack of. So, remember, it's the end-users that have to live with the software, and they will make or break the ERP experience.
Keep in mind that the implementation of ERP does not yield an early return on investment; the software is too complex. Setting realistic goals with measurable outcomes is crucial. But what happens after go-live and how does that affect the ERP experience?
Living with the ERP – Post Go-Live
Just after go-live, the ERP will likely have some glitches; trouble tickets will be generated, and additional elbow-to-elbow support will be needed. But once the first few weeks post-go-live are over, it's time to work on optimizing workflows to maximize the ERP investment. You may find that one department needs additional customization or that integration is still rocky in another department. These issues necessitate troubleshooting directly after the go-live.
We recommend a post-go-live checkup that you can conduct in each department, seeking their feedback and areas where additional training or customization is necessary. This process may turn up:
Individuals and entire departments that need more training.
Departments that are implementing disruptive shortcuts or workarounds that could negatively affect important business functions.
Users that are failing to optimize some business features (such as automation) that would force them to improve their workflows.
Licenses that aren't needed or aren't being used, or more licenses that are needed.
We also suggest the formation of a post-go-live ERP committee, which engages representation from all parts of the business in a similar way to the implementation planning process. Their job is to continue to periodically take the pulse of the organization's experience with its ERP and then put out any fires while continuing to push for optimization of the software department-by-department and workflow-by-workflow. In effect, this committee will handle change management in an organizational effort to use ERP software as a continuous improvement tool.
Avoiding ERP Mistakes and Improving the ERP Experience
Avoiding mistakes and improving the ERP experience requires careful planning of the pre, go-live, and post-implementation process. IES is a managed service provider that has a track record of helping companies maximize their use of Microsoft software. Contact us for a consultation today.