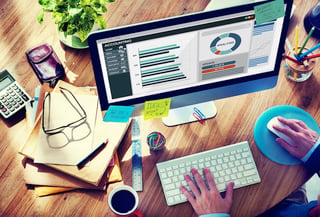 Today, business moves at the speed of the cloud. That means companies that don't have a handle on the big picture will quickly fall behind. If the productivity tools you use to run your business are separate silos, it's likely that you will not have an efficient way to analyze information like sales or inventory trends and respond appropriately to improve the bottom line.
That's the niche that Microsoft Dynamic Enterprise Resource Planning (ERP) software fills. The goal of Microsoft is to create an interoperable ecosystem that stretches to all corners of the business, covering every function from front-end client billing to backend inventory management – and everything in between.
This post will help you understand Microsoft Dynamics ERP and how these amazing tools can help your business succeed.
ERP Software Solutions – What is Dynamics?
Microsoft offers three ERP software solutions under the Dynamics service line, and it can be confusing to figure out the differences.
Microsoft Dynamics GP is an ERP that handles light distribution and financial reporting for small companies. While it can be used by different types of business, Dynamics GP perfect for small businesses that don't need global functionality.
Microsoft Dynamics NAV is a mid-market solution that works well with SharePoint and the office productivity suite. It's still fairly simple to implement and offers access to the source code so businesses can configure the software to fit what they need. NAV is a good tool for medium-sized distribution, manufacturing and service management companies.
Microsoft Dynamics AX offers an ERP software solution for organizations seeking better customer insights, field services and controls, supply chain management, and automation. It's an advanced solution for global companies that need multiple language functionality and a more robust platform.
All three ERP software solutions help businesses analyze information and respond to customers quickly. When you combine Microsoft's customer relationship platform (CRM) with their ERP and office productivity platforms, you reap maximum benefit from the most all-inclusive business platform on the entire planet. ERP solutions help companies understand customer trends as they happen -- and then change focus to accommodate these shifts. Ultimately, these ERP software solutions help you develop better customer relationships, and ultimately, close more deals.
What Can Microsoft's ERP Solutions Do for Your Business?
Microsoft offers integrated solutions that help you optimize sales, gain insight into orders, understand inventory disruptors, and ultimately make it easier to develop, manufacture, and ship products. Some of the best reasons to take a test drive of the Dynamics ERP solutions include:
The overall performance and stability of the platform.
Full interoperability between other software applications that ensure teams aren't duplicating effort.
Offers cloud-focused scalability for your business.
Shares real-time operational data and insight.
Has dashboard functionality that is second to none.
Allows for customization and configuration that fits your businesses best practices.
A low-total ownership cost. Because these ERP software solutions are in the cloud, they fall under a subscription-based expenditure that avoids additional on-premise hardware costs.
IES is standing by to fit your business with a new ERP. One complimentary consultation could be all that's standing between you and operating your business at the speed of the cloud. Contact us today.