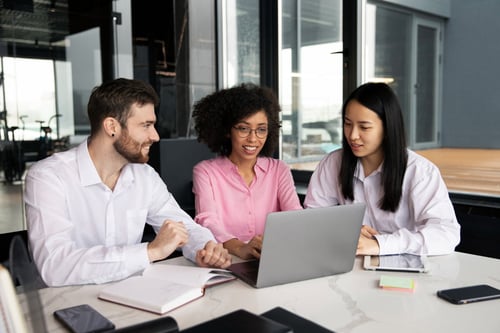 Dynamics 365 Sales Enterprise helps salespeople foster stronger relationships with clients. The software also provides users with insights to guide their actions, which leads to faster deal closings. It's also excellent for helping sales teams track accounts and contacts. In addition, you can use the platform to nurture sales, set up detailed marketing lists, and keep up with services associated with specific customer accounts.
Microsoft offers Professional, Enterprise, and Premium versions of the platform. Let's look at Dynamics 365 Sales Enterprise features to help you decide whether it's suitable for your organization.
1. Workflow Automation
The sales process involves multiple actions taken by salespeople to turn a potential lead into an actual sale. Leads can come in from places like web page requests or email queries. For example, a business card you passed out at a local trade show could generate a phone call from a future customer.
Dynamics 365 Sales Enterprise comes with Power Automate, which helps salespeople set up automated workflow functions like synchronizing essential files and documents, sending out notifications, and collecting sales data. You don't have to be a technology guru to master its no-code/low-code functionality.
Members of your sales teams can set up templates for different sales functions like sending follow-ups to top-priority leads. You can also set up playbooks that automatically respond to various events. Sales teams can customize Power Automate to help members stay on top of essential sales functions and generate more revenue for the organization.
2. Sales Accelerator
Sellers spend quite a bit of time reviewing customer lists and determining which has the most sales potential. Sales Accelerator makes you more efficient by creating tailored experiences that cut down on your research time. The service pulls in information from various sources, allowing sellers to focus on the best way to approach a potential new customer.
Sales Accelerator makes the process more efficient by helping you build a pipeline of solid leads. It also provides you with automated recommendations during the sales process to help you close leads faster. Sales team members can review worklist items and search through lists more quickly. You can easily prioritize customer lists using relevant sales information and context provided by Sales Accelerator.
Managers can create sequences of activities to help sellers focus on specific activities. As a result, team members become more productive and less bogged down in the sales process.
3. Contextual Insights
Contextual Insights analyzes the relationships you've built with customers based on your contact history, leads, or account activity. The service presents the information to you in a graphical dashboard. With Contextual Insights, it's easier to keep up with interactions you've had with customers and pull up the relevant details. Use that information to generate new conversations via emails or other contact methods.
If you've never interacted with a lead before, you can use Contextual Insights to gather information from contacts made by other sales team members. Use the data to set up rich profiles that give you a singular view of a customer.
Contextual Insights comes with prebuilt AI models capable of making predictions like the lifetime value of a customer and whether they may be ready to move on to a competitor. The information provided by the service helps you set up personalized customer journeys, which help shorten the sales cycle and reduce churn.
4. Conversation Intelligence
Capturing a customer's interest to the point where you end up with a closed detail can be a struggle for salespeople. The Conversation Intelligence module is a Dynamics 365 Sales Premium feature that uses AI and machine learning (ML) to understand the nuances of the way customers speak with salespeople. It's a way of gathering information about a customer's emotions and general sentiments to help salespeople figure out better ways of holding conversations.
Conversation Intelligence records, transcribes, and analyzes discussions between salespeople and customers. Sales teams can review the information and determine the extent of a customer's interest in their products. It helps you prioritize sales leads and personalize interactions with customers, leading to more sales and a boost in productivity.
Information gleaned from Conversation Intelligence helps sales teams establish standards around conversations with customers. Managers can train reps to understand how they should react when speaking with a prospect and actions to avoid that could lead to the loss of a sale. In addition, the information helps sales teams establish benchmarks around customer connections.
5. Embedded LinkedIn Sales Navigator
LinkedIn Sales Navigator is a sales management tool designed to help with lead generation from the LinkedIn platform. The service is a Dynamics 365 Sales Premium feature that allows sales teams with functions like:
Creating dynamic lead lists — Use the Saved Searches features to set up lists based on information like geography, company size, job title, job position, and relationships.
Making connections — LinkedIn Sales Navigator's InMail lets you reach out to anyone directly, even if you don't have specific contact information. You can see who's reading your outreach attempts and whether a recipient accepted them.
Setting up alerts — Set up Alerts within Sales Navigator to help you keep up with lead lists. You can get updates when someone views one of your profile notifications or changes position at a company.
Dynamics 365 Sales Premium lets you view and leverage Sales Navigator data from the platform. Salespeople can share connections and keep up with all LinkedIn activity.
Why Choose Dynamics 365 Sales Premium?
Dynamics 365 Sales premium has no limit to essential sales functions like setting up customer entities, creating custom forms and dashboards, or working with third-party applications. You can start by purchasing a Professional license, then upgrade as your needs expand.
You also gain access to Dynamics 365 Sales Premium features like:
Marketing Campaigns
Forecasting
Territory Management
Gamification
Internet eBusiness Solutions can help you configure Dynamics 365 products to fit your company environment. Learn more about our services by setting up a consultation with an iES expert.