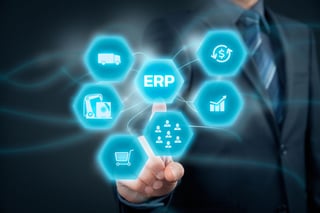 It's time for your business to catch up with the competition. If you're using legacy accounting software (or maybe a slew of spreadsheets to track profit and loss), you should know there is a much better way. You've probably heard about cloud-based enterprise resource planning software; it empowers even the smallest of businesses to take control of their future through smarter financial functions.
Microsoft Dynamics ERP offers the most advanced accounting software coupled with integrated reporting features. This is best-in-class software that will make you want to throw your old systems out the window.
Businesses that are looking at Microsoft Dynamics ERP sometimes struggle to understand when it might really be time to pull the trigger on new software. We've compiled five good indicators that will let you know when it's time to make the switch.
Read the Signs and Switch to Microsoft Dynamics ERP
1. Clunky Reporting
We had one client that used QuickBooks as their legacy platform. They also ended up cutting and pasting data into Excel for reporting. It was a clunky, time-consuming process. In fact, none of their legacy platforms worked well together. Switching to Microsoft Dynamics ERP enabled them to tie accounting to business planning processes effectively. They were able to create slick, actionable reports, and ended up dumping all of their legacy platforms to run accounting, invoicing, sales, customer service, and more—all on Microsoft Dynamics ERP.
2. Software Gridlock
One of the biggest benefits of cloud computing is scalability—you always have the option to add bandwidth and users. Legacy platforms tend to bog down when you've reached data storage capacity. This can be frustrating, especially when you're waiting on reports or other data to load. Microsoft Dynamics ERP is tied to a SQL server where you can store large quantities of data with no gridlock. That's the real benefit of moving your business functions to the cloud. You can easily add storage, users, or software modules when you need them most.
3. Redundant Processes and Data Entry
If you're using several systems to track data, it's likely that interoperability between platforms is a big issue. Sometimes, you may even have to do manual entry of the same data multiple times. This increases the possibility of human error and creates a level of unnecessary complexity in your business. Microsoft Dynamics ERP spreads the same data across many functions. Automation will further streamline your processes, sending reports automatically and efficiently.
4. Inventory Discrepancies
If you're using several systems for inventory tracking, there is a high probability that your numbers are at least slightly off. Having outdated product lists, or inconsistent supply counts across several different platforms can really create problems for your business. If you're selling out-of-stock inventory, you're going to have unhappy sales reps and clients. Cloud-based Microsoft Dynamics ERP helps keep an accurate inventory count that's updated in real-time. Implementing Microsoft Dynamics ERP will save time, money, and aggravation.
Is It Time for a Microsoft Dynamics ERP?
If this post reminds you of your business, it is definitely time to consider taking a Microsoft Dynamics ERP test drive. Contact the team at IES to schedule a demo or to discuss how MS Dynamics ERP can help your business improve.