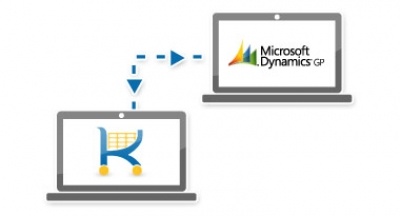 Dynamics Great Plains, Microsoft's Enterprise Resource Planning (ERP) software, is both one of the oldest and most cutting edge software programs available to small businesses. With eCommerce web management, the software suite takes on a whole new level of usefulness.
Web Management allows you, as a business, to do several unique things with your ERP software.
Direct Customer Ordering. Ecommerce gives the tools for order processing into the customer's own hands. This cuts back on phone and personal order takers error's, saving you time and money.
Real Time Interactions. Sales people, customers and management will all have access to the eCommerce platform. This allows for updated information to flow seamlessly between departments and the customer.
Increase productivity. Orders taken online are transferred instantly from customer to business. This gives your customer service and order fulfillment systems less lag time between orders and production. Less lag time will increase customer satisfaction.
Increase "office hours." An eCommerce platform is always open for orders. This gives customers around the world the option to order when it is convenient for them, without paying for a 24 hour call center.
Reduce customer service costs. Your customer service employees can be focused on service, rather than chasing down orders and double checking orders coming in from the field.
These are just some of the advantages an eCommerce integration can bring your business.
WHAT ARE SOME OF THE DISADVANTAGES?
The disadvantages of implementing an eCommerce integration depend on where and how the integration is done. For a business to build the integration on their own can be costly and time consuming.
Integrating your ERP with an eCommerce web management system requires designers, programmers, engineers and more. There are other systems available for businesses to use, where a company has built out-of-the-box eCommerce integrations for Dynamics GP. Using another company's work and eCommerce platform can cut down on overhead and initial costs while providing all of the details above.Many companies offer these services.
What should you look for to integrate your business with Microsoft Dynamics GP eCommerce?
Certified Microsoft Gold Partners - Many businesses will offer software integration, but if they have not taken the time and money to get certified from the producer of GP software, do they deserve your time and money?
Software Development - If your eCommerce provider does not provide software development, then there is a good chance you will have to hire additional firms when bumps-in-the-road happen.
Mobile Integration - As more and more people are using mobile computers to run their businesses, you want to be in front of your customers at the right time and place.
With this list of things to look for from a company and from a software package, you can feel confident in your eCommerce system for Microsoft GP software.
If you are looking to change or implement an eCommerce system, please contact us to discover how IES's eCommerce Web Manager can meet your needs.