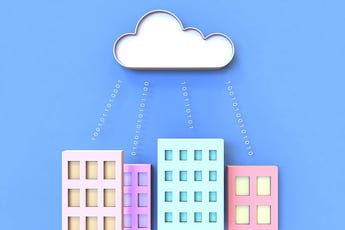 Your business is finally ready to take it to the next level by installing Dynamics GP enterprise resource planning (ERP) software. You've looked at the competitors and realized the benefit of an all-in-one resource for financials, inventory and operations. You trust the Microsoft brand and love the potential for integrating the Microsoft office systems you're already using, and the business intelligence found in Dynamics GP. The hard decision-making process is over, and you're ready to get started.
But not so fast, you have one last decision to make.
Now you must decide how you'll access the software. Your options are to set up a dedicated on-premise server to run Dynamics GP. Or, you could dial through the public Internet cloud to access the new software directly on Microsoft's servers. In the past, you only had the on-site option, but with the growth of SaaS (software as a service) options, come more flexible options than ever before.
You could even pick a hybrid model that utilizes a little of both. No matter what you choose, you're looking for the best options for your business. Downtime for the software could mean downtime for crucial business functions. If you start to consider the financial and reputational damage that could ensue if the service is interrupted, you might be shaking in your boots.
Let's take a closer look at the options for hosted Dynamics GP vs. on-premise and see if we can help you figure out the best solution for your business.
Benefits & Drawbacks of On-Premise Dynamics GP
Accessing on-premise Dynamics GP requires purchase and installation of an on-site architecture consisting of servers, a network, and firewall. It requires purchasing a Dynamics license for installation and usage at your business. You can install individual workstations or use a Citrix connection for remote access.
On-premise Dynamics GP also requires an IT staff that can maintain the infrastructure. This may be the perfect option for your business. Consider the following benefits and drawbacks.
Benefit Total on-site control means you have the ability to highly customize the configuration. You can max out on all the "cool tools" configuring the most efficient setup that is completely tailored to your particular business or industry. For some industries like banking or big corporations, on-premise will always be the preferred solution.
Drawback Big customization means big responsibility. In fact, these setups are better solutions for large enterprise level businesses with an internal IT team that can maintain the upgrades and maximize the uptime. On-premise Dynamics GP hosted on your own internal servers is not an option most small to medium sized businesses select; they typically lack the internal resources for set up and maintenance.
Benefit If your business has contracts with the federal government or a state or regional regulatory agency, you may be required, as part of their compliance agreements, to host on-site. Agencies with sensitive data frequently require security checks and balances that prohibit cloud software hosting. Strict compliance guidelines may require you to host business functions behind an on-site firewall.
Drawback The upfront costs that come with on-premise solution can feel a little extreme. Setting up a server farm can become a six-figure expenditure. Not to mention the costs of your internal IT team or third party vendor as they work to get your unique configuration up and running. You are also responsible for network up time, backups and disaster recovery processes. If the infrastructure goes down, it's on you to fix it.
Benefit Connecting with legacy systems within your own internal architecture shouldn't be a problem with on-premise hosting options. Too, you're not subject to the variances that can come with fluctuations in Internet connectivity.
Drawback You absolutely must have a business recovery plan in place if your data is stored on an on-site server. If you're not hauling a backup away and storing it offsite, or if you haven't adopted a hybrid model where you're storing data in one off site and one on-site location, you are vulnerable to fire, flood, tornado, earthquake, or even burglary and vandalism.
Benefits & Drawbacks of Hosted Dynamics GP in the Cloud
InfoQ cites a study by 451 Research showing 46% of businesses were moving toward cloud options in 2015 and the number is expected to climb to more than 50% in the next two years. Hosted Dynamics GP in the cloud is really the fastest and easiest way to begin to reap the benefits of the software.
Benefit For any business, the price of hosted Dynamics GP is considerably less than the thousands you'll pay upfront for an on-site solution. You'll skip big equipment costs, and, if you lack an IT team, you won't need to hire a third party vendor to set things up. If you have an Internet connection, you're plugged in and ready to work.
The license fees are completely different and more scalable because you're paying a subscription fee based on usage. It's a budgeted monthly expense that your business can count on.
Drawback You're only as fast as your Internet connectivity. Is it time for an upgrade?
Benefit There are no tedious on-site version improvements that could potentially affect your up time. Hosted Dynamics GP is continuously upgrading the platform in a way that is seamless with none of the negative effects of downtime with the platform upgrades.
Drawback Some businesses are still concerned that the Internet isn't secure. But Microsoft has five worldwide data centers with multiple redundant server farms and a huge team of programmers constantly monitoring for the latest threats. How would your on-premise infrastructure compare? Microsoft is the most trusted name in the industry and has been handling data successfully for many years.
Benefit Connecting to hosted Dynamics GP is as easy as sitting down at Starbucks with your phone. The convenience and accessibility of cloud architecture is exactly why it has taken the world by storm. Hosted Dynamics is available from any connection on any digital device.
Drawback We used to list the lack of customization with cloud-based software as a drawback, and in some instances that's still possibly true. For a niche business, a customized software application, assuming you have the time and money to tinker, might still be the best option. But cloud-ERP software like Dynamic GP has more customization options than ever before, including field customization and a plethora of reporting options. Additionally, the robust out-of-the-box functions are an excellent fit for the majority of small to medium sized businesses – no matter what industry you're in.
Or…There's the Hybrid Model
Who says you can't benefit from the best of both worlds and make them your own? A hybrid model will allow you to take portions of your business and test it in the cloud while maintaining certain critical functions on-premise. Balancing legacy infrastructure with cloud flexibility may be the smartest move for your business. You could open brand new lines of business by using Dynamics GP in the cloud, while still maintaining private servers for your government contracts. The biggest benefit of this hybrid approach is the redundancy inherent is using both infrastructures simultaneously. That way, all your business eggs aren't in one basket.
Cloud-Hosting Service Level Agreements
If you've decided to host in the cloud, we must share a little advice around the service level agreements (SLAs) you'll be signing. The service level agreement dictates the terms between your cloud hosting partner and your business.
Our advice is simple: always read the SLA.
Here are a few tips that should help you understand what to look for in these important documents:
Question: Is your business covered in the event of an outage?
Answer: Rarely. It's a little bit like insurance companies and their "acts of God" clauses. So make sure you've selected a big-name cloud provider that offers extensive server farm facility redundancy.
Question: Will I still have to run backups or will they happen automatically in the cloud?
Answer: Usually the backups are automatic, but not always, so make sure you check the service level agreement to be certain. This is one argument for a hybrid model – you can backup your data on Microsoft servers (via the cloud) as well as your own on- premises server.
Question: Will my data still be mine if it's in the public cloud?
Answer: Generally, yes, under federal copyright laws. But again, always read your service level agreement, just to be safe.
Question: What are the key cloud-based performance metrics?
Answer: 1. Redundancy. 2. Network capacity. 3. Memory capacity. 4. Maintenance. 5. Where is data stored? 6. Security 7. Support.
IES – Helping You Navigate Hosted Dynamics GP vs. On-Premise
We know you have many choices when it comes to selecting a Microsoft partner. IES is the leading national provider of software solutions for businesses of all sizes. As you're contemplating the decision whether to select hosted Dynamics GP vs. on-premise options, consider consulting with the expert team at IES. Contact us today. We're here to help you create a successful migration to Microsoft Dynamics GP, no matter what hosting option you choose.