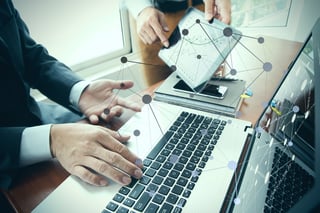 What is the number one goal of business-centric software? Improving business productivity.
Improving the productivity of your business affects every department.
For example:
If your human resource department is more productive, HR employees will make better hiring decisions, recruit more efficiently, and orient new hires faster.
A more productive manufacturing team means increased output, better inventory management, smarter pricing models, and improved supply and demand.
Better production in accounting means fewer errors, faster invoicing, and streamlined financial workflows.
Everyone likes a more productive sales team. Improved productivity means increased organization, better follow through, and higher sales numbers.
What if we told you having the right software can help boost your company in all these ways, and more. Let's look more closely at how Microsoft's business productivity software can change the way you do business.
Microsoft SharePoint = Better Human Resource Reporting
SharePoint is a business hub, designed to do exactly what the name implies—share information. It's often tricky to describe SharePoint, because it serves as a platform for multiple functions, tying all of your employee computers into one centralized communications pivot point.
Human resource teams seeking to reach a diverse internal workforce spread out across multiple geographic locations often use SharePoint to improve communication productivity. It's perfect for setting up internal corporate websites. Human resource teams can use these intranet hubs to post corporate training manuals and videos. They can share job openings with employees or other corporate communications such as memos, press releases, webinars, or other company-wide announcements.
SharePoint sites can also be used for project-specific teams across any department, serving as a secure project management portal for posting documents, messages, and work timelines.
Microsoft Dynamics GP for Financials = Streamlined Accounting
Accounting analytics are much more powerful when backed by the efficient data visualization tools found in Dynamics GP. That's the front end of GP, which takes financial data, and makes it understandable and actionable for internal and external business stakeholders.
On the backend, Dynamics GP takes financial data and populates it across multiple functions, from accounting and invoicing, to payroll. This improves the productivity of your internal finance teams by reducing the amount of time spent entering data. It also reduces errors in financial reporting by eliminating redundant data entry keystrokes.
You can even automate some of the most tedious and time-consuming tasks such as bank reconciliation and fixed asset reporting. Speaking of reporting, did we mention this is real-time data that allows you to see instantly what's happening so you may shift procedures accordingly? This can be a real boost when it comes to cash flow or other mission-critical decisions that affect the daily operations of your business.
Microsoft Dynamics NAV for Operations = Improved Inventory Tracking
Having visibility across distribution, sales, and customer service will allow your business to flex with the market. Nowhere is this more important than meeting supply and demand challenges that come with operations management.
Microsoft NAV was designed specifically to improve the productivity of the small to medium-sized manufacturer. Manufacturing and distributing depend heavily on a 365-view of the entire organization. NAV helps businesses compete in a global market by reducing supply chain risk and improving fulfillment.
NAV helps improve the productivity of manufacturing organizations by:
Increasing their ability to spot, analyze, and forecast trends, which could include dips in sales demand or the supply of critical goods and services.
Automating backend-manufacturing processes such as inventory costing and reporting.
Sharing data with vendors and customers, including shipping notifications that will keep your business partners better informed.
Increasing response time to customer issues like change orders or rush requests, which helps retain clients.
Keeping you agile in changing markets by shifting your manufacturing processes, adopting revised delivery methods, or even changing suppliers.
These are just a few of the ways our NAV clients have benefited from this flexible, robust business tool.
Microsoft Dynamics CRM = Productive Sales Team
CRM stands for customer relationship management, and that is exactly what this Dynamics software module can do for your business. On the backend, the Dynamics CRM can automate some of the basic functions of sales and marketing departments including sending out the email correspondence that keeps your sales team in front of potential clients. It can also automate ticklers that remind sales reps of important tasks while integrating with Microsoft Outlook calendars to make sure they stay on point.
The CRM tool is also helpful for customer service or account management teams who can enter client data directly into the same CRM as your sales team. This integration can have a significant impact on upselling existing clients with new products and services. For example, understanding whether a current client is pleased with your services will help your team decide if they might be interested in the latest upgrade.
Because Microsoft is fully enabled for mobile devices, your sales teams can connect wherever there is a digital connection. They can access up-to-the-minute client notes just before they're entering an important meeting on the road.
Microsoft Innovation Means Improved Business Productivity
Microsoft has been the leader in business productivity software for decades. With the move to cloud-based software-as-a-service (SaaS), Microsoft has again reinvented itself, but this time for the small to medium sized business that wants access to the same tools enterprise organizations have been using for years.
Going to the cloud means you can improve your business productivity without breaking your bank on an on-premise infrastructure that is time-consuming and expensive to maintain. It also means that all of the productivity-related benefits we've outlined in this article can be accessed from your Smartphone or anywhere you have a digital connection.
IES is a Microsoft Certified Partner with a worldwide network of clients that have benefited from our expertise with these products. All of these Microsoft modules— SharePoint, GP, NAV and the CRM tool—can now be accessed online via Microsoft Dynamics 365, an integrated dashboard that we can help you customize to handle all of your mission-critical business functions. Contact us today to find out more.