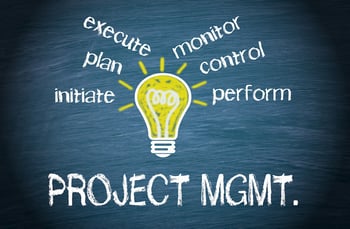 Managing a project, no matter how large or small the project may be, is a huge undertaking. You're generally incorporating many people from all different departments and levels of the organization, and getting everyone on the same page can be tough. However tools such as project time tracking software can make it possible to communicate with different departments and view all parts of the project in one place.

Related Blog: WHAT IS A PROJECT MANAGEMENT SYSTEM AND WHY IS IT IMPORTANT TO USE ONE
A Single Place
Projects involve many different people who are working on many different timelines. An effective project time management software can help you hone in on everyone's objectives so you're all on the same page. Everyone working on or overseeing the project can go to one single place to see progress and address bottlenecks as they arise.
Accountability
Project time management software allows each person to be accountable for their own work. When something arises, there is one point-person to whom the project manager can turn to try to understand why something's not working and perform due diligence to resolve the issue.
Products
Whether you are running an ecommerce store or a brick-and-mortar business, you need to know which and how much quantity is being exchanged. It can be easy to lose track of these metrics in the shuffle, but project task management software can help you quantify your deliverables and expenditures so you know exactly how much product you're responsible for.
People
Sometime's it's hard to tell how much work each person has until someone has too much on their plate. Project management systems are in place to help you account for everyone's whereabouts so you are not burning anyone out. When used properly, these systems are intended to oversee the project and ensure that everyone is being used to the best of their abilities and no one person has too much work.
Time
In the end, time is always of the essence, particularly when it comes to project management. As a project manager, you need to understand what is coming along, what's hit a bottleneck, and where deficiencies (or efficiencies) are being presented. From a big picture perspective, this can be difficult, but with the right project time tracking software in place, this information will be readily available to you in any form necessary.
Ready to learn more about how project task management software can help enhance your company's bottom line? Contact our team at Internet eBusiness Solutions, and let's get started!