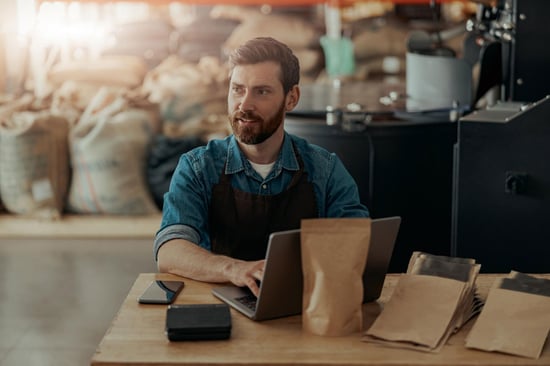 Most people don't spare a second thought about how the food they purchase at a supermarket or restaurant makes its way in front of them. Moving items from farms and factories to someone's table takes a lot of planning and logistics. Platforms like Microsoft Dynamics NAV help food manufacturers track each process step in an organized and efficient manner. The competitiveness of the food and beverage industry makes it essential that companies have software capable of handling issues like fluctuating profit margins, strict compliance regulations, and high demand for customer service.
What is Microsoft Dynamics NAV?
Dynamics NAV provides organizations with an end-to-end ERP solution. It's designed to boost small and mid-sized companies by providing greater control and oversight over essential business functions. Companies gain access to modules that help with core functions like:
Procurement

Supply Chain Management

Operations

Accounting

Project Management
The flexibility of Microsoft Dynamics NAV makes it ideal for growing companies looking for a solution capable of scaling with their ambitions. Businesses can pick and choose which modules they need to meet business demands. Companies already using Microsoft products like Office 365 can integrate with Dynamics NAV. There are also plugins available that integrate with popular third-party software.
Investing in Microsoft Dynamics NAV for food and beverage functions helps businesses meet their overall goals. Partnering with a provider who understands the platform, like Internet eBusiness Solutions (IES), allows your organization to implement customizations suited to your business environment.
How Does Dynamics NAV Help the Food Industry?
Issues like potential recalls and compliance regulations can cause a big mess without proper tracking. Dynamics NAV boosts food and beverage companies by providing batch reporting tools that help them keep up with what's produced and how it's moving through the supply chain. That way, organizations can analyze all processes and ensure they meet all critical targets.
Because consumer tastes change constantly, food and beverage companies need a way to track changes in customer sentiments, eliminate waste from operational processes, and stay on top of demand. Microsoft Dynamics NAV makes it easier to find ways to fix hiccups in the supply chain, manage inventory, develop effective business initiatives, and coordinate day-to-day decisions.
Another way Dynamics NAV benefits food companies is real-time data collection for analysis that helps with decision-making. It offers automation capabilities that relieve staff of manual processes that slow things down and make businesses inefficient.
Benefits of Using Dynamics NAV for Food and Beverage Processes
One reason for the enduring popularity of Dynamics NAV is the flexibility provided by the platform. It's designed to allow companies to expand via a long-term growth strategy. The solution also integrates with other business systems embedded within an organization.
Improve Operational Flows
Dynamics NAV stimulates Food and Beverage operations. Companies can set processes that support real-time efficiency within areas like warehousing, distribution, and human resources. Companies can also use Dynamics NAV to:
Make more accurate demand predictions

Analyze current and future capacity

Keep up with stock levels

Improve financial visibility
Businesses can create a seamless distribution model and plan more effective business strategies. The platform modernizes the workplace by connecting various business areas and enabling instant communication. That speeds up process flows, allowing companies to accomplish more in less time and increase revenue.
Microsoft Dynamics for Restaurants
Restaurant owners benefit from having a unified platform for handling point-of-sales functions and controlling operations. The solution helps businesses cut waste by keeping up with ingredient usage, figuring out what menu items aren't the most popular, and where customers are experiencing breakdowns in service.
Other ways business owners can leverage Dynamics NAV for restaurants include:
Keeping up with staff schedules
Tracking employee performance
Sending communications to employees
Using analytics to track restaurant performance
Developing ad-hoc reports for review
Benefits of Using Dynamics NAV for the Food Industry
Dynamics NAV helps food producers and restaurant owners handle challenges within their industry. The platform enables coordination between workers and gives stakeholders a single source for viewing what's happening within an organization. IES expert team of Microsoft professionals can customize Dynamics NAV and turn it into the ultimate business solution for your company.
We can show you how to optimize Dynamics NAV for your food business by showing you how to:
Create a single customer view
Set up better reporting
Use integrations to achieve better cost control
Cut down on errors through automated processes
Make end product sourcing more efficient
Enable better traceability and quality management
Getting the Most Out of Your Food Business
All food and beverage professionals can benefit from software that helps them gain a competitive edge. Investing in a platform like Dynamics NAV improves nearly every facet of your business.
Increased visibility — The needs of all businesses change as they grow. Dynamics NAV moves you beyond manual record-keeping through automation that eliminates the drudgery of manual entry for many financial processes. Companies can remove information siloes and make essential data transparent and available to crucial business areas.
End-to-end traceability — Dynamics NAV lets you track what's happening at every point in the supply chain. The system does the heavy lifting of tracking customer preferences and lets you see the details of what's happening at critical tracking points. You can collect data from each part of the supply chain and better prepare yourself to handle any emergency.
Promote food safety and compliance — Avoid issues around recalls or withdrawals using Dynamics NAV to comply with all laws and regulations. You can also ensure that you have all paperwork ready in case of an audit. Track all ingredients that go into your products and be prepared to remove them at a moment's notice.
Explore the Benefits of Dynamics NAV
Let IES walk you through various ways you can adapt Dynamics NAV or other software to fit the needs of your business. Explore all available solution options by contacting us today.