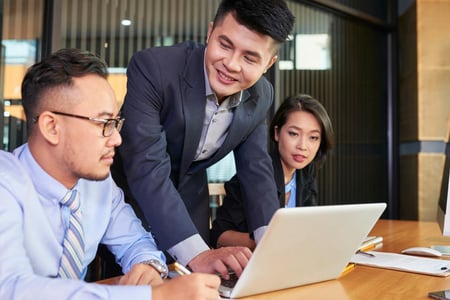 The Microsoft Dynamics 365 suite of cloud-based business applications makes it possible for organizations to streamline tasks required for administrative services. This frees your workforce up to focus on what's important, like building and maintaining customer relationships or making sure you keep up with promising sales leads. The flexibility offered by Dynamics 365 is why so many companies use it as their CRM.
After exploring all these features, you may be wondering about the Microsoft Dynamics 365 cost. You can pick and choose which elements of Dynamics 365 you wish to purchase a license for, allowing businesses to create a customized platform that gives them the exact functionality required for day-to-day operations. Let's look at what you can expect to pay for different software elements.
Licensing Dynamics 365
When you ask yourself "how much does Microsoft Dynamics cost?" you first have to think about the kind of license you may need. You can purchase the following types of subscription licenses for your organization and related entities:
Full Users
Full users are those working within an organization who require access to all the functionality available in Dynamics 365, including people working in finance, human resources, and supply chain. Others working at a company who might require a full user license include enterprise and professional users providing core support in areas like sales and customer services.
Device
In Dynamics 365, a license can be issued for either a user or a device. You can purchase a license for a device that contains the relevant software without having to buy an additional one for other device users. Companies can choose to designate specific devices for use in operations, sales, or customer service.
Team Members
Organizations can designate workers as Team Members for licensing purposes. These users aren't tied to specific business functions but do require some basic access to Dynamics 365. Companies can create custom access scenarios for different team member licenses. They allow employees to collaborate and perform necessary work functions.
Activity
An Activity license provides users with more access than a Team Member license but less than that provided to users with a full license. Users with an Activity license gain any additional access needed to execute critical business functions within Dynamics 365, including approving work completed by those with a Team Member license or creating new tasks for others to complete.
Dynamics 365 Business Central Pricing
The Business Central solution is designed to help small and mid-sized businesses (SMBs) automate and streamline their business functions like finance, manufacturing, shipping, and sales. A Business Central Essentials license costs $70 per user per month and gives users the following capabilities:
Financial Management
Supply Chain Management
Customer Relationship Management
Human Resources Management
Project Management
Warehouse Management
The Business Central Premium license costs $70 per user per month. A Premium license gives users access to all the features of the Essentials license plus:
Manufacturing
Service Management
Each Dynamics 365 Business Central Essential and Premium license includes three external licenses for customers with external accounts. That allows them to connect a Business Central application and provide supplemental data needed for accounting or bookkeeping.
Organizations can purchase Team Member licenses for Business Central at $8 per month per user.
Dynamics 365 Sales Pricing
A sales professional license costs $65 per month for the first user license and $20 each per month for additional users. The sales enterprise license costs $95 per month for the first user license, and $20 per month to add more users, giving each one access to capabilities like:
Sales Playbooks
Forecasting
Hierarchies
Social Engagement
Gamification
Teams
Quick Campaigns
Marketing Lists
Marketing Campaigns
Additional licenses available for Dynamics 365 Sales include:
Sales Premium — Costs $135 per month per user and provides access to Dynamics 365 Sales Insights
Microsoft Relationship Sales — Costs $162 per month per user and combines Dynamics 365 Sales Enterprise and LinkedIn Sales Navigator Enterprise's benefits.
Dynamics 365 Service Pricing
Below is a summary of the cost of licensing different elements of the Dynamics 365 Service component. The price reflects the cost of the first user license for an application. Each subsequent user license purchased at each level costs $20.
Customer Service Professional — Costs $50 per user per month and comes with a self-service customer service portal and knowledge base. The license includes basic resources and analytics for customer support agents.
Customer Service Enterprise — Costs $95 per user per month and includes all functionality included in customer service professional. Users also gain access to scheduling and dispatching services and manage other resources and integrate with other Dynamics 365 apps.
Field Service — Costs $95 per user per month and designed for those working in the field.
Remote Assist — Costs $65 per user per month and geared toward agents working remotely.
Additional Dynamics 365 Pricing
Below is an overview of the licensing options available for other elements of the Dynamics 365 platform:
Customer Data
Custom Insights — $1,500 per month for the first tenant and $1,000 per month for additional tenants.
Customer Voice — $200 per month per tenant
Marketing — $1,500 per month for the first tenant and $750 for each additional tenant
Commerce
Commerce — $180 per month for the first user and $30 per month for each additional user
Fraud Protection — $1,000 per tenant per month
Supply Chain
Supply Chain Management — $180 per month for the first user and $30 per month for each additional user
Guides — $65 per month per user
Human Resources — $120 per month for the first user and $30 per month for each additional user
Finance — $180 per month for the first user and $30 per month for each additional user
Project Management — $120 per month for the first user and $30 per month for each additional user
Get the Best Dynamics 365 Pricing
One of the reasons it can be so hard to figure out how much Dynamics 365 costs and how it will affect your bottom line is that you may not have the full scope of your organization's needs. A managed services provider like Internet eBusiness Solutions (IES) can help by making sure you license only the elements of Dynamics 365 needed to maximize your company's efficiency while continuing to meet your customer's needs. Learn more about how IES can save you money and optimize your Microsoft Dynamics 365 usage by setting up a consultation with one of our agents.