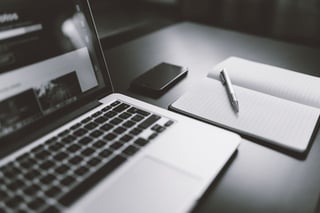 The "BI" in "Power BI" stands for business intelligence. It's aptly named because using this software will help your organization gain insight into the underlying issues affecting business forecasts, profit and loss, sales, inventory, and more.
If you're used to tracking any kind of data in Excel, you'll want Power BI for the visualization and analytics insight it offers. Power BI gives businesses a tool belt jammed full of resources to improve workflows and corporate decision making.
This article explores how Power BI reporting will help your company gain real insight to develop a sustainable competitive advantage.
What is Power BI?
Microsoft Power BI is cloud-driven data analytics and visualization software. It serves as a hub for all corporate data sources and lets you create dashboards and graphical data representations that can give anyone a portrait of how your numbers are performing.
There are four key components or deliverables to this software:
1. Data Dashboard
No analysis happens without data. That makes the data source behind the Power BI dashboard crucial. Your dataset stores the financial or other information you're trying to understand.

The data itself can be stored anywhere: Access, Dynamics CRM, Excel, QuickBooks, and more. From .CSV files to .XLSX or any other file type can be converted into data you can use with Power BI. There are dozens of data storage services that are interoperable with Microsoft Power BI including Azure, Spark, and SQL. You can also cull data from content management platforms or marketing analytics web tools like Google Analytics, or Twilio.

You can pull data in Power BI by clicking "My Workspace/Get Data." If you're pulling data from the web, select "Get Data/Web" and paste the URL where your data is stored. Yes, it really is that simple.

These figures are displayed on a customizable dashboard that can give you an integrated 360 view of your organization, no matter what data source you're pulling from. This means you can see a bar chart tracking new sales from the Dynamics CRM or view a Google Analytics thread of how your last marketing campaign is doing in real time and from one screen.

Power BI has connectors to Zendesk and Marketo, GitHub and Salesforce – to name a few. You can snag and display data from any Excel workbook. All of this information can be displayed on any digital device.

2. Analytical Tools
Once you have the data you want to play with, you're ready for the next big tool in the Power BI toolkit. We're talking about the business analytics, research, and discovery tools that come standard in Power BI.

This part of the software allows you to review and model raw data you've uploaded. This is a crucial part of developing true business intelligence; culling raw datasets mean nothing more than numbers on a page to the average business user. But if you can group the data in new ways to gain insight, you start to see the value in the information you've been collecting.

There is a natural language query feature in Power BI that is extremely helpful – but you may not even realize it's there. You can use the Q&A query tool to ask simple questions like "What were total sales last year?" Power BI will provide you with a graph that gives the answer. It's a lot different from a search tool – it's smarter, more intuitive, and more helpful. We recommend trying this on your iOS device – it's fun to ask a question, have it answered, and then play with your sample data.

Power BI lets you select dimensions, filters, and measurements, look at historical trends, then crunch the numbers in different ways to figure out things like revenue forecasts or inventory trends. Then it lets you create visuals to share the insight with any stakeholder in your organization.

This is an interactive data cruncher. You can expand on your queries or drill down to find out details. Because Power BI is in the cloud, it's as fast as your Internet connection, which for most of us, is lightening quick.

3. Graphics to Visualize Your Data
Data visualization allows you to create a canvas to see what's important to your business.

Here are just some of the eye-catching visualization tools available in Power BI:
Bar and column charts
Basic line charts
Bubble graphs
Doughnut and pie charts
Gauge graphs
Layered and stacked visual charts
Maps
Multi row charts
Scatter charts
Tables
Tree maps
Waterfalls
This is in no way a comprehensive list! These visualizations can also be combined across data sets to create new models.

You can creative interactive data displays that show data cycling over a time period. Even if you don't have a creative bone in your body, as long as you have the data, you can create visually appealing reports, then automate them for distribution at any given time across departments in your organization.

4. Custom reporting
Microsoft calls this the reporting feature in Power BI, "…a multi-perspective view into a dataset, with visualizations that represent different findings and insights from that dataset."

Custom or template reporting is easy in Power BI. Create a report called "Completed work orders by customer" or "Map of current customers" by using existing templates. You can also download a custom visual to a report or otherwise create something completely different and unique. This is all done with simple command functions and drag and drop; it's complex software that isn't confusing to the average user.

There are dozens of templates that include reporting specifically designed for field personnel. Or, organize dynamic reports with charts or other graphics, group it, and automate it to be sent to the members of your team.

What Insight Can Be Gleaned from Power BI?
Data is growing increasingly complex. Having an intuitive tool to slice and dice data and then display it in graphically appealing ways that share business insight is incredibly valuable to the average business user. You don't have to be a marketer, analyst, or accountant to understand the value of Power BI.
In large enterprise organizations, data has typically been housed, collected, and distributed by an IT team. Marketing departments would have to put in a data request because the tools we had to query the data were something only a computer programmer could use.
Not anymore. Now anyone, from the start up entrepreneur to the enterprise executive can take data and glean insight from it. Microsoft Power BI democratizes your data, allowing everyone to have a hand in solving business problems with historical and trending information.

This self-service portal can help you:
Create a chart showing sales by geographic location.
Illustrate revenue increases by salesperson by month.
Show profit and loss by quarter and look backward for as long as the data will sustain your glance.
Look for data trends through visualization to answer questions about seasonal market shifts.
Determine the average cost by trip and by executive.
Understand distributor sales or pricing.
Gauge which products are selling in "hot" markets.
Determine the success of segmented, channel-driven marketing campaigns.
Are you starting to see where we're heading? Understanding exactly what makes your business succeed (or decline) allows you to determine what course of action should be taken to improve. That insight can all be gleaned through Power BI.
We see the phenomenon of data insight for everyone as offering three key benefits for business users:
Sharing relevant insight with multiple organizational stakeholders to speed up business decision-making.
Creating buy in across an organization by sharing data insight in appealing, insightful ways.
Automating basic workflows so that you can work smarter.
Power BI helps create an organizational history so that businesses can learn from their prior mistakes and keep moving forward at the speed of business today.
New BI Features
Microsoft added new features to Power BI Reports just a couple of months ago, including a new "What if" feature. It's a data visualization scenario analysis for advanced users.
The "what if " feature allows you to determine different outcomes by just moving a slider bar on a graph you've created. Say for example you are trying to calculate future revenue with the goal of developing a monthly sales target. You can use the "what if" parameter to break out monthly goals in new ways to see what would work best for your sales team. Or, you can increase the forecast by a certain percentage and see how it affects forecast variance.
The August update also added more visuals, table formatting features, and tacked on more analytics options, including ratio lines for scatter charts. All kinds of new custom visuals were added, including funnel plots, and power KPIs.
What's Next for Power BI
Having all of your data in one place is an extremely important feature of Power BI. That's the goal of Microsoft, to create a unique, interconnected user experience that empowers businesses of all size to use powerful analytics, visualization, finance, and customer service tools to grow your business.
IES is devoted to helping your organization reap the most benefit from these intuitive and powerful software tools. Contact us today for training, customization, or for a new software cloud subscription that will accelerate your business.