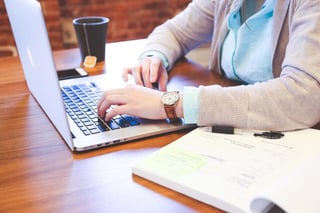 Is your business project management software helping or hindering your team? The right tools can make projects run like a breeze, while the wrong tools can potentially cause roadblocks and miscommunications. By improving upon your business project management software, you can improve upon the productivity and efficiency of your company throughout its critical business operations.
How Business Project Management Software Can Boost Productivity
1. Improved Collaboration and Communication
Project management software creates an all-in-one dashboard and interface through which team members can communicate regarding the current status of each project. By leveraging project management solutions, team leaders can quickly assess projects without micro-management—and can identify and react to potential delays before they are reported. Solutions such as Microsoft Dynamics create a collaborative workspace that can be shared with an entire team, enabling them to access each other's work on-the-fly from anywhere. This reduces the amount of time team members have to spend trying to connect, share documents, and offer status reports.
2. Heightened Quality of Deliverables
Project management solutions don't just make a project easier—they also make the project faster and improve upon the project's final deliverable. Through the management and monitoring solutions provided by project management software, team leaders can ensure that the project is on track, both chronologically and in terms of design. Project managers will be able to see whether the final deliverable may be straying from specifications, or whether there may be potential delays lurking ahead. All of this will ensure that the finished product is exactly what was requested.
3. Ensured Regulatory Compliance and Standards
From the financial sector to construction, there are many industries that have to meet standards of regulatory compliance. Even if the final project is delivered as requested, it's still important that the documentation be available to prove that regulations were followed. Microsoft Dynamics ERP collects the detailed information that would be necessary to produce a reliable audit trail and provide to regulatory boards and administrators. This can be a vital cost and time-savings for organizations that would otherwise need to put administrative time on the books.
Still not sure how project management software can improve your business productivity? Microsoft Dynamics functions as a consolidated CRM and ERP solution, streamlining and improving upon every level of your company's operations. Through Microsoft Dynamics, your team can begin communicating, collaborating, and creating right away. Contact us today for a free consultation regarding your company's unique project management and productivity needs.