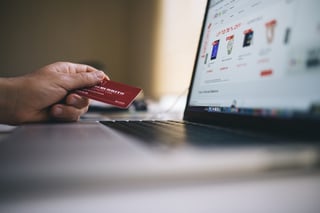 Managing operations is an increasingly challenging and complex process fraught with changing customer dynamics and increasing competition. One of the greatest benefits of the Microsoft suite is that they offer affordable software that streamlines all of the functions in your business. Adding ecommerce to Microsoft Dynamics GP integrates all business functions—from back-end inventory to front-end customer relationship management—in order to improve organizational efficiency and give you a competitive marketplace advantage.
This article takes a closer look at Dynamics GP ecommerce functionality and how it can work with enterprise resource planning tools to improve your business functions.
What's the Difference between ERP and Ecommerce?
The sum is always better than the parts. In the case of Microsoft, the whole point of integrating ERP and ecommerce is that the partnership between these powerful tools makes them better than if they were used separately.
Small and medium-sized companies that leverage Microsoft Dynamics ERP functions can use them to improve backend processes ranging from:
Accounting and financial management
Business intelligence and reports
Human resource and payroll
Inventory management and production
Sales and customer relationship management
Now imagine adding ecommerce as a way to increase your bottom line. The IES Microsoft Dynamics GP eCommerce Manager is the fastest and most efficient way to set up a storefront that can leverage all the tools found in your Dynamics ERP subscription. Let's take a closer look at how the two systems really compliment each other.
How to Leverage Dynamics GP ECommerce
According to eMarketer, ecommerce is expected to expand from $1.67 in 2015 to $3.58 billion in 2019. Dynamics GP ecommerce helps you reach these customers whenever they're ready to buy, 24/7, 365 days a year. Here are some of the clear-cut benefits to adding Dynamics GP eCommerce to your robust Microsoft suite.
Sell, Sell, Sell
Adding a one-stop ecommerce shop will allow customers to compare the features and benefits of your products online, freeing up some of the time your sales team would spend convincing customers to buy. Setting up the IES ecommerce feature is easy and quick, which means you can focus on driving sales instead of worrying about IT infrastructure. The robust content management capabilities within the Microsoft suite will help with search engine optimization (SEO), improving your visibility with new customers while also enhancing the experience of existing clients.
Ecommerce shops can also create passive income for your business, widening your reach by expanding beyond your bricks and mortar storefront and into the digital ether. In fact, 80% of everyone online has made a purchase at some point. Entrepreneur says, "the ability to earn while you sleep," is a crucial reason why you need to set up your ecommerce site now.
Go Mobile
Commerce is happening all around us. The influx of digital devices has allowed anyone to go shopping any time they want. That's why it's so important for the ecommerce platform you choose to be fully functioning from the desktop to the tablet to the phone. With the IES eCommerce application, customers will have a seamless experience across any digital device, including:
iPhone
Android Phone
Windows Phone 7
iPad
HP Slate
All Windows 7 Tablets
Desktops
Laptops
Data Analytics
ecommerce also means big data for your business. For example, you can collect and collate data in the Microsoft ERP, which can help you figure out who is actually buying your products. Then you can use the marketing functions of the ERP to send promotional emails straight from the e-store toward your target audiences based on their buying patterns and personal preferences. They'll feel pretty special when you send them a personalized communication, and you'll earn more business as you retain more customers. An ecommerce site can even help with SEO, and it certainly can improve customer experience.
Improved Fulfillment
Order fulfillment can occur straight from the GP ERP, as your online store is updated in real time, making order fulfillment more efficient and accurate. Inventory levels pull straight from the ERP and update on the ecommerce site. We don't need to tell you how critical this is for maintaining customer relationships. Dynamics GP ERP can keep your clients informed of any glitches in the demand and supply of inventory. With ecommerce you cannot only place orders, but you can also invoice, ship, monitor inventory, and fully maintain this important part of your business.
Accounting and Receivables
Tracking A/R tied to ecommerce is easy and absolutely crucial to measuring the overall performance of your business. Dynamics GP integrates with the ecommerce platform and automates many of the processes that used to take hours. Self-populating between functions means you only enter the data once, which reduces the common errors that plague manual data entry. The Dynamics GP ERP software also helps automate sales order data and tax information from ecommerce to GP.
Dynamics GP and eCommerce – End to End Business Solutions
These are all good reasons why ecommerce will be a significant role in your business in the near future. Improving the customer experience, empowering your sales force, and creating 24/7 revenue for your business means the Dynamics GP eCommerce solution will pay for itself quickly and continue to provide the ROI your business needs for many years.
Adding an online order entry feature to your Microsoft GP subscription is easy. The IES Dynamics GP eCommerce Manager offers out-of-the-box seamless integration with your current platform. The user interface is laid out in an eye-appealing format that is very simple to understand, which lessens any customer service issues you might face upon go-live.
If you'd like to try a free demo of the IES Dynamics GP eCommerce Manager, contact us today. Our team is standing by, waiting for the call that could advance your business to the next level of commerce.