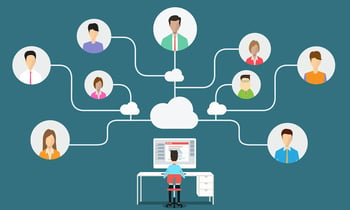 Like any company, you have multiple business systems that function to make their various departments work optimally. While these tools may do well in their own capacities, if they're not talking to each other, you may be losing out on potential revenue enhancement opportunities. A business management software can help substantially.
Related Blog: HOW MEDIUM SIZED COMPANIES CAN MANAGE INVENTORY

Business software programs in today's age can actually link multiple departments together, helping the company achieve higher results in the long run. Here's how:
Plan Strategically
Identify the departments you need to work together in this upgrade, and create a project team comprised of one or two members from each department. To be successful, you will need at least one person to represent each department, and be sure to include all levels of the organization because first-line staff members can often provide insight that management doesn't see.

Use this team to examine the current processes and project management software tools that you have in place. Begin to make wish lists. What would each department like to see happen? What are the pain points and opportunities within the current setup? Don't forget -- as you examine the potential pluses of this new system, be sure to account for things that are working well with the system you already have in place, too. You should keep these thoughts in mind going forward so you don't try to completely reinvent the wheel.
Review Procedures Already in Place
You should already have some type of procedures in place, even if they're informally outlined. This is an excellent opportunity to formalize those processes and build upon them. Review your current project management software tools to find gaps, weaknesses, needs, and opportunities.

Identify manual processes during this phase, too. Automating manual processes should be one main focus of this multi-departmental integration. Take this opportunity to develop standard operating procedures (SOPs), as well. This will help your staff understand how to function more uniformly going forward. Although the undertaking of the creation of SOPs is usually enormous, uniformity to processes is essential to smooth business operations.
Collect, Clean Up, and Train
In the testing phases, collect data from your business software programs to find out what's not working, and make adjustments. Clean up unnecessary or inefficient processes that result from your new system, and implement training. Cross-functional training, even on a small scale, can be beneficial, as it will help team members of different departments understand how their work affects other areas.

If you are interested in exploring business management software systems that can make multiple departments function together, contact us today.