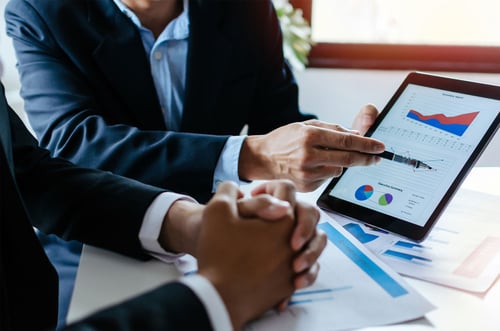 Microsoft's Dynamics GP ERP software helps businesses handle back-end operations that keep them running. The platform also provides additional capabilities like reporting, business intelligence, field service management, and accounting. The comprehensive features provided by Dynamics GP are why it endures in popularity.
In addition, Microsoft Dynamics GP tables and Dynamics GP reports give companies the flexibility needed to store and access data, then view it in an understandable format. Below is an overview of these and other great features of Microsoft Dynamics GP.
Microsoft Dynamics GP Receivables Tables
Organizations can use the Dynamics GP Receivables tables to arrange set up, entry, and maintenance of records for customers, salespeople, and other items. Companies can enter starting balances for an open item. In addition, you can balance your customers and outline specific customer classes.
Other ways you can use the Microsoft Dynamics GP receivables tables include:
Setting up, updating, and posting payment schedules

Posting individual or batch transactions

Entering, changing, and splitting salespeople commissions

Automatically importing lockbox transactions

Entering customer payment transactions
Before setting up information to store in your Dynamics GP receivables tables, make sure you've gone through the setup procedures for General Ledger and System Manager. In addition, you must set up your preferred:
Currencies

Exchange tables

Exchange rates

Multicurrency access
Aging periods
Once you've run the established system routines, set up aging periods through the Receivables Management Setup window. The aging periods define the process of figuring out the age of your accounts. Dynamics GP lets you age customer cards based on document date or due date. In addition, it's possible to set up a maximum of seven aging periods for customers with open items.
Passwords
By setting up passwords in the Receivables Management Setup window, you can limit access to who's allowed to perform specific Receivables Management activities. In addition, adding a password limits who can:
Enter transactions that go over a customer's credit limit

Override customer holds

Write off amounts over a customer's maximum

Waive customer finance charges
Preferences
Dynamics GP lets you allow manual or automatic processing of customer payments, credit memos, or returns. You can set those preferences through the Receivables Management setup window, indicating if transactions apply by document number or due date.
Other functions you can perform on Dynamics GP Receivables tables include:
Tracking discounts in the GL

Setting ability to print a historical aged trial balance

Compounding financial interest

Paying commissions after invoice

Deleting unposted printed documents

Adding summary tax details on documents printed from Sales Transaction entry windows

Aging unapplied credits

Setting up email statements

Entering default tax schedule IDs
Microsoft Dynamics GP Reporting
While most companies who invest in Microsoft Dynamics GP understand the strength of the GP features, many fail to use the reporting features to their fullest potential. In addition to helping organizations unify different areas of the company, Microsoft Dynamics GP reports give users extended visibility into a business's financial data. Here are some tips on maximizing the benefits of Dynamics GP Reports.
Use Inquiry Windows
While they're not actual reports, inquiry windows are an excellent option for users needing to extract information from Dynamics GP receivables tables and other data stores. Every module within Dynamics GP comes with various Inquiry Windows that give users a quick view of the system.
While they're not customizable, Inquiry Windows provides users with information pertinent to their role. That protects data integrity while giving non-management users access to data.
Work With SmartList
The SmartList tool lets users create reports with customizable rows and columns. SmartList columns usually tie directly to field data. However, users can configure the information to suit their needs. In addition, you can filter and sort rows based on data within the column. After configuring SmartList to their desired parameters, users can export the results to Excel.
Run Out-of-the-Box Reports
There are numerous pre-built Microsoft Dynamics GP reports users can run to view Financial and System reports. However, one drawback to using out-of-the-box Dynamics GP reports is that, while users can filter information, it's difficult to make modifications.
Access SSRS Reports
SSRS reports are an object-oriented report option from Microsoft. Many pre-built Dynamics GP reports are available in SSRS. After installing SSRS, users can access those reports from Dynamics GP. That means users can create customized SSRS reports within the platform, which helps them get past many pre-built Dynamics GP report customization issues.
Microsoft Dynamics GP Human Resources
The Human Resources module of Dynamics GP assists HR professionals with setting up, entering, and maintaining employee data. It gives the department a centralized platform for tracking company employees' organizational details and personal information. In addition, Dynamics GP Human Resources helps with:
Managing the process of interviewing and hiring applicants

Setting up company benefit plans

Tracking employee attendance

Keeping up with vacation time accruals

Monitoring which employees receive company property like laptops
Microsoft Dynamics GP Payment Document Management
Organizations can use Microsoft Dynamics GP Payment Document Management to enter sales and purchasing transactions for payment methods outside of cash, credit, or checks. Once entered, you can submit documents for risk assessment, discounting, and collection.
All information displayed within Payment Document Information comes from the Payables Management and Receivables modules. In addition, updates pass through to the General Ledger and Bank Reconciliation. You can use the Setup Checklist window by navigating to Administration -> Setup -> Setup Checklist to get started with Payment Document Management.
These capabilities are helpful to businesses dealing with companies who use payment documents like bills exchange or promissory notes.
To enable specific payment documents, navigate to Administration -> Setup -> Company -> Payment Document Setup.

Mark the options for enabling Payment Document Management, then click OK to save changes.
Get More From Dynamics GP
No matter how long you've worked with Microsoft Dynamics GP tables and reports, there's always something new to discover. Internet eBusiness Solutions can show you how to use the product in ways that increase company flexibility and improve efficiency. Contact IES today for a consultation.