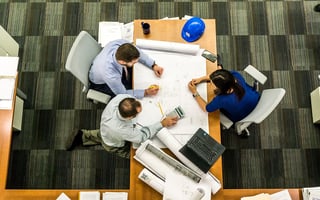 Move over, Slack. Microsoft finally has a live chat environment, and it's the final brick in the wall of Microsoft Office product dominance.
Microsoft Teams was designed to improve the efficiency of office communication in today's mobile world. It allows instant messaging between office teams, facilitating collaboration in an easy-to-understand format that your office staff will adapt to quickly. Like all Microsoft products, there is a familiar look and feel to this new application that will help you get up and running in no time.
Let's take a closer look at how Microsoft Teams can improve business productivity in your office.
Key Features of Microsoft Teams
Microsoft Teams is a cross-platform app that works seamlessly on the desktop as well as Android, iOS, and Windows phones. It also integrates with Word, Excel, PowerPoint and OneNote. Like all Microsoft cloud products, this helpful tool was designed to follow you anywhere, so business conversations can happen whenever and wherever you need them to.
If you feel like email is an unwieldy tool for collaboration, you're not alone. Microsoft Teams is important in our era of instant communication. In this chat-based web space, everyone in your office can connect to a single interface. This is hugely efficient because, unlike email, conversations are happening in real-time.
In Microsoft Teams, channels organize all of the conversations, which helps keep things orderly. Team conversations can be segmented by project or topic or any category you can think of. Plus, you can insert GIFs, emojis, stickers, and memes to give your conversations more personality.
But wait; there's more. The software is an instant messaging hub that also has tabs to store files. If you feel like typing isn't enough, you can hit the video button or call people while you're still in Microsoft Teams. SharePoint, OneNote, and Skype integrate fully with Microsoft Teams, for a seamless experience.
If you're in a group discussion and you need to have a one-on-one, you can click chat for private conversations. You can flag important messages as crucial and do a search to find the conversational details you need.
Did we mention these communications flow directly to your mobile phone?
The beauty of a chat application is that everything is documented and recorded. Old school meetings require note taking, which never seems to capture context. Microsoft Teams is about collaboration, but also about documentation, which is very helpful when trying to keep work moving forward.
Real Time Communications
Obviously, all this communication will only help your business. Microsoft Teams is part of the cloud-centric 365 portfolio designed to allow immediate collaboration from around the world.
Together, they give you 360-project management designed to improve business productivity and the efficiency of your office teams. When you're ready to drop in and say "Hello" to Microsoft Teams, contact IES to join the conversation.