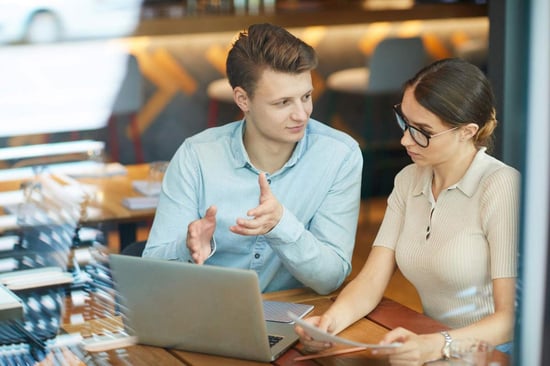 Companies love finding a great ERP system that fits their current business environment. Ideally, the company manufacturing the product continues making updates that allow a business to continue its use. Sometimes, though, a manufacturer might decide to discontinue solutions because they're focusing on something new.
That kind of talk has cropped up around Microsoft Great Plains, or Microsoft GP. Businesses happy with the platform may come across rumors that Microsoft plans to no longer provide support after 2025. The resulting confusion can leave business owners needing clarification about what to expect.
Smaller companies who use Dynamics GP to manage their business and financial processes may worry about what happens after that date. That's why we've provided this article to answer questions about Dynamics GP and how Microsoft plans to support the product.
Is Microsoft Dynamics GP Ending?
The answer to that depends on the version of Dynamics GP your organization uses. Try not to get sucked into doomsday articles about GP's upcoming demise. Those typically refer to products under Microsoft's Fixed Lifecycle Policy, which we'll get to in a moment.
If your company uses a Dynamics GP instance from 2019 or later, you don't have to worry about ongoing support. However, if you're using one of the older versions, you should consider alternatives as you navigate the end of life for Dynamics GP 2013, 2015, or 2018.
Microsoft changed support for their products. They no longer set up hard deadlines and abruptly end updates. Instead, they've shifted to a graduated support process that gives companies more time to update their software. That means less worry about suddenly having a product retired without much preparation time.
What is the Fixed Life Lifecycle Policy?
The Fixed Lifecycle Policy previously applied to commercial and consumer products made via retail or bulk licensing agreements. It outlined a defined support lifecycle period that started from the product's launch. Below is an overview of the Fixed Lifecycle Policy phases.
Mainstream support — This phase offered paid, hourly, no-charge, and warranty claim incident reports. Customers received ongoing security updates and could submit requests for non-security updates.
Extended support — Extended support started after the end of the mainstream support phase. The service pack only offered paid support with additional no-cost security updates. Unified Support customers could submit non-security fix requests. Customers also had to enroll in a paid support program to continue benefits for specific products.
Once customers reached extended support, they could no longer request warranty support, design changes, or new features. There was also no help available for any consumer products. Additional support for Microsoft purchases was only extended 12 to 24 months after a previous service pack. From there, customers no longer had access to critical updates.
What is the Microsoft Policy Mean?
Microsoft released a new version of Microsoft Dynamics GP in October 2019 when they introduced the Modern Lifecycle Policy. It represented a significant shift in how Microsoft handled the end-of-life cycle for its products. Newer releases continued receiving bug fixes, support, servicing, and security updates.
Customers no longer had to worry about a hard cut-off when considering their Dynamics GP instance options. Products like Dynamics GP 2016 fell under the new Modern Lifecycle Policy. Customers could take advantage of planned Dynamics GP releases throughout the year.
New releases happen in June, October, and December of the current calendar year. New capabilities typically come out in October. Updates for the other months usually cover tax revisions, regulatory updates, and hotfixes.
How The Microsoft Dynamics GP Policy Change Affects Companies
If your company uses a version of Dynamics GP before 2019, it still falls under the old Fixed Lifecycle Policy. Here's how that affects companies with an older version:
GP 2013 — Extended support ended 04/11/2013
GP 2015 — Extended support ending 04/08/2025
GP 2016 - Extended support ending 07/14/2026
GP 2018 - Extended support ending 03/11/2028
If you have either of the above versions, you should check with a Microsoft Dynamics consultant to review your options. Those with a 2013 version of GP no longer have access to updates. That leaves you more vulnerable to security attacks and potential errors that could prohibit your ability to continue doing business.
Pay attention to any newly released updates to the Fixed Lifecycle Policy and the Modern Lifecycle. You don't want to be unaware of Microsoft's entirely ending support for your version of Microsoft Dynamics GP.
How Should Businesses Move Forward with Dynamics GP?
For those with a 2015 installation, you can decide whether to go with a new version of GP or upgrade to Microsoft Dynamics 365. Download the yearly updates if you have a version released between 2016 and 2018. It's important to take advantage of any enhancements provided under the Modern Lifecycle.
If your company still operates with an old version of Dynamics GP 2013, you should get help transitioning to a new platform. Internet eBusiness Solutions can guide you through upgrading to a new solution.
Microsoft Dynamics 365
Microsoft Dynamics 365 is a suite of cloud-based business applications. It combines the best capabilities of previous Microsoft enterprise resource planning (ERP) and customer relationship management (CRM) solutions. One advantage of Microsoft Dynamics 365 is that you can access the software-as-a-service solution from any place with an internet connection.
You can purchase the full suite of Dynamics products or select the modules most applicable to your business. Dynamics provides a user-friendly interface that adapts to large and small screens. It gives all users a consistent user experience regardless of which Dynamics 365 application they use.
The platform also allows you to perform actions like:
Setting up automated business process workflows
Handling customer service inquiries in a centralized location
Managing financial information in one place
Stay Updated on Microsoft Dynamics
IES helps organizations find optimal technology solutions to support their business needs. Learn more about the services we provide by contacting an IES representative.