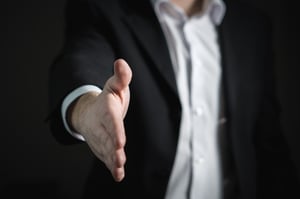 "The promise of customer relationship management is captivating, but in practice it can be perilous."
Avoid the Four Perils of CRM
Harvard Business Review
It's a safe bet to suggest that if you're reading this article, you're probably not making the most effective use of your CRM. A recent CRM UserView poll conducted an online survey of CRM users, and they found some red flags:
56% said they faced major or moderate challenges when attempting to customize their CRM to optimize it.
58% said end-user adoption was a major or moderate challenge.
Customer relationship management (CRM) software like Dynamics 365 was designed to bring companies closer to their clients by helping organize data such as purchases, or company news, or even birthdays. When used properly, a CRM can help companies retain customers longer and keep them happier.
But are you using it right? That's the crucial question that continues to stymie the majority of CRM users. This article will introduce you to some key ways to maximize the ROI from Microsoft Dynamics 365 for sales.
The Value of a Well Optimized CRM
When utilized properly, a CRM can be an incredible lead generation for your sales team. Maximizing tools like Dynamics 365 for sales means that you'll have a 360-view of both the client and the sales team.
A CRM can be used for a number of functions in a business. That's probably why CRM adoption is currently somewhere between 60 to 70% for small, medium, and enterprise organizations, according to GetCRM. But that's going to increase wildly; Grand View Research says the market will grow to $81.9 billion by 2025.
That's all good news for Microsoft, who is a market leader with their Dynamics 365 for sales CRM. The team at Microsoft understands that, when used properly, a good CRM can:
Help sales reps nurture leads.
Help marketing upsell new products to existing customers.
Increase the quantity and quality of new prospects.
Allow for streamlined work efficiencies by automating repetitious tasks.
Help forecast sales trends.
When a Good CRM Goes Wrong
"As organizations are looking for ways to drive innovation within their sales teams as well as outpace their competition, maximizing the use of their own data is critical, and often overlooked. For sales teams to maximize productivity and be as effective as possible, they need their CRM systems to shift from being a system of record, to a system of intelligence. Maximizing the use of their own data to drive actionable insight about their customers, is paramount."
Avoid the Four Perils of CRM
Harvard Business Review
The Harvard Business Review covered some of the hazards of failing to optimize your CRM. They cited statistics showing corporate dissatisfaction with CRM platforms, suggesting that many c-suite executives believe the CRM would manage the customer relationship for them – instead of their sales team using the CRM as a tool to build and maintain market presence. The article cited four perils of implementing a CRM, including:
Failing to create a customer strategy before implementing the CRM.
Failing to change workflows and key business processes before going live.
Buying more CRM software than they really need.
Using the CRM to stalk customers.
So how can a company optimize Dynamics 365 to avoid these first four pitfalls?
Four Ways to Optimize Dynamics 365 for Sales
Microsoft was also a leader because of its deep understanding of the market. Microsoft offers its users advanced customization options, which helps to personalize every individual's experience. This in turn promotes a positive customer experience because agents can now use tools catered specifically to their needs.
The State of CRM in 2018
There are four crucial ways that IES can help you optimize your Dynamics investment during the installation and deployment process. These steps were designed to ensure that your sales and marketing team could hit the ground running by making better use of Dynamics 365 for sales.
1) First, IES can help customers conduct a needs assessment to help determine the business case driving their desire to purchase a CRM. Our goal is to help you make Dynamics 365 for sales less of an administrative tool and more of a goal-driven asset. Some areas to consider before platform go-live include:
How will you leverage Dynamics automation to help follow up on sales leads faster?
What data capture best practices should you employ for anyone touching the CRM?
What kind of before, during, and after training will your team need?
How will marketing support sales by generating leads and how will those leads import to Dynamics?
Should marketing tools such as HubSpot be integrated with Dynamics 365?
How should we customize reporting to capture an accurate sales forecast?
Is the data that you have currently clean enough to dump into Dynamics 365 for sales?
This process will help you roadmap your customer relationship strategy, a step that is crucial to maximizing your Dynamics investment.
2) Second, you can track important client data by using business intelligence and reporting tools. You can flag key prospects, import company data, and then run reports based on that target list. Dynamics lets you even track news releases and information on the target company as it breaks. This is an important step that we guarantee most companies fail to implement. So, your CRM can help you not only target more accurately, but also give you the competitive advantage to thoroughly understand industry trends.
3) Third, make use of Dynamics 365 automation. We all know that sales reps can lag behind in contacting customers. If you're using marketing to set up landing pages to capture leads, not only can those leads flow directly to Dynamics, but also a follow-up email (or two) can be sent automatically. You can even set up customized prompts for the sales rep, along with scripting to ensure they follow up quickly. Why is this important? Harvard Business Review conducted an extensive survey on the short lifetime of an online sales lead and found that it takes the majority of companies more than 42 hours to respond to a sales lead. They also cited stats showing companies that respond within an hour of the initial point of contact are seven times more likely to close the deal. Automation is the perfect way to increase response time and help your sales team close more deals.
4) Fourth, create new workflows to optimize the software. For example, when a deal is closed, you can customize Dynamics to flag other departments. You can also set periodic prompts for customer service to attempt a customer upsell. Or, customize customer emails to include additional information such as a training manual or how-to guided tied to what they've purchased. Dynamics 365 for sales is also very useful for customer service, allowing you to store and track things like warranty information. It also allows you to set individual record parameters based on the customer's communication preferences, going beyond the "do not call" to a more sophisticated level.
In Summary
"A CRM system isn't a miracle cure for sales and marketing woes, but with time, education and a commitment to learn, you can transform a basic CRM solution into a revenue-generating powerhouse."
4 Ways You're Misusing Your CRM Data
Entrepreneur
Great tools can be underutilized – but IES can help you hone Dynamics or any of your other Microsoft tools. Optimizing Dynamics 365 for sales means that customer relationships will improve, new deals will close faster, and your sales team will be more efficient. When used properly it will also systematize your approach to closing deals while heightening the visibility of client interactions with sales, marketing, and customer service.
Imagine how these outcomes could help your organization:
Proactively communicate with clients based on their wants, needs, and priorities.
Improve communication between marketing and sales.
Get real-time client information into the hands of your sales team when they're on the road.
Improve visibility around the sales funnel.
Are you starting to see how maximizing Dynamics 365 for sales can really pay off for an organization? If you're struggling to make Dynamics part of your sales strategy, or if you're considering a new CRM, contact us. We have the expertise to help you leverage Dynamics in the way it was meant to be used.