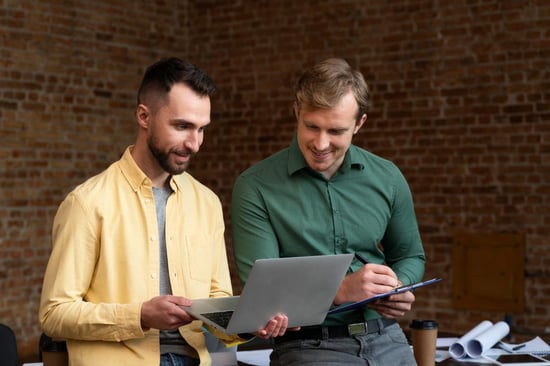 Microsoft showed its commitment to using artificial intelligence through its partnership with OpenAI. At this point, they're most well-known as the creators of ChatGPT. The company's Dynamics 365 release wave 1 plan showed how Microsoft would introduce hundreds of AI capabilities within their enterprise resource planning (ERP) solutions. Project managers stand to benefit significantly from Copilot by using AI in project management.
How Will Copilot Affect Project Management?
The Microsoft Azure Open AI language model powers AI assistant Copilot. Making Copilot available for project management functions is meant to improve the efficiency of project and practice managers. Both roles typically require a lot of time spent on task planning, creating status reports, and performing risk assessments.
AI project management introduces the possibility of reducing these time-consuming tasks from hours to minutes. Setting up project plan templates requires tapping into best practices and other knowledge depending on the project.
Generative AI takes a lot of the legwork out of the most time-consuming part of project creation. By entering natural language commands, project managers can quickly build a plan using previous project templates. After describing the plan, Copilot sets up a hierarchal task structure for your project, including durations.
From there, project managers can edit, add and remove tasks. In addition, they can set up dependencies between different tasks. Copilot can also recommend which resources to assign to projects, ensuring you don't forget to account for a valuable asset.
How Can You Enable Copilot for Project Management?
Copilot generates results based on prompts and information from the Dataverse table supporting Dynamics 365. You'll need to upgrade to the latest version of Copilot before integrating it into modules like Project Management and Business Central.
You can enable Copilot in Project Management by following the below steps.
Open Project Operations, then navigate to Settings -> Parameters -> Feature Control -> Enable Copilot.
Click Accept to enable the Copilot feature.
Click on See terms to learn about the terms of using AI in project management.
Click OK to enable the Copilot feature, then hit Save.
Any company looking to use AI project management capabilities in Dynamics 365 should ensure that the technology gets used in a responsible and ethical manager. Azure Open AI does include safeguards to prevent the generation of abusive, destructive, or offensive content. However, companies should set up policies for reviewing content or output for appropriateness, completeness, and accuracy.
How Can You Generate Task Plans With Copilot?
Task planning involves breaking down project goals into specific tasks. That means figuring out when activities must happen to achieve your objectives. These tasks must be organized into a manageable format to ensure you can effectively track the progress of your project daily.
Your tasks let you know what people you need and the expertise required. That way, you can ensure you have those assets in place when the time comes to complete the tasks. Inaccurate task planning can mean not having a resource available when needed, jeopardizing your project.
Copilot provides project managers with realistic task plan recommendations. It gives them suggestions for durations and how much effort will likely be required for a task. Not having to perform this research manually speeds up the overall project creation process.
Machine learning algorithms powered by Open AI use the project name provided by a project manager to come up with relevant tasks. The task suggestions become more specific as project managers add more project details.
Setting Up Task Planning in Copilot
You can start using AI-generated tasks to create your work breakdown structure (WBS) with the following steps:
Go to the Projects command bar and select New project.
Enter the name of your project. Try to be as specific as possible. The project name should match the context for the project type.

Enter a project description. Even though it isn't required, filling in the information helps Copilot generate more relevant project tasks.

Add details like project start and end dates.

Go to the command bar and select Copilot suggestions.
Select Task plan. Copilot will generate the task name, duration, and start date. You can generate up to 100 tasks for each project.
How Can You Perform Risk Assessments With Copilot?
Risk assessments help project managers evaluate how project outcomes and objectives could change based on a risk event. Copilot enables you to assess risks and provides suggestions for mitigation plans. AI project management also tracks ongoing issues that come up in a project. It uses project metadata like the scope, budget, and schedule to determine factors that might hinder progress.
The mitigation plans from Copilot consist of recommended steps to address and minimize the impact of identified risks. Taking a proactive approach with Copilot gives project managers additional tools to mitigate project obstacles to keep it on track.
You can start using AI-generated risk assessments with the following steps.
Select the project for which you want to use AI-generated risk assessments and mitigations

Go to the command bar, navigate to the Risk tab, select Copilot suggestions, then pick Risks and mitigations.
If you wish to add a risk manually, click New risk from the command bar.
To add a previously identified risk, select Add existing risk.

You can add, edit, assign, activate, or remove risks by selecting them in the grid.
How Can You Generate Project Status Reports With Copilot?
Project managers can use Copilot to set up AI-generated project status reports based on factors like key performance indicators (KPIs), work, and financial activity. You can set up status reports with the following steps.
Select the project for which you wish to generate status reports.

Go to the command bar and select Copilot suggestions.
Click Status report, then choose either Internal or External.

Use the available buttons on the command bar to share, print, download, assign, or delete reports.
Streamline Your Project Management Processes
AI will continue to influence future technology in new and exciting ways. Internet eBusiness Solutions can ensure that your organization remains at the forefront regarding business innovation. Contact one of our experts to learn how we can help you use AI to your advantage.