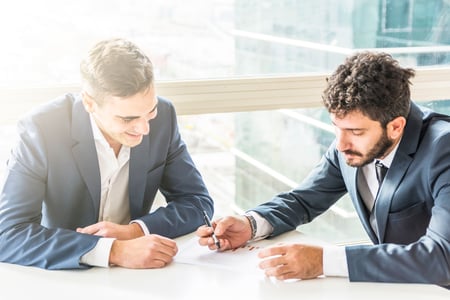 Managing the customer experience is the most important business strategy you can undertake in 2019. Increasing brand impressions for prospects is just as important as creating positive direct interactions with customers. It's particularly important for small companies that are fighting against competing businesses.
Today, you have to push for every customer against competitors of all sizes. You know that a company can grow by creating a new business but also by upselling repeat clients. If only there were a tool out there that could help you accomplish both.
Microsoft Dynamics 365 Business Central is that tool.
In the summer of 2018, Microsoft eliminated their Business Edition Dynamics 365 for Finance and Operations and replaced it with Microsoft Dynamics 365 Business Central. This new application pulls pieces from the old tool, made it smarter, and then rolled it out for the small to mid-sized business looking for software to fuel their growth.
Microsoft Business Central brings an all-in-one enterprise resource planning (ERP) platform to small companies struggling to manage customer relationships and build their businesses by working more efficiently. Microsoft Business Central is a cloud ERP solution offered in an affordable subscription package designed for small business.
Forget your legacy accounting, supply chain, and customer relationship management tools. Microsoft Business Central offers all of these toys plus warehousing, manufacturing, and service management tied to one centralized database in an integrated platform.
Here's how Microsoft Business Central can help you manage your customer relationships to add dollars to your bottom line.
Managing Prospect and Client Relationships
Microsoft Business Central can handle all of your marketing and sales efforts. You can pull and segmented lists based on specific criteria. Those lists can be targeted with a drip campaign to wear away prospect resistance to your product offering gradually. When an email is opened, the data is entered in the ERP so you can begin capturing smarter analytics on how prospects and clients behave. Powerful analytics can pull this data and use business intelligence metrics to visualize data in new ways. These insights help drive a tighter relationship with buyers in the marketplace.
Because the database is shared throughout the ERP, you won't have to worry that the front-end salesperson doesn't know what's happening with back-end operations. If the sales rep is on the road trying to sell a product, Microsoft Business Central will have real-time updates on what inventory is available and what is back ordered. This will help eliminate frustration and help you forge a tighter and more productive partnership with the client.
Business Central for Order Processing and Billing
Business Central syncs data from the pre-sale to inventory and billing. If you've ever had order fulfillment struggle with a contract that's incorrect or had billing kick back a question because something was missing, Business Central can help in all these areas.
The point of ERP software is the idea of the hub and spoke. The hub is a powerful single-source-of-truth database, and the spokes are all the business functions that arise from your efforts to manage the client relationship. Synchronizing data in one shared system will eliminate errors that lead to customer frustration. It can also give you a better picture of the health of each client relationship. Sales will be able to see if the client called in with a complaint. Marketing will be able to understand what promotions helped close the deal. Here's an example of how this can work:
Microsoft Business Central lets sales reps use uploaded price lists to create contracts.
This eliminates the risk of transposed numbers or math errors that lead to serious contract mistakes.
The sales rep can check actual real-time warehouse inventory to be sure the products they're selling are available for immediate ship.
Contract approval can be automated so that version control is never an issue.
When an order closes the master inventory levels are updated, the contract is automatically routed to billing, and a work order can be routed to the warehouse.
Previously, ERP was only affordable for enterprise organizations. Moreover, ERPs consisted of a patchwork of different modules, each one increasing the overall price. Microsoft Business Central provides all of the basic tools needed to manage customers, operations, and other essential functions of a business.
Microsoft Business Central for Project Management
Managing business relationships after the prospect has become a client could require better management of company deliverables. Microsoft Business Central has improved their project management tools to help companies oversee more complex services. Now you can handle job configuration, resource allocation, budget management, and timeline and task tracking. Whether it's time and materials or fixed-price projects, Microsoft Business Central can help you manage the project in a way that keeps your customers satisfied.
Best Features – Microsoft Business Central
We'd like to invite you to test drive Microsoft Business Central. In addition to the new customer management tools we've highlighted, there is a new user interface and additional capabilities, including:
Financial management tools to manage GL, budgets, A/R, and bank account management. How many pieces of software are you using today to reconcile your accounts, pay bills, and manage supply chain?
Supply chain management for tracking sales and purchase orders, multiple warehouse locations, item transfers, assembly, and shipping.
Human resources from hiring and orientation to employee expenses, training, and payroll.
Service order management to handle customer issues and trouble tickets, repair requests, service contracts, and more.
Manufacturing that scales to small or large companies, depending upon the license. This module handles production orders, Agile manufacturing, supply planning, demand and capacity planning, and subcontracting.
Microsoft Business Central is a per-user manageable monthly subscription service in an Essential or Premium package. This software helps small businesses eliminate the silos that come from using multiple tools across all the parts that make up today's companies. If your company is ready for the next phase of growth and if you're sick of busy work and repetitious business processes, Microsoft Business Central will break down the silos, eliminate outdated processes and software tools and get your business in growth mode.