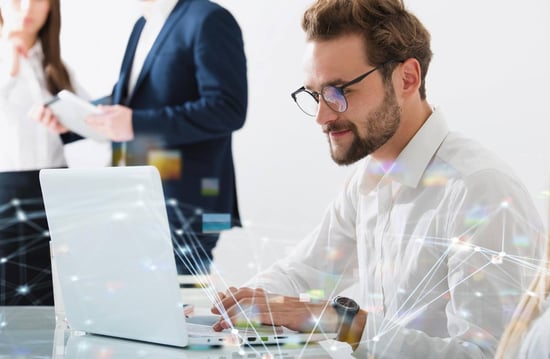 Artificial intelligence (AI) 's impact on the business world continues to be felt. Thanks to the company's partnership with OpenAI, the creator of ChatGPT, Microsoft made the technology a significant part of its Dynamics 365 release wave 1 plan. The changes in Dynamic 365 introduce hundreds of new capabilities within various Dynamics 365 applications. Below is an overview of how the combination of AI and Microsoft Dynamics features prominently in Microsoft's 2023 release plans.
Marketing
Microsoft used AI to enrich the tools already available within Dynamics 365 Marketing. In a time where many departments have to do more with less, the Marketing module increases the ability for users to engage in real-time collaboration. AI makes it possible for marketing teams to become more productive than ever.
AI tools save time by automatically creating marketing segments based on natural language voice descriptions. The same AI technology lets marketing specialists generate email ideas or analyze how to improve high-performing activities.
In addition, the data collected from customer interactions can help transform the customer experience. For example, AI can use the information to help marketers craft more personalized campaigns and refine whom they target. It also allows marketers to determine which content will have the most impact within different online channels.
Other AI updates planned for Marketing throughout 2023 include the following:
Prioritizing leads with an AI-powered lead score builder

Ensuring stakeholders automatically get copied on email campaigns

Optimizing lead management by automatically engaging sellers

Routing leads to the most effective sales rep automatically to increase conversion rates

Automatic UTM tagging to measure marketing activity, web traffic, and conversion goals

Contact insights to help with tailoring marketing efforts

Query Assist to help target customers
Sales
The introduction of revenue intelligence capabilities in Dynamics 365 Sales helps teams with revenue management. They can easily set pricing and discount for various products, define their targets, set up deal visualizations, make sales forecasts, and manage their top line more efficiently.
Sales engagement, previously called Sales accelerator, received a big AI-powered boost during the Dynamics 365 release wave 1. Sellers can use AI-driven insights to understand customer relationships and conversations better. New tools are also present to standardize and accelerate moving potential leads through the sales process. Sellers can maintain a good relationship with customers by having more impactful conversations.
Other enhancements planned for Sales during the 2023 wave 1 release include the following:
Ability to have bots engaged in helping with initial customer outreach to help sellers receive quality leads at the right time

Have insights and tips available while speaking with customers to enhance conversations

Conversational intelligence support for third-party telephony providers

Have content from previously written emails prepopulate new emails you're currently drafting

Sequence enhancements, including enhanced worklist items, custom templates, and automated replies

Sales accelerator improvements like up next widgets, personalization, and enhanced worklist items
Service
Administrators now have an easier time providing users with a consistent experience thanks to the centralization of essential tools needed to enable customer support. Microsoft now includes an AI-enhanced wizard experience to help admins with first-time and incremental setup of new capabilities.
AI gives agents increased power to provide customers with quality services thanks to AI-powered improvements.
An enhanced case form to help with creating and managing cases

Help with locating a suitable email template

An improved Customer Service workspace layout

AI suggestions to speed up first-time resolutions

Forecasts for case and call volumes at 15-minute intervals

Forecasts for agent demand needed to handle customers at 15-minute intervals
Supervisors now have access to historical and real-time insights on agent performance. The omnichannel capabilities provide valuable AI insights as agents connect with customers through channels like live chat, voice, and SMS. Organizations can now embed Teams within Dynamics 365 Customer Service and link directly to customer records to enhance the customer experience.
Intelligence routing is now available that assigns incoming service requests to the correct agent as they come in from different channels. It's based on AI models and established rules for criteria like agent skills and customer priority. The routing service eliminates the need for constant queue supervision by using AI to classify, route, and assign work items.
Finance and Operations
The updates within Dynamics 365 finance gives CFOs the tools needed to enable digital transformation throughout their company. AI now helps organizations securely and safely archive information while making it available for historical data analysis and reporting. When it comes to the general ledger, you can figure out which specific details to archive based on defined business needs.
Financial users can now access Financial tags to track accounting entry fields posted to the general ledger. That makes it easier to pull these details in when performing reporting and analysis. In addition, organizations can use invoice capture to automate accounts payable processes fully.
Instead of processing vendor invoices manually, businesses can reduce errors thanks to intelligence automation that reads and recognizes different vendor invoices. Users with access to Microsoft Azure Form Recognizer, AI Builder, and Microsoft Power Platform can use out-of-the-box vendor invoice models to continuously learn from invoice exceptions.
Commerce
Copilot is a new feature in Dynamics 365 Commerce to help users set up engaging content for e-commerce websites. The AI product enrichment companion helps customize content for various audiences. Copilot also helps by highlighting key products, finding ways to optimize content for SEO purposes, and using natural language to help with formatting.
Other ways that Copilot enhances the Commerce module include the following:
Making it easier to come up with new marketing content thanks to AI-suggested ideas

Helping achieve higher rankings by finding ways to enhance marketing content and obtain organic growth

Making basic edits or offers key prompts to help craft the language of the content
Improve Business Performance With IES
IES helps you manage your suite of business tools to achieve your desired business growth. We do that by finding the right technology for your business environment. Contact one of our representatives to start transforming your company.