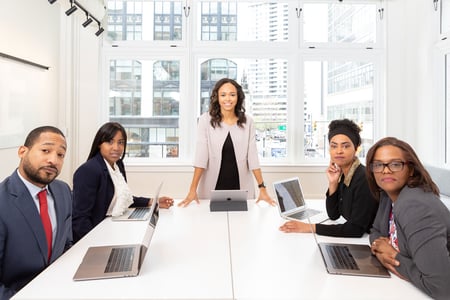 Sales teams are tasked with the difficult job of finding clients willing to buy, earning their trust, and closing the deal. It's always been a tough job, but the truth is – if sales don't happen the business world would simply stop. That makes selling one of the most important professions in the world.
But sales reps know that they have a better chance of moving toward the close if they have the right mix of tools. Microsoft Dynamics 365 Business Central provides sales teams with the right tool at the right time. It fits perfectly under the umbrella of office productivity tools that sales teams are accustomed to using, but introduces a seamless interface so they won't be intimidated with new features like business analytics, reporting, screen search, and more.
Let's look at Microsoft Dynamics 365 Business Central for sales teams to see how and why these executives are using this new tool to hit the numbers.
Improving Communication Between the Back-End and Front-End
How many times have you heard sales reps complain that they didn't know a price had changed or didn't understand a feature upgrade? What about the time the sales rep sold some back-ordered product or failed to write the contract properly, so billing got the numbers wrong?
It doesn't matter how big the business is or what industry, the tension between operations and sales can flare up fast. But the real issue is communication. Too often siloed departments using multiple legacy platforms fail to communicate information between sales, billing, inventory, warehousing, and so on.
Microsoft Dynamics 365 Business Central for sales teams actually eliminates a lot of these problems simply through the art of integrating the separated functions of these departments. The Dynamics 365 sales module integrates data entered from the front-end and deploys it across the organization to order processing, finances, and on to inventory management, billing, and even reporting.
If you're familiar with the concept of a "single source of truth" in IT, you'll instinctively understand how Microsoft Dynamics 365 Business Central for sales teams can help your company. Operations teams will be able to see sales data from contracts and the numbers will synchronize to customer service, accounting, or inventory and keep the data accurate in all these locations.
Companies that fail to use Microsoft Dynamics 365 Business Central for sales team may use one CRM for the sales team, another platform for accounting, and maybe another for inventory. These platforms can use APIs to integrate, or, many times, office workers are left uploading a good old Excel worksheet with sales data into another platform. It's unwieldy and time-consuming but what's worse is that it increases the risk that data will be entered incorrectly – and we know how the client feels about that.
But Microsoft Dynamics 365 Business Central for sales teams actually has a synchronization action that pulls all of these disparate actions into a smarter workflow.
The practical effect is that a sales rep can use a price list straight out of Business Central for a sales order contract. As they do that, they'll be able to see the inventory list in real-time, so they know the item they're selling is available before they put the contract through. Order processing is automated from Business Central, which could queue order fulfillment, or billing, or perhaps sales management.
This tool has been designed to manage all of the elements that make up the sales process, from creating the record of a prospect, to closing a contract and elevating them to customer status, fulfilling an order, and even, automating opportunities to upsell. This business management tool is perfect for sales teams. But what features are our favorites to help sales teams sell products?
Business Central -- Best Features for Sales Teams
Power BI
Microsoft added their Power BI tool into Business Central for some pretty slick data analytics. Sales teams will benefit from the functionality with newer, smarter data visualization tools that can show activities, prospects, closed deals and an overall sales forecast that will project an accurate picture of cash flow. Power BI details appear directly in Business Central, so you won't have to leave the app to go to another program, import, or export sales data. Power BI can even pull information from all systems, so you can have a 360-view of closed deals, fulfillment, and billing.
Outlook
While your sales teams may have used Outlook for years, Business Central is now baked directly into Outlook. It's easy to send a quote straight from Outlook without ever leaving your inbox. There's no toggling back and forth and certainly no reason to manually input data between systems.
Business Central AI
You've probably heard a lot about artificial intelligence (AI) lately. Microsoft Dynamics 365 Business Central for sales teams includes an AI engine to help you work smarter. The AI helps search queries become more intuitive. It can suggest add-on tasks when you're completing a record and automate basic functions to save you time. For example, if the sales rep is adding an inventory item to a contract and the item volume is low, the AI will flag the supply chain to order more. But it will also notify you of other items that are running low from the same vendor so you can add them onto the purchase order. It can also help by self-populating forms, extrapolating data, and making suggestions to improve your workflows.
Selling is Hard – Microsoft makes it Easier
Microsoft has really worked on this software to make it more functional for sales teams. Microsoft Dynamics 365 Business Central for sales teams was designed to improve the sales process by ensuring that nothing is missed from the front-end to the back-end. Because all functions are integrated into one software package, the busywork of pulling data and uploading it to another platform is eliminated. This means your entire team will save time, reduce errors, and close more deals. There's even powerful business intelligence software in the package that gives you a 360-view of your entire team, not just sales.
IES would like the opportunity to show you how Microsoft Dynamics 365 Business Central for sales teams can improve the selling process. Contact us today.