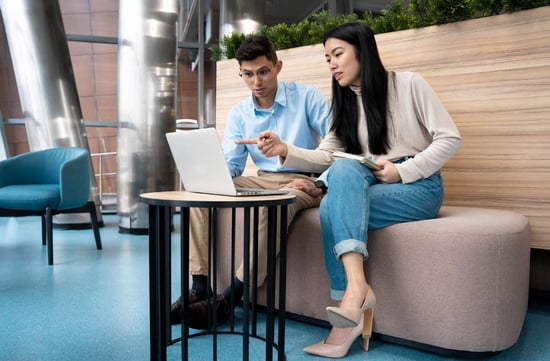 As one of the pioneers of business technology, it stands to reason that Microsoft would be at the forefront of helping companies incorporate artificial intelligence (AI) into their business processes. Microsoft Dynamics 365 Copilot is designed to automate repetitive customer service and sales tasks. Enterprise CRM and CX software users now have AI-backed tools to help them get through routine tasks more efficiently.
What Does Microsoft Dynamics 365 Copilot Do?
Microsoft's partnership with OpenAI, the creator of the language model ChatGPT, leaves them in a unique position to generate AI-supported toolsets like Copilot. It's supported by the Azure OpenAI service, a Microsoft service that provides enterprise-level access to the OpenAI API. Copilot represents one of the many elements of Microsoft's plan to make AI and foundation models integral to workplaces.
Organizations can use Copilot within any of the Dynamics 365 modules. It's meant to supplement the work done by employees. By taking over the mundane tasks that consume a lot of productivity time, Copilot frees people up to handle higher-level tasks that involve more complexity and require a human touch.
Copilot in Microsoft Dynamics 365 Sales
Organizations with instances of Dynamics 365 Sales can use Copilot to help craft customer email responses. The technology also creates and sends summaries of Teams meetings through Outlook. Businesses can include CRM information like pricing, product details, and insights from Teams calls. If your company uses Viva Sales, you can generate content suggestions in response to customer emails.
For example, salespeople can quickly draft a reply to inquiries or draw up a proposal in response to a request. In addition, Copilot ensures that your communications include data essential to the recipient, like information on pricing, upcoming promotions, and potential deadlines.
Sellers only need to pick an option corresponding to their needs. From there, Copilot generates a response you can view and edit before sending. Replies include data from Microsoft Graph, which provides access to insights pulled from Microsoft Cloud and your Dynamics 365 CRM.
Faster Customer Responses
Many sellers spend hours on the phone fielding calls from customers and prospects. From there, they must recap everything they discussed and document follow-up items. Copilot provides an assist using conversation intelligence, summarizing essential issues and topics covered during each call or meeting.
Companies with Viva Sales can start using a public preview of Copilot. The natural language capabilities, driven by Azure OpenAI service, help with drafting recaps of action items and capturing follow-up dates pulled from your CRM and Teams. In addition, you can customize Copilot to generate summaries for different meeting types, like internal calls and those with multiple participants.
Because sellers don't have to spend as much time documenting calls, they can quickly tap into the summaries created by Copilot and follow up with prospects. That increases the chances of generating more sales that help teams meet their quotas and generate more revenue.
Copilot in Dynamics 365 Business Central
Small and medium-sized businesses (SMBs) can use Microsoft Dynamics 365 Copilot to streamline product listing creation. That functionality is beneficial to those running an E-commerce business.
You can set up essential attributes for products like color, size, and material in seconds instead of spending hours keying in listings by hand. Users can tailor descriptions to fit a specific length, tone of voice, and format.
Business Central customers using Shopify can publish products containing descriptions in a few clicks to their store. For example, upload pictures of an item and let Copilot make description and category suggestions.
In addition, you can define item attributes and use the information to generate marketing text based on your records. You maintain control over any AI-generated descriptions. For example, you can edit the text to improve the template description to make it fit the tone you want.
Copilot in Dynamics 365 Customer Service
Today's customer agents face a lot of pressure to deliver quality customer experiences. Copilot makes that easier by providing AI suggestions to help resolve customer problems, which can help increase overall customer satisfaction rates. They have AI-powered assistance available 24/7. Instead of customer service reps being forced to spend a lot of time on research, Copilot can locate necessary resources and put the information at an agent's fingertips.
Microsoft Dynamics 365 Copilot also helps customer service agents draft personalized responses to email queries. After Copilot makes suggestions about the email draft, customer service reps can review and check it for accuracy before sending the communication.
Copilot also provides a conversational chat experience where agents can ask questions to resolve customer problems quickly. The service also suggests potential resolutions to give customers an optimal outcome and summarizes responses designed to hit the right note.
Copilot in Dynamics 365 Customer Insights
For marketers, delivering personalized experiences across different marketing channels is the key to meeting customer expectations. Copilot helps make that possible by using natural language to generate data insights quickly. Marketing teams can dive into customer data directly instead of relying on data analysts. They can quickly uncover new data to analyze and understand their customers.
Because marketers don't have to wait on specialists to process their requests, they can more easily access the information that matters. For example, if a marketer wanted information on customers living in Spokane, Washington, who made purchases in the last 30 days, Copilot can provide those results with just a few clicks. It includes essential details like customer product preferences, age, and average purchase price.
Dynamics 365 Copilot also comes with the Query assist capability, which uses Azure Open AI Service to generate or improve segments. For example, a marketer can describe a segment of individuals under 35 living in Miami, FL. There's no need to choose individual tables manually. Issuing a simple query description lets marketers set up segments without needing in-depth back-end data knowledge.
Explore Copilot and Other Dynamics 365 Capabilities
Internet eBusiness Solutions understands the complexity of keeping up with new capabilities provided by Microsoft for their product suites. Let us help you incorporate the latest and greatest to make your organization run more efficiently by contacting one of our technology experts.